Neon green and pink were the featured colors during the Player Meeting held Tuesday Night at the USDGC.
Not long after USDGC Chairman Harold Duvall began speaking, the event's entire staff clad in their 2014 neon green staff shirts were welcomed to the stage and were met with a standing ovation from the players.
"This is the secret sauce of the Championship right here," said Duvall to the players.
As the staff were lined up behind Duvall, he also reminded everyone how serious the USDGC is about giving back. Over the years, the USDGC has given $225,000 to the Educational Disc Golf Experience (EDGE), said Duvall.
This year, the USDGC has also thrown its support behind Throw Pink, which is a series of events that take place from March to October with the goal of raising money for breast cancer charities, while encouraging women and girls to learn and play disc golf.
"Throw Pink is going to be a big part of the Championship this year," said Duvall.
This year the Throw Pink women's event in Rock Hill (Saturday morning) and the Big Arm, Big Heart distance showcase following the final round will be raising money to put an end to breast cancer through Throw Pink.
During a special moment at the meeting, USDGC supporter Brad Tucker, of Charlotte, presented Event Director Jonathan Poole with a bronze sculpture honoring Poole's father, Sammy Poole, who died in 2012.
For many years, Sammy Poole brought his generous spirit along with his famous homemade ice cream to the Championship.
"I can't tell you how much that means," said Jonathan Poole as he received the sculpture.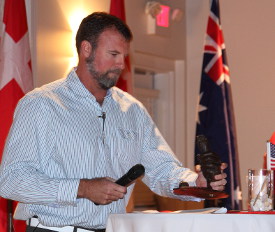 The sculpture entitled "Infinity Poole", shows a hand holding an ice cream cone emerging from a puddle of melted ice cream. Tucker said it represented Sammy Poole's selflessness still surviving on into eternity.
Tucker made the sculpture in Bogota, Columbia and brought it all the way back with him.