After surviving a scare on Hole 17, the Colorado State disc golf team became the inaugural Dean's Cup Invitational champion, defeating Georgia Regents by one stroke.
Colorado State 67 (Even) – Georgia Regents 68 (+1)
Third place match: Winthrop 71 (+4) – Clemson 71 (+4)
"It feels good to win one after being so close at Collegiate's the last few years," said CSU player Connor Mitts.
The featured side action took place on Saturday before the USDGC's final rounds.
CSU and Georgia Regents battled during the front nine, but CSU player Austin Montgomery said they were able to gain ground on the back nine until Hole 17, when the team made a fumble with a quadruple bogey that decreased their lead to only two strokes going into the last hole.
"Hole 17 we lost focus for five minutes and that's all it takes out here," said Montgomery.
CSU then made bogey on the final hole, but Georgia Regents' par was still not enough.
CSU player Ryan Haunfelder was the one that convinced the rest of the team to make the long trip to Rock Hill, S.C.
"It's a once in a lifetime opportunity," said Haunfelder.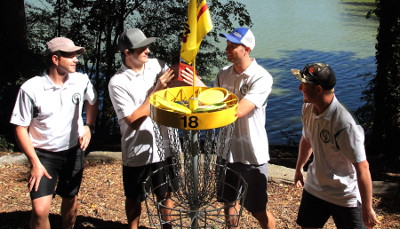 And with the collegiate game getting more competitive it will be increasingly harder to earn that invite back to Winthrop said Mitts.
The third place match was a rematch of last year's collegiate exhibition in which Clemson beat host team Winthrop by eight strokes. This year the match was much closer and Winthrop had a chance to win on the final hole, but weren't able to hit their par putt for the win.
Many agreed Winthrop's performance was a big improvement over the year before.