There's no denying it, the growth of disc golf has made America take notice. More and more people pick up discs and head to a local course every year. And that means disc golf has become serious business for retailers and a must-have activity for public parks.
"Disc golf is not a fad. It has grown organically. But it's not a fad," says Russell Schwarz, of Innova Disc Golf, a leading manufacturer of disc golf equipment.
Played much like traditional golf in terms of rules, scoring, and etiquette; disc golf differs by throwing a specialized plastic disc off the tee and eventually putting out into a chain-catching metal basket.
Disc golf also departs from traditional golf in its affordability to play and the relative low cost to install a course.
Manager of Tishomingo State Park in Mississppi, Bill Brekeen has seen the disc golf course growth first hand, installing three courses at his park since 1998.
"Whenever I do any promotion for disc golf, I say it's the fastest growing sport in America and I think it is," said Brekeen, who gets regular calls from out-of-state park officials looking to include disc golf in their park.
Strong disc golf sales have also made a believer in Play It Again Sports store owner Jay Douglass. After opening with a modest disc golf selection in 2007, he's grown his inventory dramatically to where disc golf equipment now takes up a large chunk of his Pineville, N.C. store.
"It's a substantial portion of our business. It's definitely one of our top categories," said Douglass, who also supports the nearby Charlotte Disc Golf Club.
Coverage of some of the biggest disc golf events reached 82 million cable households last year in disc golf's first foray into regular cable access, according to Disc Golf Planet, who produced the shows and partnered with the Beach Sports Network to bring them to cable TV. This year that number increased to 95 million.
Known as the 'Super Bowl' of disc golf, The United States Disc Golf Championship (USDGC) is one of those events featured on cable. The event, with its beautiful course, high payout, and strong following is proof of how far the sport has come.
Traveling to places like Mississippi, it's easy to see how much disc golf has taken hold. Disc golf courses are in 16 (64%) of Mississippi's 25 state parks. After installing the first few courses and seeing the interest they created, courses in Mississippi state parks "spread like wild fire," according to Brekeen, a 30 year park employee.
Brekeen said disc golf came at a time when the parks system was looking for new activities to draw people in. Now, the Mississippi state park system is known as a model for incorporating the sport.
"We saw it as another recreation opportunity that once you get that initial cost behind you, it pretty much takes care of itself," said Brekeen.
The added revenue from year round play doesn't hurt either.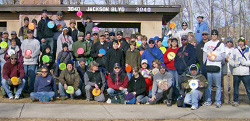 Mississippi isn't the only place that's found disc golf. Every week you can see headlines from communities across the country and the world opening their first course.
Looking back just five years, the growth is obvious. At the end of 2013, 4,060 total disc golf courses were listed with the Professional Disc Golf Association (PDGA), which is a 48% increase from the end of 2008.
Innova's Schwarz, who has been involved in disc golf for 35 years, says there's practically a course being installed every week.
"They are not going in because there's no demand," said Schwarz, who designs courses.
A sport that was once dismissed, has now matured into a thriving sport with a formidable disc golf industry behind it. There's even a pro tour where big name players like Paul McBeth and Richard Wysocki battle for the cash prizes, which also continue to grow. The 2013 pro tour purse was $2,533,450, up 27% from 2008.
Annually offering one of the sweetest pro purses is the USDGC. This year's pro payment will reach about $50,000, with first place getting a cool $8,000.
With Disc Golf Planet's live internet broadcasts of large tournaments like the USDGC, disc golf fans can follow their favorite players from home.
"Never before have we seen this kind of following for professional disc golf. More people than ever know the competitive storylines and are supremely interested in how things shake out at the USDGC," said USDGC Event Director Jonathan Poole.
Pros make up an exciting segment of disc golfers, but the overwhelming majority are novices playing with just a few discs in their hands. The PDGA estimates that more than a million people regularly play the game, including many families.
Douglass says disc golf is one of the few games a family can do together. In fact, he's seen sales from families grow too.
Along with three tournaments a year that attract disc golfers from all of the region, Brekeen's state park courses see lots of casual play from recreational players as well. Often his park runs out of the 40 rental discs that newer players often use.
Brekeen, who first started playing disc golf in the 1970s, sees no sign of disc golf's growth slowing down.
Innova Disc Golf Sales Manager, Ryan Baker agrees.
"All signs point to continued long term growth for disc golf. Not only are more courses going in, but they are better funded. More professionally designed courses are being installed with stronger relationships between the disc golf community and the park and recreation folks," said Baker.