Jonathan Ray still leads the Performance Flight after two rounds and Nick Hanson still trails him by one stroke.
Ray of Memphis, TN, beat his projected 81 by six strokes on Thursday and is besting his projected by a total of 22 strokes. Hanson (-21) of South Dakota, beat his projected 74 also by six strokes.
Others in the hunt are: Scott Reek (-19), US Women's Champ Paige Pierce and Clayton Nash are both at (-17), and Tommy Arianoutsos is at (-15).
Ray said he's been keeping it conservative all week off the tee and he plans to continue that philosophy with heavy use of his mid-range and fairway discs for Friday.
"Tomorrow it will be fairways and greens for sure," said Ray, who noted they had some tricky winds to deal with.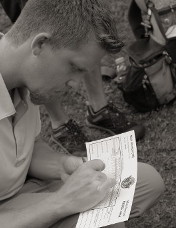 Hanson, however, plans to dial it up a notch at least for the first several holes and then evaluate his strategy from there. He will probably be making use of his long arm for Round 3. It's already come in handy with eagle attempts on Hole 10 the last two rounds.
Making a big statement was Pierce who beat her projected 74 by 11 strokes.
"I played really good. I probably can't get much better than that," said Pierce, who is playing Winthrop Gold for the first time in a tournament setting.
She said she'll try not to think too hard about her sweet Round 2 if things don't go so well on Friday. But who knows, she might do even better during Round 3.