One of the first things area school kids would see when they arrived at the Winthrop Gold Course for a day at the USDGC would usually be a smiling Dale Sollars.
Since 2005, Dale and his wife Ann donated their time to the USDGC welcoming countless school children at the EDGE Village as well as many general spectators/visitors to the Championship.
A treasured USDGC volunteer, Dale, of Forest City, N.C., died in April at the age of 71.
On Saturday during the Championship's closing award ceremony, the 2014 Golden Rake Award for outstanding service was given to Dale, and his wife Ann accepted it on his behalf.
Staffing the EDGE Village, which introduces area school children to disc golf and the USDGC, was the perfect job for the warm natured Dale, who loved to make new friends and make people laugh. Anyone found it easy to share in his company.
"He just carried that big smiling teddy bear way about him," said EDGE Coordinator David Shope, who became friends with Dale and Ann after meeting them at the Championship eight years ago.
Before Dale and Ann became regular volunteers, EDGE Curriculum Coordinator Jon Lyksett, a friend of Dale's since the 1970's, invited them just to check out the Championship and disc golf at a high level.
Back then, Dale, a close to scratch traditional golfer, was amused by the idea of disc golf, according to Lyksett. But once he saw the pro's play Winthrop he changed his tune.
"And then they, and especially him, fell in love with it. I could see the eyes light up and I said, well you are certainly welcome to come next year and help out," said Lyksett.
The Sollars agreed and the next year they jumped right into volunteering. Through the years they helped evolve the EDGE Village experience into what it is today, said Lyksett.
Once school children arrived, they'd be split into two groups. One would go to the disc golf clinic. The other would be greeted by Ann and Dale. Through the Sollars, the schoolchildren would learn about the event and how to properly spectate while being led on a tour of the course.
"He would make it real fun," said Shope.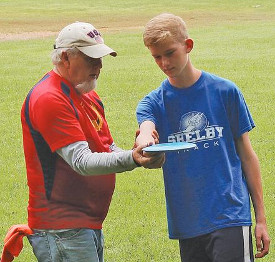 Once school children left for the day, the Sollars' job of hosts continued as they greeted visitors and spectators, handing out tournament and disc golf literature and pointing out good viewing locations.
Along with welcoming the school children, Dale would also help set up the pro shop at the Winthrop Shack, lend a hand for course set up, and help out wherever else he could.
"Everything he loved about disc golf came together in one week," said Shope about Dale's love for the Championship.
It wasn't until later in life that Dale discovered disc golf, but when he did he went all out.
He designed and installed disc golf courses at his area's high schools, an elementary school, a community college, and camps. He also organized a tournament for high schoolers and taught clinics.
"Without a doubt, disc golf was a perfect fit for Dale.  It was an outlet for his athleticism, his competitive spirit, his creativity, and organization skills - and it was a family activity to share with me, our children and their spouses, and our nine grandchildren," wrote Ann in a letter about her husband of 51 years.
On the day he died, the early design plans for a course in Shelby, N.C., were still spread out on their dining room table, wrote Ann.
To friend David Shope, there was so much to learn and appreciate about Dale, who was an engineer at a nuclear plant in Idaho, served for five years as a coordinator at the Baha'i World Centre in Israel, was an incredible athlete (even in his older age), and dove head first into his hobbies like bicycling and disc golf.
In years past at the USDGC, whenever you'd encounter Dale he'd greet you like an old friend, smiling like he always did and probably passing along a joke here and there. After each interaction with Dale, you always left feeling better than you were, and feeling so glad he was there.
This year not seeing Dale at his familiar post near the EDGE Village has left sadness in the hearts of many he touched at the Championship. But the joy Dale created at the Championship is not forgotten. And that's something we can all still smile about.
"Our family is extremely proud of Dale's contributions to the growth of disc golf.  He was truly an ambassador for the sport," wrote Ann.