After winning last year's USDGC Performance Flight, Paige Pierce said she'd be back this year to try to qualify for the Open Flight during Monday Qualifying.
Word is, that's still her plan. And if she succeeds in grabbing one of those five final spots, she'd be the first woman to play in the Open Flight since it was established in 2012.
Pierce turned a lot of heads last year when she became the first female to win the USDGC Performance Flight. With Winthrop round ratings all above 1000, many would like to see how she'd stack up against the world's top men, especially this year as she's dominated the women's National Tour circuit (winning five of the seven NT's), and claimed her third World title.
Qualifying for the Open Flight became quite difficult when the open field was limited to only 72 players in 2012, with the only exemptions being top finishers from the year before. No female has yet qualified for the flight.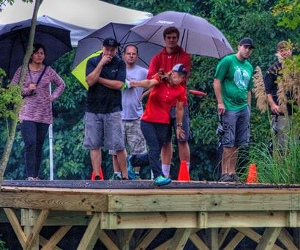 Pierce tried to qualify during Monday Qualifying last year, but was unsuccessful. This year, all Pierce needs to do is duplicate one of her better rounds from last year's Performance Flight and she's likely to get in and make USDGC history once again.