For the third time since 2010, Will Schusterick claimed the US Disc Golf Championship title, but this one, which required two extra sudden death playoff holes, was earned like none of his others.
And, he seemed a little stunned after it all finished on Saturday evening. When asked how the phrase 3-time sounded after all of the drama had ended, Schusterick replied, "I don't even know what it sounds like right now. I'm in shock."
Throughout the final round it was a tight match between all of the lead card that included: Paul McBeth, JohnE McCray, Patrick Brown, and Schusterick.
After 18 holes, McBeth, McCray and Schusterick entered a sudden death playoff when all were tied at (-19). McCray dropped off after the first playoff hole, and then Schusterick scored birdie on the second playoff hole to beat McBeth and win the USDGC.
Earlier in the round, though, it seemed Schusterick would only finish near the top, with McCray marching fast toward his first US title after making birdie on hole 16, and establishing a four stroke lead.
But then Hole 17 struck McCray just like it dashed Schusterick's hopes last year. After three OB tee shots, McCray ended up with a devastating 9 and it looked like his Championship hopes were over.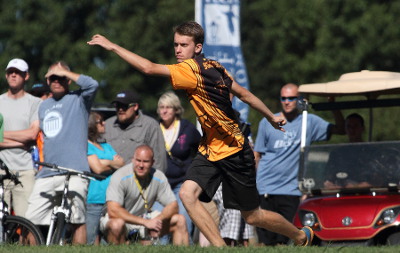 McBeth, who had held the lead for most of the Championship hit a huge birdie on Hole 17 to tie things up with Schusterick going into the final hole, while McCray and Brown were down by two strokes.
McBeth, now with new life after missing his spark late in the round, went OB on his second shot. Schusterick noticed and strategically played safe to ensure a par. However, his approach left him with a tricky par putt and he missed. Meanwhile McCray had regrouped and scored a birdie. Like Schusterick, McBeth also collected a bogey, which made Schusterick, McBeth, and McCray all tied at (-19), and poof McCray was back in it. Brown, who was at (-18) to start Hole 18, made bogey on the hole and missed the playoff.
On the first playoff hole, also on Hole 18, Schusterick smashed his tee shot up the fairway, followed by an approach that put him below the basket and looked to be in good shape to seal it since McBeth's second shot landed short and left of the green and McCray went OB on his second shot.
McBeth then landed his next shot by the basket as McCray again went OB trying to stay in it. Schusterick, again in position to win it, could not put it away and the drama continued for another playoff hole, but without McCray.
Schusterick and McBeth, then proceeded to the second playoff hole, which was Hole 1. McBeth's drive went long and he missed his birdie putt leaving the door open for Schusterick once again.
This time Schusterick's putt was true and he won his third US Championship.
When asked what was going on in his head during that final putt, Schusterick said, "I was trying to think about being in my front yard and practicing and shut everybody (else) out."
Though he's had an off year by Schusterick standards, Will later said he kept believing in himself throughout the round and that was key to his victory.