The first time Harold Duvall saw the Winthrop University Recreation Area in 1988 he knew it would be the perfect place for Championship disc golf.
"What it presented was the most beautiful public space in Rock Hill and a unique venue to have championship disc golf that was viewable by a gallery," said Duvall. There were plenty of big disc golf events happening at the time, but few were situated in a setting that would accommodate spectators, so Duvall knew he had something when he found Winthrop. 
At the time, not much was going on in the way of disc golf in South Carolina, according to Duvall, who had recently moved there from California. When it came to modern day disc golf courses in the state, Earlewood Park in Columbia, (established in 1989), was pretty much it, he said. It took a few years to foster a relationship with Winthrop University, key in that was arranging targets from two seldom used South Carolina state park courses to be repurposed at Fewell Park in Rock Hill and at Winthrop. Duvall also sweetened the deal by having volunteers install them.  
When Duvall got approval for the course, he didn't take the design lightly. He said it took hundreds of hours of course design deliberation with both the spectator and the player in mind before the Winthrop Lakefront Course was opened in 1992.
From the gallery's point of view, Duvall wanted them to see the players at their most spectacular, so he created holes where they'd witness long, incredible shots. At the same time, he designed the course so that those throwing the shots would feel equal amounts of anxiety and excitement each time they approached the tee.
One of the property's great assets, besides it's beauty and diverse terrain, was the College Lake loop road that surrounded much of the course. Being near most of the holes, it was ideal for spectating without crowding the players – something that was hard to avoid at any other venue hosting large disc golf events at the time. When he was finished, he had a course that the students of Winthrop University could enjoy and something that could be used for championship events. Much of it still remains today in the modern-day version of the Lakefront course (a shorter version of the Gold course that mainly plays around the lake).
Hole 1, not by the Shack?
Many may not realize it, but back then Hole 1 didn't begin near the Winthrop Shack. Actually, the first hole began near the current player parking lot and ended about 290-feet away near the green of the current Gold Hole 4. However, there was no signature ring of Leland cypress trees, just a few short cedar trees, said Duvall, adding that those were later planted by the disc golf community as well as many other trees and vegetation throughout the years.
The next hole then moved back toward College Lake Road, followed by two holes along the Winthrop Lake (what is now Gold Hole 5). The course then flowed around the lake and finished at where Gold 4 now is located.
In 1997, the Pro World Championships came to Charlotte, and Winthrop was used for the finals. Not only was the Lakefront course used, but a temporary 18-hole course was installed on the nearby Winthrop Golf Course that was called Eagles Landing. Duvall said the Lakefront course used for Worlds was quite similar to the course that opened in 1992, though the numbering may have changed.
Here's a PDGA video of the Finals in 1997.
Par 63
For the first USDGC, the course saw some serious changes and was now referred to as the Winthrop University Gold Course. Hole 1 was repositioned to its current location by the Winthrop Shack and the course now flowed similar to modern day, though several of the holes and numbering would be revised through the years.
(Here's the course map from the 1999 USDGC Program)
2 great holes combined to make a spectacular hole
One of the biggest design risks was to take two of the Lakefront course's greatest holes and try to create something truly special. 1999's Hole 8 combined a signature par 4 and an equally beloved Par 3 into the Gold Course's first Par 5.
This hole continues to be 5-time US Champ Ken Climo's favorite USDGC hole. And he really liked the original tee pad. Especially for right-handers, it was a turnover shot that made you think twice, he said. "You were blind to the lake," said Climo.
Other noticeable changes for 1999, were the addition of three holes beyond the Winthrop baseball field and what was then a nursery. (At the time they were numbered 12, 13, and 14.)
Par 4's and Par 5's
1999 Hole 12 (par 4) and Hole 13 (par 5) along with other multiple shot holes was a new concept to disc golf at the time. The USDGC made multiple shot holes, par 4's and par 5's, the rule more than the exception and helped move the sport away from the drive and putt mentality of course design, according to Duvall.
Rick Rothstein, who covered many USDGC's for his Disc Golf World News Magazine was a fan of the design. With most other courses at the time, you just threw as far as you could, but at Winthrop you had to throw controlled shots to set you up for the green, said Rothstein.
Dr. Rick Voakes, who played in the first USDGC as well as 10 others, was also in favor of the course's emphasis on shot placement.
"I think that was huge. I think that made the sport more credible and a more professional kind of sport," said Voakes.
What's this? Yellow Rope?
The 1999 USDGC was also the first time a disc golf event used yellow rope as a marker for artificial OB. Duvall remembered it being placed on holes 12, 13, and possibly 18 that year.
"The rope at that time seemed like a very far-fetched idea, but it made sense. With some of those open holes, it added some character," said Andy Greene, who was on the USDGC Organizing Committee.  
Hole 17's green was guarded by hay bales, which still happens today. But having to land your tee shot in the island green or be forced to re-tee was something new. That year the PDGA granted a rule variance allowing players to retee if their shot did not land in bounds, according to Rothstein's coverage of the 1999 USDGC.
Gold Course Design Now and Tomorrow
Fast Forward two decades later, the Winthrop University Gold Course has seen dozens of changes and can still be considered at the pinnacle of disc golf design. Today the job of updating the course is in the hands of Harold's son, Andrew, the 2018 USDGC Course Designer.
Andrew Duvall says his current approach to Winthrop Gold Design is to continue with his father's vision of creating incredible disc golf for spectators and demanding, yet inspiring holes for the player. And that means re-evaluating each hole, each year, even the holes that are considered iconic.  "The focus is always creating the best course for the players. If we felt that the course played better backwards, I don't think we'd be scared for a total redesign," said Andrew Duvall. Hole 9 is a good example of that this year. It was completely redesigned for 2018.
What's in store for the future?
Along with keeping with his father's vision, Andrew Duvall said he and the rest of USDGC staff will have to remain flexible for future changes to the Winthrop property.
Over the years, the course has had to adapt to the addition of such things as tennis courts, a wetlands research area, baseball field improvements and other facility changes. With the USDGC being a guest on Winthrop University property, USDGC officials must expect more changes with a growing university set in a thriving metropolitan area, said Andrew Duvall.
Making Putting & Approach more of a challenge
For top pros, in the circle putting has practically become a given, which ultimately isn't interesting for the player or the spectator, according to Andrew Duvall. Last year, five, 6-foot wooden pillars were installed on the right side of Hole 2's green, guarding the target. And, although that move was controversial, the putt from that side was no longer a guarantee.
The approach to Hole 2's green was also made more difficult with the pillars presence. Now the player had to land on the correct side of the pillars or risk a contested putt.  
"I think the posts work as exactly as they should. They make putting more interesting, but they make approaching the green more valuable as well," said Andrew Duvall.
He said they will look to create more putting challenges in the future. In the end, it's about testing the top disc golfers and their abilities while wow'ing the crowd at the same time, said Andrew Duvall. And he feels pretty good at the kind of must-see disc golf they've created so far.
After a day with five bogeys, 2015 Champ Paul McBeth came back down to earth, shooting a surprising -4 and now leads the event by only five strokes over hard charging James Conrad and Kevin Jones, both at -24 for the event.
Leading the USDGC by 8 strokes going into the round, McBeth extended his lead to 9 after the first hole when he birdied and Conrad made par. Both he and Conrad then made bogey on Hole 3, but they both made amends for that on the signature Hole 5 lake hole.
In McBeth's case, his Hole 5 tee shot put him in a tricky position under a crepe myrtle tree lining the fairway. However, after a nice crouching forehand he made an amazing long turnover third shot to ensure a birdie.
Conrad works to get lead down
Conrad got the lead down to six after Hole 11, but then fell behind by 9 strokes again after making bogey on Hole 13. However, McBeth then hit a hard stretch starting with a bogey with Hole 15 and then another bogey on Hole 17. On those holes, Conrad made a nice save on Hole 15 when he threw a forehand roller while kneeling through the mando entry way that led to a par save. Then on Hole 17, Conrad hit his birdie putt after making a smooth putter drive that turned over just slightly and caught enough turf to stay in bounds. He finished at -7 for the day after making birdie on the final hole.
https://youtu.be/Q30bx4YwE7Q
Kevin Jones jumps to the lead card
Kevin Jones has made an appearance on the USDGC's lead card last year during Round 2, but this will be his first experience on the final round's lead card. With his -11, the hot round for the day, he showed he belonged in the mix of things for the final day.
https://youtu.be/NQSofmNGmSI
Paju looking for big finish
At -10, Seppo Paju brought himself closer to striking distance. During his bogey free round, the long bomber from Finland had a very handy 100% fairway hit percentage. Look to him to jump even higher up on Saturday.
https://youtu.be/jGHXIPLEa_c
Defending champ Nate Sexton isn't out of it being eight strokes back, but he'll need a big round on Saturday to keep his crown.
Ulibarri aces Hole 17
Going into the day at -14, Paul Ulibarri didn't have the round he needed to keep up with McBeth and company with a -5, but he did have the highlight of the day when he aced Hole 17 in front of the big lead card gallery.
It all comes down to Saturday
With Conrad and Jones on the move, it's becoming apparent that McBeth's incredible first two rounds can only take him so far. He'll have to turn it on during the final round to take home the US title for the second time.
USDGC 2018 Quick Links
When is the only time you will see 8 players on a card at the USDGC? The Dean's Cup
Friday was the start of the Dean's Cup Invitational at the United States Disc Golf Championships. For the 5th Annual Dean's Cup, Innova and College Disc Golf have invited the top collegiate teams from across the United States to take part in the USDGC. Graciously accepting that invite were the teams from Mississippi State, Liberty, Clemson, and North Carolina State. Teeing off on the first card of the day was our first match, North Carolina State vs Liberty.
Match 1: Liberty 62, NC State 62 - Liberty won the match after a two-hole sudden death playoff.
North Carolina State and Liberty's match was a notable battle between two of the top programs in collegiate disc golf. Liberty's Coach, Steve Bowman, is confident in his team to do well this season, "We've got a solid chance this year" but with struggles early on, NC State had what seemed like a comfortable lead. That's when Winthrop Gold started to show its teeth.
After over 10,000 feet of play and 62 throws from each team, we had a tie. Our match between Liberty and North Carolina State ended in the first tie in Dean's Cup history. Time for a playoff! After two hard fought playoff holes, Liberty's Jeremy Miekley nailed their 25-foot putt to send Liberty to the Dean's Cup Final Match.
Match 2: Mississippi State 59, Clemson 68
Our defending Women's Individual Champion and the only woman in our field, Clemson's Alex Lambert, led her team to a respectable 68 in their first round at the Dean's Cup. Their one over par round was defined by consistent and safe play, but a few missed opportunities and a tough time on hole 17 left the door wide open for Mississippi State.
The Bulldogs, our current National Champions, were looking to repeat their dominant performance at the 2018 National Collegiate Disc Golf Championships. The highest rated player in our field, Jacob Henson, has played this course before, "It's a lot more fun to play for the team. I like this more than singles" he said. His upbeat attitude was infectious and after drilling a 60-foot jump putt on hole 6, MSU never relinquished their lead. The Bulldogs won their match with an impressive -8, 59.
Join us bright and early at 8:15 a.m. Saturday for our Dean's Cup Final Match of Mississippi State vs. Liberty.
Keep up with the action on Instagram @collegediscgolf and on our Facebook page, National Collegiate Disc Golf Championships.
Regardless if it's been ages since you last threw a disc or you're an avid disc golfer, the Throw Pink event is just the thing for area women and girls.
Join us at the beautiful Winthrop University campus on Saturday, October 6th for Throw Pink's 5th event in conjunction with the United States Disc Golf Championship.
Throw Pink is a non-profit with the mission of encouraging women and girls to get out and be more physically active through the game of disc golf. The program was established to make a difference to women's health-related charities by raising money through fun disc golf initiatives.
Women and girls of all skill levels are welcome! 
It all starts with a disc golf instructional clinic at 9 a.m that will get new players on their feet and refine the skills of those that have played before. 4-time World Champion Des Reading will be on hand to give instruction. A casual round will follow on the beginner-friendly 12 hole temporary course designed by 2018 USDGC Course Designer Andrew Duvall. Everything will wrap up by noon.
The $20 fee includes the clinic, a round of disc golf, a Throw Pink t-shirt, disc, a ticket to the United States Disc Golf Championship (final round is also Oct. 6th.), a discount to the USDGC pro shop, and a charitable donation.
If you don't have discs, that's not a problem. There will be plenty available to use. Drinks and snacks will also be provided.
Pre-register online to ensure your shirt size or sign up on site. (Be sure to arrive 30 minutes early).
Winthrop Coliseum
1162 Eden Terrace
Rock Hill, South Carolina
*Note: Address is to the Winthrop Coliseum. Parking will be by the Coliseum. The clinic and fun round will take place in the field across from the baseball stadium near the sand volleyball courts. Look for the pink tent!
20 years ago the first USDGC teed off. That's a long time ago. Many of today's disc golfers know about the USDGC and its famous Winthrop Gold Course, but they may not know the story behind the event and the impact it has had on the game.
To get a sense of that, here's a look at how the very first U.S. Disc Golf Championship in 1999 came to be and how it played out.
How It Came to Be
Over the years there's been this desire to provide the ultimate setting for Championship disc golf - one that inspired incredible play and rewarded those players with an elevated recognition befitting elite professionals. To form that kind of environment, three main tools were needed: serious media, sizable crowds, and a respectable purse.
By the late 1990's, the game had made strides in this direction, but still had a long way to go. Innova founders Harold Duvall and Dave Dunipace, and Jonathan Poole wanted to make this happen. But, in order to do so, a new kind of event had to form, one that mirrored disc golf's forefather, traditional golf.
Enter the Winthrop Lakefront Course
It all started, it seems, with a course as you might expect. But not just any course. Harold Duvall, a transplanted South Carolina resident by way of California had installed a dandy of a course in the Winthrop University Recreation Area in Rock Hill in 1992.
From the get-go, Duvall knew this property was special and one that could host Championships.
"From the beginning it was clear, that it was the first venue set up for great play and spectating and continues to be so today," said Duvall. Not only was it a sight to behold, but it placed an emphasis on strategy and accurate distance and included multiple par 4's and Par 5's – a rarity in disc golf at the time.
The Course is Here, Let's Make the Event
With a heck of a course already in the waiting (which was also used for the 1997 World Championships finals, though a different layout), next came the event itself. It was at a hotel breakfast during a trade show in early 1998, when eventual USDGC Event Director Jonathan Poole and eventual USDGC Chairman Harold Duvall started to first explore the idea of putting together a new disc golf Major.
What came of that meeting as well as others down the road included 5 bold format changes for a Major event.
One round per day.

Tee Times/Staggered Start each round.

One division.

Players had to qualify.

The Championship would return to Rock Hill each year.
Many of these features, one round per day, tee times, one division, were all things the non-disc golf community were already familiar with from traditional golf events, said Andy Greene, a member of the USDGC Organizing Committee. The hope was that these features along with making the event more pleasurable for the player would also make it easier for non-disc golfers and media to follow and attend.
"In a sense it was planting seeds for validation for disc golf from beyond the disc golf world," said Greene.
Keeping the USDGC at Home
The fifth change, the USDGC returning to Rock Hill, sounds trivial, but turns out to be a game changer. The only Major at the time, Worlds, was hosted by a different club/city each year, so whichever club/city hosted had to start from scratch when it came to running disc golf's Major event, according to Poole. That's why the Worlds could often be an inconsistent experience from one year to the next.
Being at the same location, you could build upon the previous year and tinker to make it better.
The rest of the first USDGC's development was like other events at the time, said Poole. However, one of the main differences was that they tried to focus on promotion, which other large events often did not have the resources/time for then. That year they made a concentrated effort to reach out to local newspapers, radio, magazines, other media, and started distributing the USDGC posters throughout town, which continue today.
The Lead Up
With the exception of the limited sponsor exemptions, you had to earn your way to the USDGC, something that was unlike most tournaments at the time and even today. In 1999 you gained entry to the USDGC through a number of ways like being a current World Champion in the Open, Women's Open, Men's Pro Masters, and the Men's Advanced Amateur divisions, being a past Open World Champion, and being one of various 1998 PDGA points and money leaders.
However, the way many punched their ticket to Rock Hill was through performing well at regional qualifying events held throughout the country. In 1999 there were 12 and several of them like the Memorial, the Masters Cup, the KC Wide Open, the Southern National Pro Championship, and others are still qualifiers today.
No doubt, qualifying helped spark the attention of the players that year.
"We knew it would be a big deal and everyone wanted to get into it," said Dr. Rick Voakes, who played in 11 USDGC's including the final round lead card in 1999.
Also interested was Rick Rothstein, who came to cover the event for his Disc Golf World News magazine. Reason being: "Well, it was a big deal," he said. He was looking forward to seeing the course and watching the event especially one that played-out with only one division. He'd never been a fan of the Pro Masters age at 35, even at 40, so seeing an event without divisions was refreshing.
He did note in later issues of Disc Golf World News, that many players during the USDGC's early years had their doubts that the unusually formatted event with its higher than average entry fee would catch on.  But by 2005, after the USDGC had several events to mature, Rothstein wrote that the event "… is quite simply the hottest ticket in the disc golf world."
When it came time to play this new kind of event, the sport's most dominant player remembered it being pretty exciting. It was truly the first event that resembled a traditional golf tournament in our sport, said Ken Climo. No one in disc golf had seen this before.
"It just had a totally new feel to it. It felt more professional, which it is," said Climo, winner of five US Titles.  
Making it Work
When you walk along the course nowadays it's easy to see that the USDGC staff is immense. More than 100 people pitched in last year, including Innova East employees, media personnel, volunteers, and others.
For the first USDGC, staff was only a small fraction of that. It included Innova employees, Charlotte Disc Golf Club members, and other volunteers. Greene estimated only a handful of spotters were on the entire course, which is hard to imagine with the current day's situation of spotters on nearly every hole, two on the longer holes like Hole 5.
"We have more people marshaling the course now than we had total staff back then," half-joked Russell Schwarz, another member of the USDGC Organizing Committee, who was also the head course official that year.
Keep in mind the USDGC was a much smaller scaled event in those early years. Poole remembered the field was only 68 players with a purse of $10,000 in 1999. A big contrast to 10 years later when more than 190 players attended for a purse of $80,000. It was a fledgling event that was just getting off the ground, which meant less banners, tents, and less player amenities to provide.
Scrambling to Pull it Together
But even though there were less details to attend to, it was still a heck of a job to pull off. Everyone was wearing different hats, getting last minute things.
"We all had to do it. We all had to do everything," said Poole, adding that the Championship's beginning wasn't unlike a lot of tournaments nowadays with a small staff hustling to pull it together.
Greene said a lot of prep work for the course went down to the wire the week before the event. He remembered helping put up OB rope late in the evening when the only light available was from Duvall's Ford Explorer.
During the event, several staff members including Poole, his wife Laurie, Greene and Zeb Campbell slept inside the Winthrop Shack –what was then tournament central, and now used mainly for the Pro Shop.
"We were continuously busy until it was over and then we were exhausted," said Schwarz.
Wingin' It Cafe
Since there was no Player Hospitality Area yet, Zeb Campbell, another member of the USDGC organizing committee, operated the Wingin' It Café out of the Winthrop Shack to serve players complimentary food.
Greene, the official starter of the USDGC, remembered assisting Campbell when his starter duties were done for the day. He said one day after the round Ken Climo walked in and asked for a drink. Andy obliged and Climo started talking about how much he liked the event. "This is the future of disc golf. You're playing golf shots. This course makes you think," Andy remembered Ken saying.
"To get a good review from The Champ midway through, definitely felt like we were heading in the right direction as far as running a premier event like this," said Greene.
USDGC Created USWDGC As Well
Most folks don't realize that the first US Women's Disc Golf Championship was also created by Innova and the USDGC in 1999. The ladies played both at Winthrop and at Charlotte's Hornets Nest Park. The USWDGC ran in conjunction with the USDGC for the first several years of its existence. Since then, the USWDGC, which rotates to different sites each year, has grown to develop its own identity and has become a premier women's Major.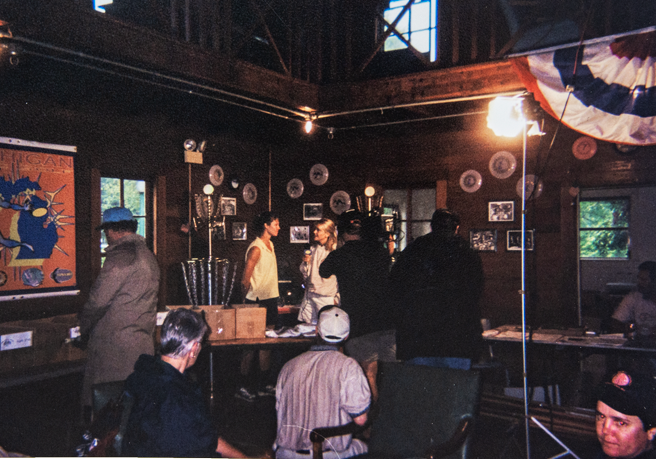 How the 1st USDGC Played Out
The first thing many will tell you about the first Championship was how rainy the final round was. In fact, it rained from beginning to end that final Sunday (for the first several years the event ran from Thursday through Sunday).
The next thing people will tell you is how well Ken Climo played. After getting beat at Worlds that year (the first time at Worlds since Climo's reign began in 1990), it's safe to say that Climo had a fire lit inside him for the inaugural USDGC, in which most all of the notable names of the day were present including the man who beat him at Worlds, Ron Russell.
Climo's highlights included an amazing ace on Hole 17 during Round 3 (Back then, the hole ran alongside the lake, but still had the treacherous island green).
Schwarz remembered seeing the ace live. "We were like, Hey there's Ken. We saw him walk up to the tee and watched it fly the whole way and we were like, Damn! I'm glad we got to see that. There won't ever be another first ace at the US Championship. And it was somewhat appropriate that it was Ken since he was the dominant player of the decade," said Schwarz.
Climo was cruising and with an 11 stroke lead over Al Schack going into the final round it looked all but certain of an inaugural Climo win. Disc Golf World News' Rothstein had become accustomed to a nearly annual post round interview about the The Champ winning Worlds, and "At the risk of jinxing him, I asked him for a post round interview (as the winner) before the (final) round had occurred," Rothstein said with a chuckle. Rothstein said Climo wasn't fazed and agreed.
Not surprisingly, Climo won in dominating fashion by 15 strokes. Watching coverage of the soggy final round, Climo seemed to be the only one at ease, and though he shot his worst round of the event (-9) it was still the hot round by three strokes. To Climo, maintaining his focus is those wet conditions was just business as usual.
"To me, it was just my everyday thing. I try to beat the course the best way I can, no matter if I was leading or behind," said Climo.
With rain continuing, awards ceremony brought indoors
Plans were for the awards ceremony to be outdoors, but with rain still falling after the final putt, most everyone was able to huddle inside the small Winthrop Shack building. Though it was a change of plan, the ceremony was still fondly remembered. Chairs were set up inside the Shack and during a nice impromptu moment while staff were raising the US flag, players began to sing America the Beautiful. Everybody soon joined in. Top performing players were called up one by one to the balcony to be honored by Duvall, Poole, and others.
Mission Accomplished
With that, the first USDGC was in the books. It had happened.  And for those that had attended, it had been the new kind of disc golf experience Duvall, Dunipace, and Poole had set out for. "The bar has been raised," were the sentiments of players, according to Bucky Worboys, commentator for 1999 USDGC video.
Rothstein also summed it up well in Disc Golf World News: "Duvall and Poole have a definite vision of what professional disc golf should be and with this event they laid a solid foundation."
Early on it looked to be a two man race between 2015 Champ Paul McBeth and Josh Anthon, however Anthon cooled off at the turn, while McBeth kept charging ahead during Tuesday's Round 2 at the USDGC.
In the end, McBeth submitted another superb round (-12), just one stroke behind his big opening day, and he continues to lead the event, now by 8 strokes.
More hot temperatures greeted the players on Thursday and 90 degrees is again expected for Friday's Round 3.
When Anthon skidded, James Conrad took control of second place. Conrad, who was three back of McBeth to start the round, started slow with bogeys on holes 1 and 5, but then throttled forward. He brought McBeth's lead down from eight to six when he made a sweet birdie on the par 4, Hole 12, while McBeth gave up his first bogey of the event.
However, those were the last strokes Conrad gained on McBeth for the round. McBeth went on to birdie four out of the last six holes and finished the round with an 8 stroke lead.
Getting in the mix
For several players, Round 2 was a day to correct the mistakes from Round 1.  That included Chris Dickerson. His -8 was eight strokes better than Round 1 and made a nice jump in the leader board to a tie for 15th. Dickerson had two bogeys on holes 2 and 15, but finished strong with a birdie on Hole 17.
https://youtu.be/Y38Vc0pEyIo
Others like Nathan Queen were trying to build on an already solid Wednesday round. Queen had a great front nine, birdying six, including a big 40-foot birdie putt to start the round. At -11, he's tied for 10th.
https://youtu.be/xL2fD5IqdCE
Defending Champ Returns to the lead card
Don't look now but defending champ Nate Sexton is on the lead card for Round 3, after a bogey free -9. Another bogey free competitor, Paul Ulibarri, (-14) heads to the final pairing as well after shooting a -7. Sexton, Zach Melton, and Kevin Jones are all at -13 for the event, and all are looking to make up serious ground during Friday's moving day.
USDGC 2018 Quick Links