The Dean's Cup, which showcases some of the best college disc golf teams, returns to the USDGC for the 5th year.
Teams from Mississippi State University, Liberty University, Clemson University, and North Carolina State University will be battling it out before USDGC rounds on Friday and Saturday at the Winthrop Gold Course.
Look for the matches to start around 8 a.m. both Friday and Saturday.
Mississippi State University is coming off a dominate 33 stroke win at the National Championships and will be facing Liberty University. In the second match, North Carolina State University plays Clemson University.
The teams will be playing in a stroke-play, four-player doubles format: The winner of each match will play for the Dean's Cup Final on Saturday.
Playing for something more than personal pride, on the largest stage in disc golf, these student athletes will leave it all out on the course. Follow the action all weekend long on our Facebook page, the National Collegiate Disc Golf Championships.
Several hot scores, notably from 2015 Champ Paul McBeth, Josh Anthon, Zach Melton, and James Conrad matched the unseasonably warm Rock Hill, SC temperatures Tuesday during Round 1 of the USDGC.
Hot Day (for October), Hot Rounds
Normally during tournament time, the weather feels closer to fall than summer, but not this year with a high of 86 and even warmer weather expected in the coming days. The warm weather, though, didn't seem to bother guys like Round 1 leader McBeth, who had a bogey free -13 that was reminiscent of Round 1 in 2014 when he shot a blistering -14.
Here's McBeth securing birdie on Hole 14.
View this post on Instagram
More blue than white on scorecard
Looking at McBeth's scorecard on UDisc Live, it's amazing to only see a few holes without the birdie shade of blue. McBeth tallied birdies evenly throughout the course including on Hole 16 where his smooth forehand drive produced an easy birdie putt, which was followed by a birdie on Hole 17. On the final hole, his approach put him at least 40 feet out, so he decided to lay up for this third shot since he faced a downhill, high risk putt. Later, he said he wasn't feeling his beyond-the-circle-putt that day, so he decided to play the smart move.
https://youtu.be/VKac1wzzpXw
Melton makes a move with -11
Zach Melton was having a very quality round, but then slipped up on Hole 13 with a bogey, however, he didn't let it bother him. After making a good drive within the circle on the following hole he was back on the birdie train. He said a lot of people feel like you have to do something heroic after a mistake at Winthrop, but that's not true, you just have to right the ship and continue.
https://youtu.be/ZlJ-bl3MX6k
Could this be Anthon's year?
Josh Anthon would've been -12, except for an early bogey on Hole 4. Besides that, his round was blemish free. Anthon, who's been a recurring USDGC Contender for many years was last in contention during the 2012 USDGC when he battled with Will Schusterick and Ricky Wysocki on the final round's lead card and later took 3rd place. With Anthon catching fire early this year, he could go far yet again.
James Conrad also only had one misstep, a bogey on the final hole. His -10 will bring him to his first USDGC Lead Card.
Eagle McMahon found himself in the pack after his -4. He wasn't too crazy about his three bogies, but he was satisfied that nothing worse happened. He plans to regroup for Round 2.
"With this event it's about getting your bearings and seeing where you're at," said McMahon.
USDGC's Women have slow start
The two women in the field, Paige Pierce and Paige Bjerkaas, will look to regroup as well for Round 2. Pierce ended up with a +10 while Bjerkaas submitted a +14.
First Tee Time Belongs to Climo and Schultz
As an homage to, two of the event's greatest champions, Ken Climo and Barry Schultz were grouped together for the 8:30 a.m. tee time along with Nate Metzler and Jalle Stoor. Though Climo's hip injury would not allow him to play the entire round, he was able to complete the hole. A modest sized gallery gathered at Hole 1's tee for the early morning tee time – a tee time Schultz or Climo probably weren't accustom to since the top players generally play later.
Though Climo had plans of only one hole, he wanted to make it count.
"It was fun. I was just trying to rip one for the ace," said Climo afterwards, adding that he got a little over on it, resulting in a mid-range that turned over and landed a little outside the circle's edge. Climo still had a putt for birdie, but hit the band and had to settle for par.
As expected, after Hole 1, Climo pulled out of the event so he wouldn't aggravate his hip injury, but he did walk with Schultz through Hole 3, having a good chat with a man he's had many epic rounds with.
Though Climo won't be playing any more during the event, he will be sharing his USDGC insight as a guest commentator during the live coverage of Round 3 and Round 4.
Check out the special Round 1 tee time for Climo and Schultz here:
https://youtu.be/DVQBg9h4E5Y
USDGC 2018 Quick Links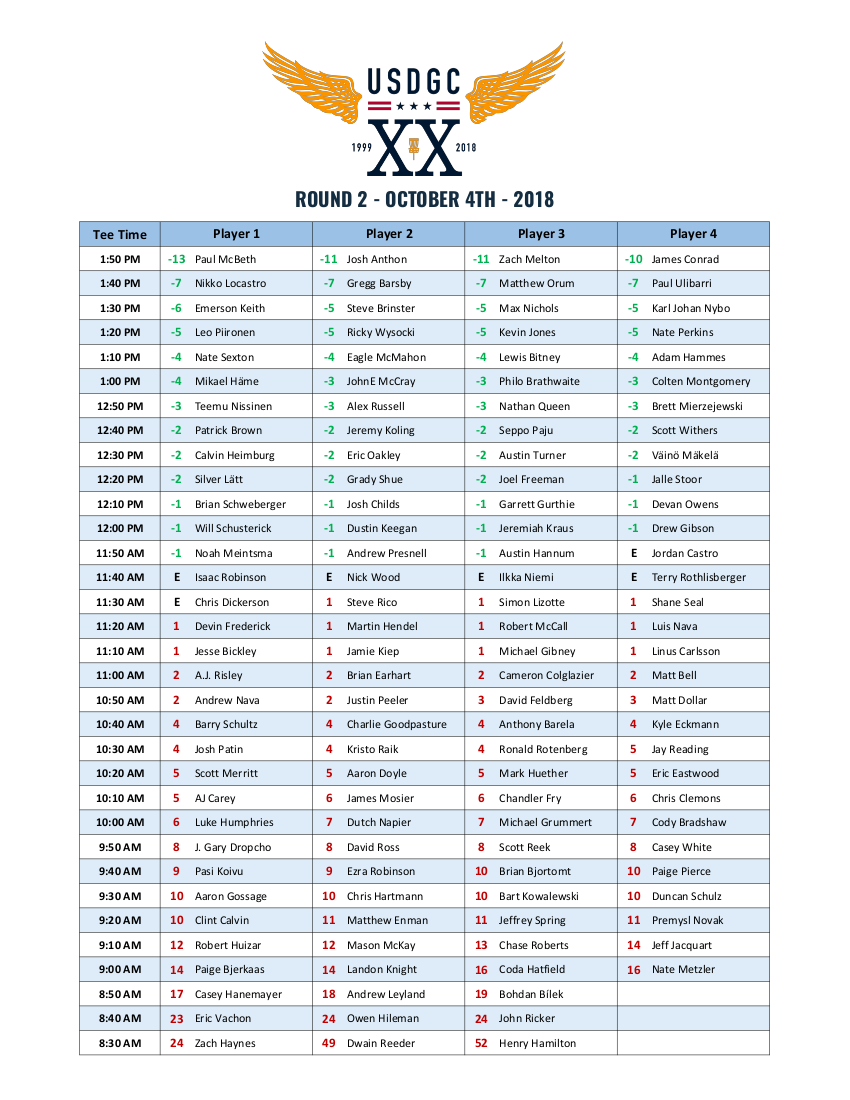 The USDGC Player Pack is always a treasure trove of goodies. This year's pack has a retail value of more than $340. Here are some of the marquee items inside.
USDGC Stamped Champion Caiman
Innova Pumpkin Disc
INNColor Personalized Disc (Star Rat)
Discmania Golf Disc
Legacy Golf Disc
USDGC Wood-framed Photo Compliments of Corduroy LeFevre
USDGC ENO Double Nest Hammock w/ Straps
Custom USDGC Umbrella
Custom Full Cover USDGC Treasure Trove Box
Lagunitas 6 pk
USDGC printed Pint Glass
USDGC Fountain Shield Patch and vinyl decals
Smith Optics discount card
Adidas Terrex Discount Card
ProPull refreshments
And more
Distance expert Simon Lizotte became a three-time US Distance Champ after winning the competition on Tuesday. However, he didn't walk away with the competition like he did when he last won the competition by 90 feet in 2014.
Young gun Anthony Barela nearly took the title with a throw that was three feet shorter.
Here are the top five throws of the day:
Simon Lizotte 594'
Anthony Barela 591'
Seppo Paju 585'
Eagle McMahon 583'
Drew Gibson 583'
Big Arm Big Heart Distance Showcase on Saturday
The top five throwers from Tuesday's competition will be featured in the Big Arm Big Heart distance showcase Saturday after the final round where they will heave drives over the Winthrop Lake for charity.
Fans will have the chance to purchase these player drives for a donation of $20 to Throw Pink. Players will be randomly selected to each fan that purchases a drive. If the Throw Pink-stamped Star Destroyers used during the showcase make it over the lake, the fan that purchased the throw gets to keep it.
Pink DISCatcher Traveler Targets will be arranged in the familiar ribbon shape associated with breast cancer awareness on the opposite side of the lake. If a player lands a drive in one, the fan that donated that shot gets to keep the Traveler.
If one of those drives lands inside the special DISCatcher Pro Target in the middle, then $25,000 will be donated to charity. Stay tuned to Facebook for more details.
In the annual USDGC Opening Ceremonies, the best disc golfers on the planet along with the event's staff all gathered under one roof Tuesday evening to celebrate the USDGC's kick-off and all of its noteworthy people.
The USDGC's secret sauce is the staff
After USDGC Chairman Harold Duvall welcomed the players, Event Director Jonathan Poole started things off by bringing out all of the event's staff and volunteers onto the stage, who were received with a rousing ovation by players situated at dining tables. It's an annual gesture where the players get to see the many people dedicated to serving them during the week-long event.
Kicking things off, was musician Zach Deputy, who performed an excellent and soulful version of the National Anthem. Deputy will be back to perform with the Mantras Thursday at 6pm behind the Pro Shop.
20 More Years
Winthrop University Athletic Director Ken Halpin then addressed the banquet hall and expressed how pleased the university was to host the U.S. Disc Golf Championship and how it was the university's goal to make each player feel special during this national championship.
Not only was Halpin impressed with the Championship's 20-year history, but he hoped to see another 20-year relationship with the event.
Chains for Charity
EDGE Coordinator Jay "Yeti" Reading, who is leading the Chains for Charity promotion this week during the USDGC, asked players to get their fans to take part in Chains for Charity.
The promotion is a novel way for disc golf fans to donate to nonprofits Educational Disc Golf Experience (EDGE) and Throw Pink while following the USDGC. Fans that register for the promotion will pick a USDGC player to follow and donate money based on the number of birdies, eagles, and aces made by that player. To learn more go here:
One ring to rule them all
One of the most anticipated moments of the annual event is when the USDGC Champion's Ring is presented to the prior year's winner. After gathering all of the former champions on stage (except 2008 Champ Nate Doss, who was not in attendance), 2017 Champ Nate Sexton was awarded his ring. In his acceptance speech, Sexton said he was humbled to be in the company of all of the past champions. He added he didn't know how long he would remain US Champ, but he would do his best to keep the title for as long as he could.
He said winning the USDGC has been the pinnacle of his disc golf career.
"I highly recommend being a US Champion. If you haven't done it. Do it," said Sexton humorously.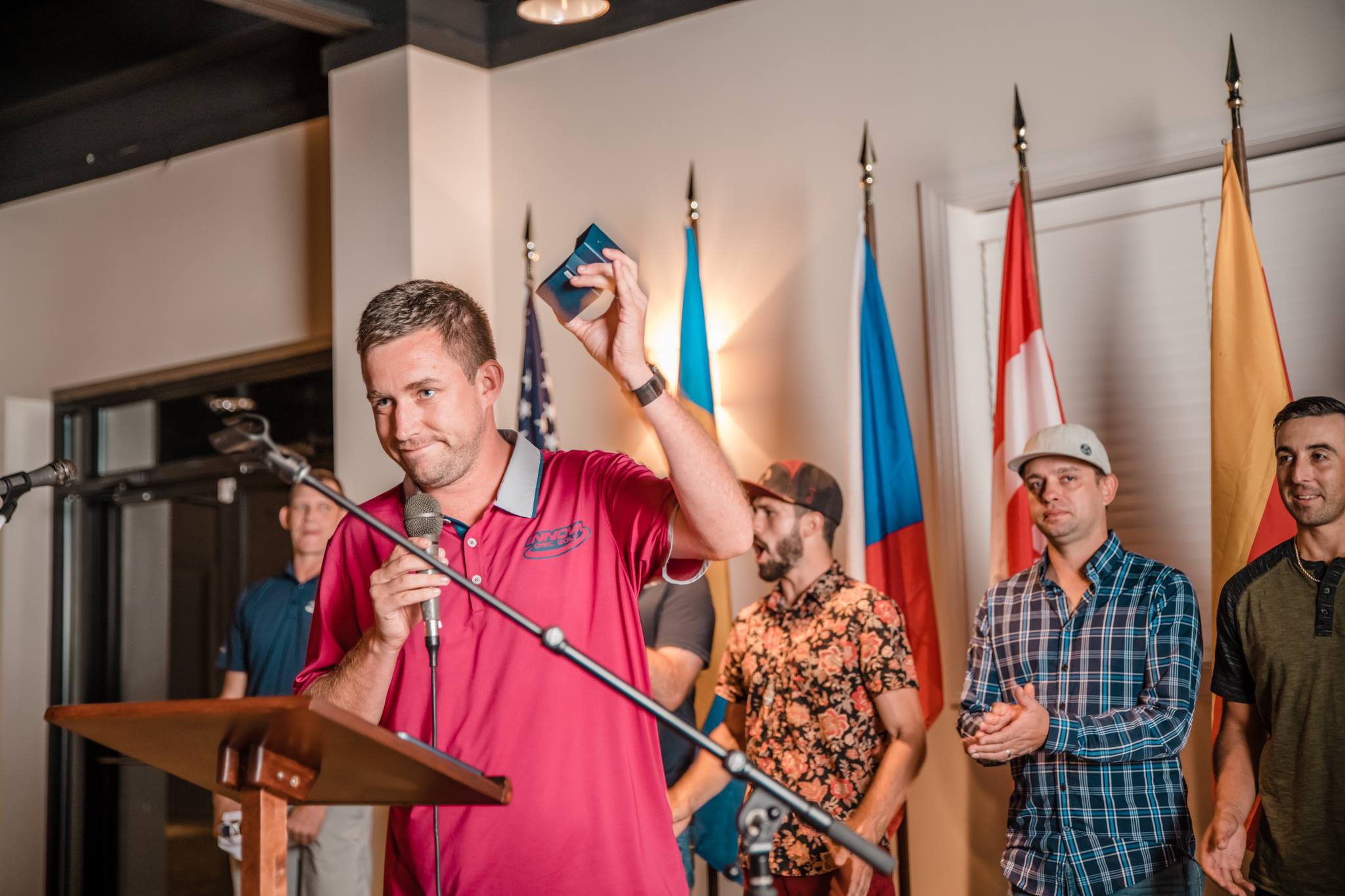 And the Golden Rake goes to …
The highest honor bestowed upon USDGC volunteer staff was then awarded to Marty Borucki, of White Lake, MI.
For the last 10 years, Borucki has been the man to take on any assignment be it shuttle cart driving, spreading mulch, laying out top or bottom rope, or whatever is needed.
"He's just a can-do kind of guy," said Poole.
A job he's paid particular attention to the last few years has been perfecting the beach green of Hole 6. Each year the green's sand has to be replenished and takes many Marty man hours to spread it out evenly.
During Borucki's tenure, it hasn't been uncommon to see him at Winthrop a week before the event, sweating away to get the course ready.
"I can't tell you how much of a privilege it is to be a part of the greatest disc golf event in the world," said Borucki during his acceptance speech.
Being a shuttle cart driver for several years, Borucki's friendly face is often the first thing players see after a round. No matter if they broke the course record or played the worst round of their career, Borucki's positive spirit behind the wheel let them know how important the are.
Climo & Schultz get early tee times
The annual announcing of the tee times concluded the event. As an homage to past Championship greatness, two of the event's greatest champions, Ken Climo and Barry Schultz were grouped together for the 8:30 a.m. tee time. Though Climo's hip injury will not allow him to play the entire round, he was expected to complete the hole.
Be sure to check out all of our staff photographer Eino Ansio pics from Tuesday.
5-time US Champ Ken Climo had hopes of playing an entire round during the 20th Anniversary of the USDGC, but decided against it so he wouldn't stall the recovery of a nagging hip injury that has kept him from playing competitively the last few years.
Though Climo will not be playing a full round, he will throw the tee shot of Hole 1. In a move to showcase two of the best players in USDGC history, Climo will be paired with fellow USDGC great Barry Schultz (along with two other players) at the 8:30 a.m. tee time.
Come watch Climo & Schultz Tee off for Round 1
We invite anyone available to come watch this special tee time. 15 years ago, both Climo and Schultz played Hole 1 three times during the epic 2003 playoff, birdying it each time.
Climo said he's been plagued with hip bursitis that stems from landing wrong on his hip 10 years ago.
Since he's had to favor it while moving it's also triggered lower back pain.
"I can play a round of disc golf. It's the next day, though … And it hurts for 2 or 3 weeks after if it gets aggravated," said Climo, adding that he's tried a number of avenues for relief including seeing an orthopedic surgeon, going to an acupuncturist, but nothing really seems to have worked.
Tune-in to Climo's live video commentary during Round 3
On Monday, Climo said he was planning to play at least the first round. Though the pain was still present, he said his injury felt more manageable than it has been in the last two years.
However, Tuesday afternoon, Climo informed tournament officials he'd be pulling out after the first hole so he wouldn't jeopardize his recovery.
Though Climo won't be seen on the course after Hole 1, he will be seen during the USDGC's live coverage as a guest commentator during Thursday's Round 3 and possibly for the final round as well.
That should be a treat for anyone that tunes-in because not many know Winthrop Gold like Ken Climo.
When Nate Sexton bought an RV last year he and his wife, Brianna, had a plan. The plan was to travel the country with their 3-month old girl Coraline as Nate played disc golf on tour until Brianna returned to medical school the next year.
It was an ambitious, once in a lifetime opportunity that turned into an unforgettable experience. They toured all over the country, visited overseas, watched first-hand Coraline experience her first-year milestones, and got to experience some of Nate's biggest moments of his disc golf career.
The Road Begins in Pittsburgh
Let's back up to the beginning of their journey, back in August of last year when the Sextons moved out of their house and loaded up their new RV and began their grand disc golf tour with the Pittsburgh Open. Crucial in making this family trip happen was Brianna, who put her medical schooling on hold. At the time she had finished her third year of medical school and instead of taking a year break to pursue research or a Masters of Public Health like many med students do, she decided to go on the road with Nate and Coraline.
Sexton didn't fare well at the Pittsburgh Open, placing a disappointing 24th, but later secured three top 10 finishes before traveling down to Rock Hill, S.C., for the USDGC. It was Sexton's eleventh time to play the event, and up until that point his best finish was 4th in 2015, when he had the lead going into the final round but could not hold on.  
Something was different, though, about 2017. It was his week and using his steady, workingman's approach he took the lead after Round 2 and held onto it after Round 3. After each round Sexton could be seen catching up with Brianna and Coraline, kind of like he was returning home after a hard day's work on the course. Amid a wet final round, Sexton did not falter. He extended his lead early and stayed the course down the stretch. His only bogey came during the final round when he laid up to seal the biggest win of his career.
Here's Sexton during a crucial stretch on Hole 13.
A Year to Watch Daughter Grow & Be with Family
Besides traveling to disc golf events, the family's year together was also about being close to infant daughter Coraline (Nate and Brianna's first child) and one another. In the RV near USDGC time, Nate and Brianna got to hear Coraline's first laugh. Then in the offseason while staying with family in Oregon, they witnessed the first time she sat up and later her first crawling movements. Now she can walk while holding onto someone.
In between disc golf tour stops Sexton said the family visited national parks (a favorite past time of Brianna and his) and other fun detours like seeing penguins at a zoo in Kansas City, and an alligator farm in Florida. Following the disc golf tour also gave them the excuse to drop-in on family and friends that were along the way. The two of them also successfully ran more than 30 Sexton Shootouts.
However, it wasn't always a picnic. Brianna said that life on the road would've been enough of a challenging adjustment with just the two of them, but adding an infant made if quite difficult. In the end though, she realized they had had about the same difficulty as other new parents, just in a different setting, albeit one with wheels.
"This way both Nate and I got to spend almost every day of her first year with Coraline, checking out every corner of the country and a few countries," said Brianna.
Back to Med School
/

Ledgestone Victory

By the Ledgestone Open this year, it was time for Brianna to return to the clinical rotation part of her medical school, so Nate journeyed to Peoria, IL for the Ledgestone solo. It was almost a year after his family had first set out on their RV tour and he came away with another big victory.

Up until that point, the 2018 season for Nate had been rather ho-hum.

"Now it's a great success. Before a few days ago it was a little blah," said Sexton after the Ledgestone from their temporary Airbnb home in Asheville, N.C. "That's the thing about golf, it's like there's a new start every week. Winning the Ledgestone was huge for me. It's one of the biggest tournaments in the world. Now I'm looking at my season quite happily."

Watching the final round, it was classic, controlled Sexton. A great lengthy birdie kept him with the lead card's pace on Hole 7 as well as lots of precision forehands like on the island holes 9 and 17 and finally on his approach on 18, that landed safely and set him up for victory. It was a tight win that showed Sexton can stay focus when it counts.

Along with finding his rhythm, the course, with its ample OB and punitive tee shots, matched up with him well, said Sexton.

"That tends to favor me because I tend to stay in bounds pretty well," said Sexton, who had the fewest OB penalties of the event according to UDisc Live's stats.
Dad Returns as Caddy for 2018 USDGC
After the Ledgestone, the family then went back on the road in September for a flying / RV trip to the Northeast. Brianna was able to take most of the month off to care for Coraline as Nate played in big events like the MVP Open in Massachusetts and the Pro World Championships in Vermont, placing 12th and 21st respectively. She started a new rotation at a dermatology clinic in Asheville at the end of September, so she and Coraline weren't able to attend the USDGC again with Nate this year.
However, Nate's dad, Jay, who has caddied for him for several years and who wasn't able to make it last year, is here with Nate.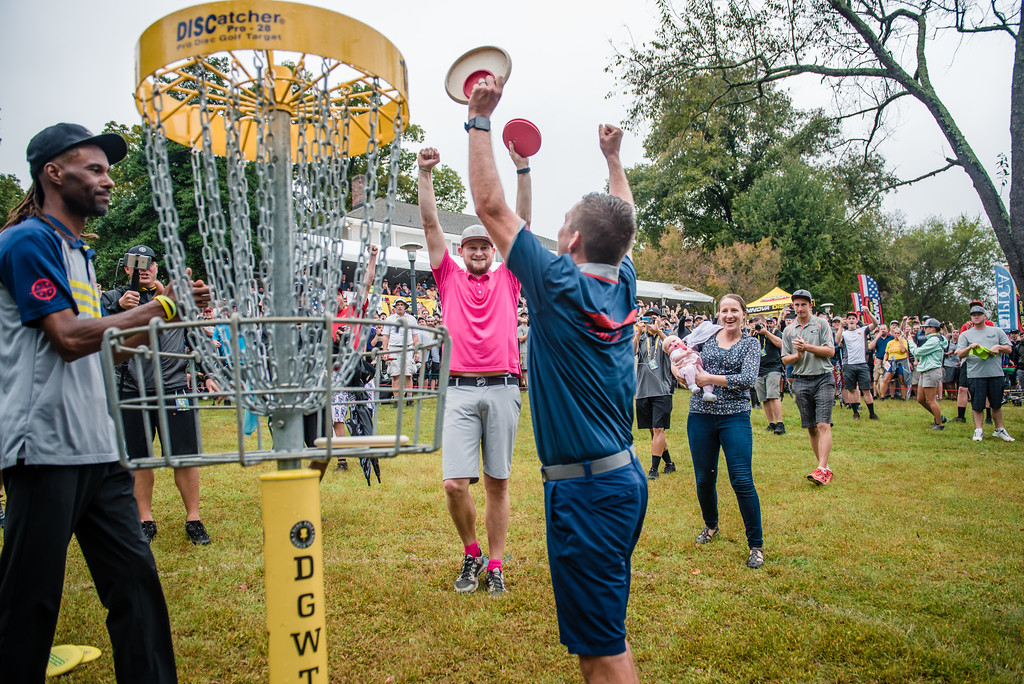 Though it's been a year since his first major win, Winthrop Gold and the USDGC has still been on his mind. He's been thinking about the ring ceremony for a while. To him it completes that process of being a champion, and he likes his chances of repeating.
"There isn't a course that sets up for me better in the world. It's mine to win. There is going to be a lot of guys going for it, but I think it's within me to repeat," said Sexton.
In many ways, playing the Ledgestone was a lot like a warm up for the USDGC because the two courses are so similar.
"I haven't won anything yet this year so it was nice to win on the most similar course in the world to Winthrop Gold," said Sexton.
No Official End to Family RV Experience
Though Brianna is officially back in school, the family may still have several chances for RV travel time. But along with traveling to Nate's tournaments, they may also be journeying to all of Brianna's remaining clinical rotations which are in various parts of the country (one is even in Guatemala) followed by a period residency interviews, which could also be all over the map.  
Who knows, maybe the Sextons will hold onto that RV indefinitely, even when Brianna settles into her family practice, so that whenever they feel the itch to travel, their second family home will be ready to go.
'Back to the Studio on Hole 17'
A studio booth on Hole 17? That's right. USDGC veteran broadcasters Jamie Thomas and Avery Jenkins will anchor the live broadcast starting Friday for Round 3 and will continue for the final round on Saturday.
Look for the broadcast to begin around 11:30 (Est) at the Innova YouTube channel and the Innova Facebook Page.
The studio tent has been constructed near the green of Hole 17 and it will be the hub of the live show. Along with Thomas and Jenkins leading the coverage and speaking to a range of guests like Ken Climo, the hole itself will be a recurring character in the broadcast
"For everyone that knows about the USDGC, it's the hole that makes it or breaks it," said Luke Johnson, co-founder of Fulcrum Media, which will be broadcasting the event.
Live at Winthrop
Several cameras will be focused on the hole, including one positioned behind the tee pad at shoulder height so it can capture each player's drive to the treacherous island green. Holes 1, 5, and the tee shot of hole 18 as well as parts of other holes will be covered.
Not only will disc golf action be available, but Fulcrum also wants to reveal the personalities and the stories of the sport to the greater audience beyond disc golf.
Fulcrum has Ultimate background
Johnson and Fulcrum haven't covered disc golf before, but they do have lots of experience in another disc sport, Ultimate Frisbee. They have brought high level production to its coverage of the American Ultimate Disc League.
Though Ultimate takes place on a different setting (1 field), the two sports share in the goal of gaining more viewers, said Johnson.
Here's a look at some of Fulcrum's past work:
Live drone footage
Something they've had success with on the Ultimate field is the use of a drone for live shots, which hasn't been done with disc golf coverage before, said Johnson.
They'll be using drones with interchangeable lenses that will hopefully be able to zoom in and capture player reactions and the flight of discs.
Johnson says the biggest challenge when covering a disc golf event is providing the production value on a course that's quite large and doing that on a budget. But, he said they're up for the challenge.