Last year, to help commemorate the 20th USDGC we thought it would be fun to take a look back and find 20 of the most memorable moments of the Championship.
Not surprisingly when we researched this, we found a lot of unforgettable moments. So we did our best and included both amazing player accomplishments and unforgettable event moments as well.
#20: Jeremy Koling Lands a Shot in Basket During Distance Showcase
2014: Many try every year, but only one man, Jeremy Koling, has landed a drive in a target across the lake during the annual Distance Showcase after the final round. That year about 50 pink DISCatcher Traveler Targets were specially arranged into the ribbon symbol associated with breast cancer awareness.  Also among them, was one pink-banded DISCatcher Pro Target (if it was hit $25,000 would've gone to charity).
Though no one could land inside the $25,000 target, Koling did manage to throw a drive into one of the Travelers surrounding it, which was a first in the showcase's history, according to announcer Brian Mace.
"Let's hear it for Big Jerm," said Mace while the crowd erupted with cheers. Any heave across the lake has to be big. According to measurements, the shortest place to cross the lake is a 510-foot throw. Take a look at Koling's monster drive from a clip provided by McFlySoHigh Video.
#19: Garret Gurthie throws a putter over the lake during Distance Showcase.
2012: Everybody knows it takes a monster drive to clear the lake during the USDGC Distance Exhibition. And most of the long arms need distance drivers to do it. But in 2012, multi US Distance Champ Garrett Gurthie proved that's not the case when he successfully threw a putter over the lake.
Another highlight of the exhibition was when Gurthie throw a drive left-handed (his opposite) in memory of lefty Craig Leyva, who passed away that year.
Check out the putter drive here. Video provided by DiscGolfPlanet.tv. (Note: video is best viewed with audio turned low).
#18: Bear the Dog retrieves 45 discs in 1 hour from the Winthrop Lake.
2006: Bear regularly came to the USDGC from 2005 through 2012 to retrieve lost discs from the lake and to help out at the EDGE Village, where area school children come to learn about the game.
In 2006, Bear was in the zone retrieving discs and got 45 out in 1 hour. Over the years, Bear retrieved countless discs for the Winthrop Lake and other bodies of water.
Bear's owner Chris Roberts, a USDGC volunteer, remembered the very first time Bear went underwater to fetch a disc. It only took a few minutes of persuasion by Roberts before the Lab/ Chesapeake Bay retriever mix dipped his head in little by little in a creek running through a disc golf course. Soon enough, he was all in and the Bear Disc Diving Dog legend was born.
Here's Bear in action in 2011.
What was amazing about Bear, said Roberts, was that he could teach himself.  He noticed that Bear could grab the underwater discs with his mouth easier if they were up-side down. And if they weren't positioned that way he'd work the disc with his paw to flip it.
"He was uncanny, some of the things that he did," said Roberts, of Maryland.
Bear was given the Golden Rake award in 2011 and was also featured on the staff badge that year.
"… Nothing was as emotional for me as seeing BearDawg's picture on the staff badge," said Roberts.
Bear later died in 2013. But picking up the retrieving torch was Boo, who will be attending his 7th USDGC this year and this will be Joy's 5th Championship.
#17: Sammy Poole's Ice Cream
After introducing his homemade ice cream in the early years of the USDGC, players, staff, and spectators would annually seek out Sammy in the Winthrop Shack for a taste of their favorite flavors like Peanut Butter Chocolate.
His ice cream, which eventually grew to 119 flavors, started out as a ministry. Poole, who was a gospel singer and worked in music ministry before retiring, saw the potential of ice cream after making the treat during a Texas revival and after sending it as a care package to people going through hard times.
Sammy, who died not long after the 2012 USDGC, was honored for his USDGC service with 2005 Golden Rake Award, an award that recognizes outstanding volunteers.
One of the original USDGC volunteers, Brian Mace of Texas, knew Poole for more than a decade and believed you couldn't say enough positives about the man.
"I got a lot of great memories from the USDGC, but my friendship with Sammy Poole is one of the greatest memories," said Mace.
Many USDGC staffers still have a recipe book of all of Sammy's ice cream flavors titled: "Sammy Poole's Ice Cream Sanctuary Presents: Like a Hug from Heaven."
#16: Nate Doss's clutch putt to save bogey on Hole 11 & maintain lead after 2 roll-aways
2008. Final Round. Things didn't go well for Nate Doss on Hole 11, but they could've been a lot worse. Leading by four strokes over Avery Jenkins, and looking for a lengthy 45-foot birdie from the bottom of the hole's slopped green, Doss instead found himself with a similar putt for par when it hit the basket and rolled back down. He then fired his par putt, only to have it roll back down the green as well.
Needing to get out of the hole with his lead intact, Doss took a few moments to regroup and regain his focus for his 35-40 footer.
During the 2008 Lead Card Live DVD, Doss revealed what was going on in his head at the time: "I'm going, this is the US Open. This is the biggest moment of your life. Don't let this bother you," said Doss.
After seeing the second putt roll away, he said a lot of players feeling flustered would've marked the disc right-away and putted, and likely missed.
So after getting his head right, Doss stepped up for the third time and made his putt.  Though it wasn't the ending to the hole he had hoped for, Doss still managed to hit a clutch putt in the end, keeping his lead in-tact (2 strokes over Jenkins) and his wits about him. Glad that he hadn't lost everything (either one of the roll-aways could've gone OB), Doss then regrouped, gained two strokes on Jenkins on the next 2 holes, and powered through the rest of the course in route to victory.
Take a look at that moment captured by Flying Disc Magazine.
#15: USDGC continues after 9/11 tragedy.
2001: A month before the third USDGC was scheduled, the tragedies on Sept. 11th took place. It was a tough time for the entire nation as people mourned the lives lost in New York City, Washington D.C., and Pennsylvania.
USDGC officials struggled to decide whether or not to cancel the event that year. They questioned whether it was prudent to hold a sporting/entertainment event so close to Sept. 11 or if players would choose to fly when many were afraid to.
Still, many players from across the country had already made their travel plans.
In the end, the decision was made to proceed with the USDGC. Officials felt the best thing was for the disc golf community to continue with the thing they were most passionate about, competition.
It turned out to be the right call. "It brought everyone out of the funk of thinking about the 9/11 tragedy 24/7," said USDGC Event Director Jonathon Poole. "The Championship reminded players of what they were passionate about and proved that their lives could go on. The tournament unified people in a positive way and they were very appreciative."
#14: Will Schusterick's Hole 2 Field Ace.
2012: You know your Winthrop Gold Round is off to a good start when you can a seldom made eagle on Hole 2 with a 200-foot field ace. Tied for the lead with Josh Anthon going into the final round, Schusterick quickly jumped ahead after hitting this highlight.
Later in the round, Schusterick battled with Wysocki. However, Schusterick ended up outlasting him and won his second USDGC. He was the first repeat USDGC winner since Ken Climo's 2007 win.
Video provided by Shoestrings – 2012 USDGC Documentary
#13: Wind blows first bamboo wall down. Staff holds it up until repairs are made.
2004: Hole 7. The first year with tall bamboo walls was a learning experience. The wall itself looked better than the shorter plastic lattice used before, but it had yet to become as structurally sound as present day. USDGC official Zeb Campbell remembered during an especially windy round, the left side of the bamboo wall was blown down, forcing staff to rush to the scene and hold it in place for the groups that had yet to play it.
"We were standing there holding the wall up," Campbell said chuckling.
Campbell said they had to hold it up for several groups until it could be repaired. After that, the big 4X4 wooden posts made their appearance as the wall's backbone and wind hasn't been an issue.
That moment of quick action is a classic example of the effort provid
#12: Wysocki. Final Round 350-foot throw-in on 888′, which momentarily tied it up.
2012. Closing-in on leader Will Schusterick fast during the final round, Ricky Wysocki was down by 1 stroke going into the treacherous par 5, Hole 13. After Schusterick looked to be in birdie range, Wysocki fired off a 350-foot shot to the island green that hit pay dirt, giving him an eagle and tying it up.
That moment ranked high in the list of Rick Rothstein, who has covered many events in his decades of disc golf journalism. "I could not remember such an incredible shot, let alone one that affected the match so profoundly," wrote Rothstein in his coverage for DiscGolfer Magazine.
The round remained close, however Schusterick pulled ahead two holes later and did not relinquish the lead.
Video provided by Shoestrings – 2012 USDGC Documentary
Honorable mention: Wysocki's Hole 17 Ace
2016. Wysocki put himself within five strokes of the lead after nailing this forehand ace on the daunting Hole 17. After Round 3, he was looking to be in good shape for the final round had it not been canceled due to inclement weather from Hurricane Matthew.
11: Official Starter Andy Greene calls his 10,000th name.
2016: During Round 3, Andy Greene called out his 10,000th player name, which was Josh Childs during the 10:10 a.m. tee time. The milestone was a sign of not only the Championship's endurance, but also of Greene's dedication. He's been the official USDGC Starter since the event's inception in 1999. After the 2017 USDGC, Greene is now up to 10,456 called names and predicts to be close to 11,000 by the end of this year's event.
Greene first took the job because he imagined it to be the perfect spot to meet and interact with each player.
10: Paige Pierce wins Performance Flight, later becomes the first woman to throw over lake.
2014: Paige Pierce became the only woman to win the USDGC Performance Flight, which ran from 2011-2015. When you look at her total strokes that year (270) and compare it to the Open Flight, she would've likely cashed if she had played in that division.
After the final round, Pierce then made more history as she became the first woman to appear in the Distance Showcase, and subsequently became the first woman to throw across the lake.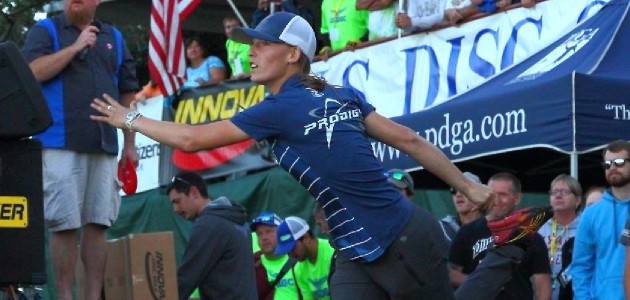 #9: Anthon's 53 (-15 Par 68) / McBeth's 52 (-15 Par 67)
2009: As Nikko Locastro was battling with Dave Feldberg on the lead card during the final round, Josh Anthon was making a case for himself from further back, birdying the entire front nine. He then collected five more birdies and an eagle. He slowed down with a bogey on Hole 17 followed by a par on the final hole, but ended up missing the win by only three strokes.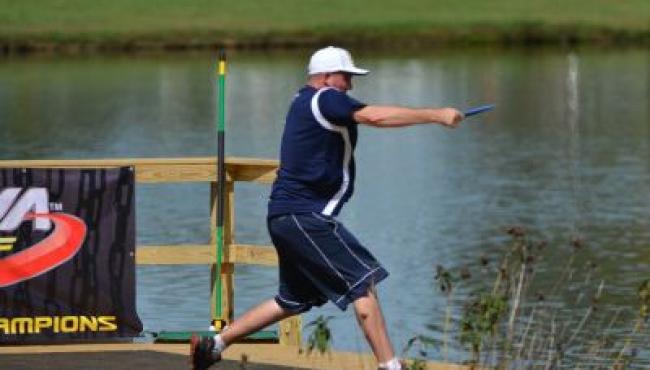 2013: After three rounds below his standards, Paul McBeth decided to go for broke the final round. Looking at McBeth's scorecard it's as if he was playing on some pitch and putt course instead of on one of the world's toughest. When it was all over he had accumulated 11 birdies, 2 eagles and managed par on only five holes.
#8: Ken Climo Aces During 1st USDGC.
1999: Along with his 5 wins, and the playoff with Barry Schultz, Climo ranks this ace during Round 3 as one of his favorite USDGC moments.
(Back then, Hole 17 ran alongside the lake, but still had the treacherous island green).
Russell Schwarz, a member of the USDGC organizing committee, remembered seeing the ace live. "We were like, Hey there's Ken. We saw him walk up to the tee and watched it fly the whole way and we were like, Damn! I'm glad we got to see that. There won't ever be another first ace at the US Championship. And it was somewhat appropriate that it was Ken since he was the dominant player of the decade," said Schwarz.
Climo then went on to win the event by 15 strokes.
Take a look at it. Video provided by DiscGolfPlanet.tv
#7: Koling takes the win after Hurricane induced weather cancels final round
2016. Winning the USDGC didn't exactly play out like Jeremy Koling had always envisioned, but in the end his name was on top of the final results thanks to his superb play, earning him his first US title and first pro major victory.
Due to safety concerns from the severe weather from Hurricane Matthew and major logistical problems that would not allow the event to be postponed until Sunday, event officials called off the tournament after three rounds, making the Round 3 standings the final result, and Koling the 2016 US Disc Golf Champion.
The three rounds that Koling did produce, though, were top notch. The first round rated 1050, followed by two 1062 rated rounds, the last one in wet, blustery conditions. The word often used to describe Koling's play that week was "solid." And, it was likely that Koling would've continued that play if a fourth round did happen.
Here's a video of Koling and friends creating his 'Final Hole' moment after the tournament was called and he was declared the winner.
#6. Juliana Korver Cashes, becoming the first and only woman to do so.
2001: In the past 19 USDGC's, only one woman, Juliana Korver, has placed high enough to cash. Korver tied Nate Doss and Todd Branch for 50th place, which put her ahead of 74 other (male) competitors. Korver, who won 5 World Titles, ranked cashing at the USDGC high among her impressive list of career achievements.
"Cashing against the top men in the sport in a major event is quite possibly the accomplishment I am most proud of in all my years playing disc golf," said Korver.
#5: Ken Climo wins his 5th USDGC
2007. Tied for 12th after the first round, Climo then found his rhythm in Round 2, taking the lead by one stroke over Nate Doss. For the remainder of the event, Climo didn't let up. Though Avery Jenkins battled him for most of Round 3, Climo surged ahead near the latter part of the round and never looked back. After a slightly slow start in the final round, Climo cruised to a 11-stroke victory, making his fifth USDGC win at age 39 seem as dominating as his first in 1999.
#4: McBeth completes Grand Slam with first USDGC win.
2015: Disc golf history was made at the USDGC when Paul McBeth won his first USDGC by five strokes and completed disc golf's Grand Slam in the process.
For months leading up to the 2015 USDGC, most of the talk centered around Paul McBeth and the chances of him completing disc golf's Grand Slam. McBeth definitely came through. McBeth, who shot (-26) for the Championship, submitted eight birdies and only made two bogeys on a day that was chilly and wet.
Coming from three strokes behind to start the day, McBeth overtook Round 3 leader Nate Sexton, then during the back nine, battled with Ricky Wysocki. As soon as McBeth would take the lead, Wysocki would find a way to even it back up until he met Hole 17 and Wysocki threw two OB drives, while McBeth made birdie, sealing his first US title and disc golf's Grand Slam.
Take a look back at the final holes with coverage provided by SpinTV
#3: Johne McCray loses lead on Hole 17, but then ties it up with birdie on Hole 18.
2014. Going into Hole 17 with a four stroke lead it looked like McCray would march all the way to victory. But after three OB tee shots, McCray ended up with a devastating 9 and it looked like his Championship hopes were over. However, he then bashed a tee shot on the final hole of regulation en route to a birdie, while Will Schusterick and Paul McBeth both bogeyed to tie it up for a 3-man Playoff. McCray however, went ob twice on the first playoff hole, and Schusterick pulled it off on the second playoff hole.
Check out the final few holes of 2014 with SpinTV's coverage:
#2: Ford Explorer goes OB into the lake
2010. Round 1. (As reported at USDGC.com in 2010) Early Wednesday morning around the time the first players were teeing off, competitor Chris Heeren of WI, was looking at his Ford Explorer submerged in the Winthrop Lake.
Heeren had parked his SUV along the road not far from hole 5's tee so he and his passenger Zac Cobus could take a picture of the lake in its early morning splendor.
"For the record, it was Zac who wanted the picture," Heeren said.
But just as Cobus had snapped the photo they heard the hole's spotter yelling 'what is that' followed by a mighty splash. After hearing the commotion, Heeren said he thought to himself 'why is there a car in the lake,' when the tragic news dawned on him. What made it worse was that Heeren had just recently bought the now submerged vehicle.
Heeren was in disbelief, but still light-hearted as a group of some 30 people made up of Winthrop police, tournament officials, disc golfers, Winthrop maintenance personnel, and others began congregating around the unique seen. The accident would later back up all tee times by thirty minutes.
"I've been driving for 18 years," Heeren said at the time, adding he knew he put the automatic shifter in park.
After about an hour after the accident, Heeren made his tee time after retrieving his discs from his soggy car, but Cobus was delayed for three holes.
Event director Jonathon Poole was standing by trying to get the tournament back running.
When asked if he'd ever seen something like this at the USDGC before he simply said, "I hadn't seen this."
#1: Barry Schultz VS Ken Climo in epic playoff battle.
2003. Known simply as "The Battle," it's the playoff that all other disc golf playoffs are judged by.
One thing to keep in mind, for the playoff to the even start, Schultz had to erase a six-stroke deficit and hit a clutch 40-foot downhill putt on the final hole of regulation to force overtime. Then the battle was on, and the crowd gathered knew they were in for something special from two of the game's most decorated players.
One of Schultz's main memories of that moment was the electric atmosphere leading up to the playoff. Though the crowd wasn't the biggest he'd seen, "the anticipation, excitement, and energy was mind blowing," said Schultz.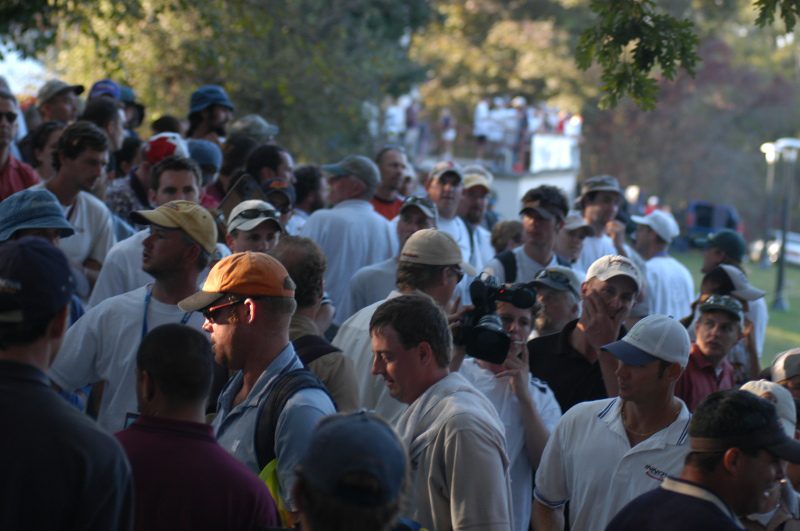 Sudden Death
Sudden death consisted of a three-hole loop starting on the Par 4 Hole 18, followed by Hole 1, then Hole 17 (then located alongside the lake), and then right back to Hole 18.
Schultz and Climo ultimately played Hole 18 five times (once during the final round and four times during overtime), and it was there where the match finally ended. Each time, Schultz owned the tee, throwing a beautiful drive near the fairway's right side, giving himself relatively easy approaches to the green.
"On 18, I guess I was just zoned in with my DX Beast. The shot shape was perfect for that disc," said Schultz when recently asked about the playoff.
Climo took a slightly different approach opting for drives landing more in the center to center-left of the fairway, so that his approaches would have less of a skip when they hit the green. Plus, the approach had a little more air space back then, he said during a recent interview. Twice Climo landed further left than he would've liked on his tee shot, but he said that he trusted his approach and each time recovered.
The second time they played Hole 18 in the playoff was a good example of this as Climo landed closer to the left OB and followed it up with a very tricky approach to the green that only Climo could've executed.
The playoff ended during the fourth go-round of Hole 18, when Climo hit the band and missed his birdie putt after Schultz had nestled his approach close and secured birdie and the epic win.
10 playoff holes in total
"I just didn't think it would ever stop," said Schultz when he was interviewed after the round. Climo said that was exactly the way it seemed. "We were playing that three-hole loop and we seemed to have it dialed in," said Climo.
Schultz almost ended it on the ninth playoff hole (Hole 17) when he hit the basket from his tee shot, nearly acing it. Even though he hit the basket, it rolled 25 feet away, leaving him a tester putt for birdie and to stay alive.
What Climo remembered most about that playoff was laughing and joking with Schultz and just having a good time about it. The playoff ranks among Climo's top USDGC memories even though he didn't come out on top. "To this day that's probably the best playoff event that I've been a part of," said Climo.