Are you ready to unlock a world of disc golf excitement like never before? Tickets for the 25th United States Disc Golf Championship and Throw Pink Women's Championship drop July 5. With options catering to various budgets and preferences, attendees are in for an unforgettable experience at the highly anticipated tournament, held at the renowned Winthrop Championship Course.
Gold Pass
Leading the pack is the exclusive USDGC Gold Pass, limited to only 100 lucky individuals. Priced at $250, this premium pass grants holder a plethora of perks and access throughout the championship.
Gold Pass holders will enjoy four-day access to all eight rounds of Championship play, ensuring they don't miss a single moment of the thrilling action. Additionally, they will be treated to a private autograph session with the 2023 USDGC and TPWDGC Champions, allowing for memorable interactions with the sport's top talents.
The Gold Pass Hospitality Suite in Championship Village awaits, offering a comfortable retreat with complimentary non-alcoholic drinks and an exclusive patio viewing area for the Distance Showcase and Award Ceremony.
Gold Pass holders can also take advantage of premium parking at the entrance to Championship Village and enjoy four meal vouchers redeemable at any of the food vendors on site. As a final touch, each Gold Pass holder will receive a Championship Gold Pass Laminate Credential, symbolizing their status as a privileged attendee.
---
VIP Pass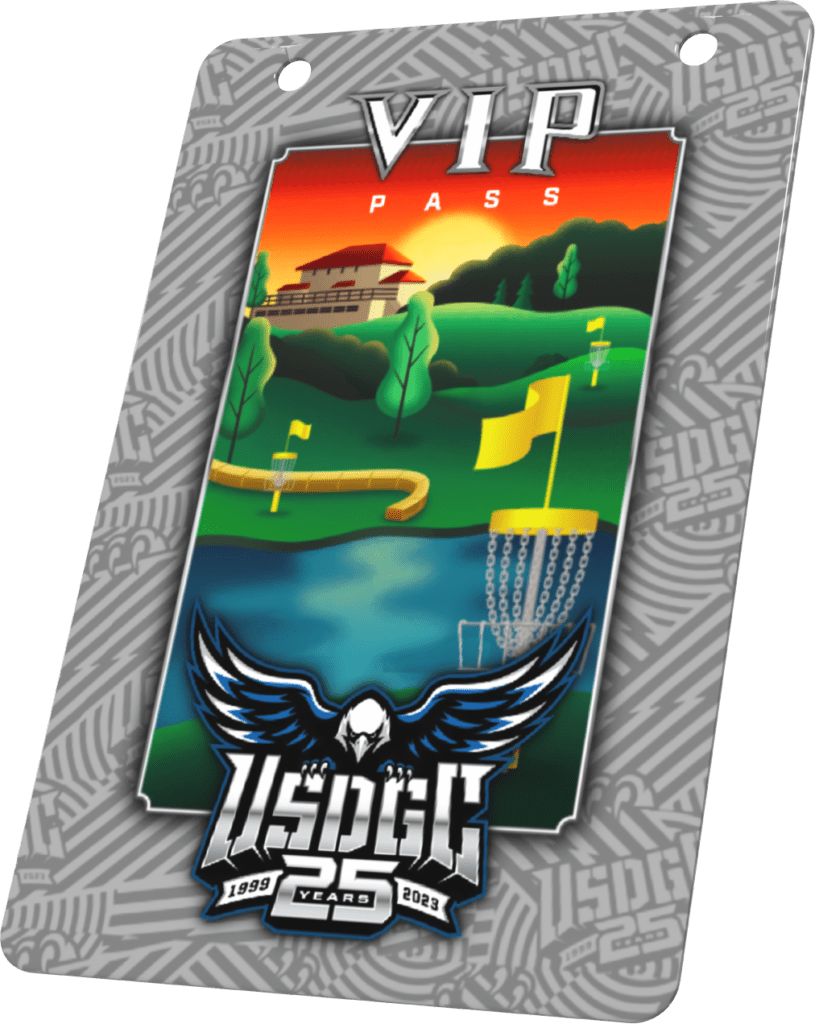 For those seeking a premium experience with a larger capacity, the VIP Pass is the ideal choice. This pass offers exceptional value at different price points depending on the sales phase. VIP passes are available for just $60 during a four-day pre-sale leading up to July 4th.
VIP passes increase to $80 during the Early Bird phase, which runs from July 5th through September 11th. The VIP price moves to $100 beginning on September 12th.
Each VIP Pass provides four-day access to all eight rounds of the USDGC and Throw Pink Championship play. Attendees will also have the opportunity to enjoy evening concerts in Championship Village after each day's play concludes. Convenient on-course parking at Winthrop Coliseum and a commemorative VIP Laminate Credential complete the package, ensuring a memorable experience.
---
Day Pass
For those unable to commit to the full tournament experience, the Day Pass offers flexibility and excitement. Priced at $25 during the advance sales period, the Day Pass provides access to any single day of competition from October 5-8.
Day Pass holders will also have the opportunity to enjoy the evening concert in Championship Village after the day's play concludes. Free parking adjacent to the USDGC 18-Hole Spectator Course ensures hassle-free attendance.
---
Secure Your Spot
Get ready to immerse yourself in the electrifying atmosphere, cheer on your favorite players, and be part of disc golf history in the making. It's a celebration of athleticism, camaraderie, and the sheer joy of the game.
Whether you're a seasoned disc golfer, a casual fan, or someone curious to experience the thrill for the first time, this tournament is for you. Join us and become part of the passionate community that drives this incredible sport forward.
Tickets go on sale July 1st on Disc Golf United's website.