20 years ago the first USDGC teed off. That's a long time ago. Many of today's disc golfers know about the USDGC and its famous Winthrop Gold Course, but they may not know the story behind the event and the impact it has had on the game.
To get a sense of that, here's a look at how the very first U.S. Disc Golf Championship in 1999 came to be and how it played out.
How It Came to Be
Over the years there's been this desire to provide the ultimate setting for Championship disc golf - one that inspired incredible play and rewarded those players with an elevated recognition befitting elite professionals. To form that kind of environment, three main tools were needed: serious media, sizable crowds, and a respectable purse.
By the late 1990's, the game had made strides in this direction, but still had a long way to go. Innova founders Harold Duvall and Dave Dunipace, and Jonathan Poole wanted to make this happen. But, in order to do so, a new kind of event had to form, one that mirrored disc golf's forefather, traditional golf.
Enter the Winthrop Lakefront Course
It all started, it seems, with a course as you might expect. But not just any course. Harold Duvall, a transplanted South Carolina resident by way of California had installed a dandy of a course in the Winthrop University Recreation Area in Rock Hill in 1992.
From the get-go, Duvall knew this property was special and one that could host Championships.
"From the beginning it was clear, that it was the first venue set up for great play and spectating and continues to be so today," said Duvall. Not only was it a sight to behold, but it placed an emphasis on strategy and accurate distance and included multiple par 4's and Par 5's – a rarity in disc golf at the time.
The Course is Here, Let's Make the Event
With a heck of a course already in the waiting (which was also used for the 1997 World Championships finals, though a different layout), next came the event itself. It was at a hotel breakfast during a trade show in early 1998, when eventual USDGC Event Director Jonathan Poole and eventual USDGC Chairman Harold Duvall started to first explore the idea of putting together a new disc golf Major.
What came of that meeting as well as others down the road included 5 bold format changes for a Major event.
One round per day.

Tee Times/Staggered Start each round.

One division.

Players had to qualify.

The Championship would return to Rock Hill each year.
Many of these features, one round per day, tee times, one division, were all things the non-disc golf community were already familiar with from traditional golf events, said Andy Greene, a member of the USDGC Organizing Committee. The hope was that these features along with making the event more pleasurable for the player would also make it easier for non-disc golfers and media to follow and attend.
"In a sense it was planting seeds for validation for disc golf from beyond the disc golf world," said Greene.
Keeping the USDGC at Home
The fifth change, the USDGC returning to Rock Hill, sounds trivial, but turns out to be a game changer. The only Major at the time, Worlds, was hosted by a different club/city each year, so whichever club/city hosted had to start from scratch when it came to running disc golf's Major event, according to Poole. That's why the Worlds could often be an inconsistent experience from one year to the next.
Being at the same location, you could build upon the previous year and tinker to make it better.
The rest of the first USDGC's development was like other events at the time, said Poole. However, one of the main differences was that they tried to focus on promotion, which other large events often did not have the resources/time for then. That year they made a concentrated effort to reach out to local newspapers, radio, magazines, other media, and started distributing the USDGC posters throughout town, which continue today.
The Lead Up
With the exception of the limited sponsor exemptions, you had to earn your way to the USDGC, something that was unlike most tournaments at the time and even today. In 1999 you gained entry to the USDGC through a number of ways like being a current World Champion in the Open, Women's Open, Men's Pro Masters, and the Men's Advanced Amateur divisions, being a past Open World Champion, and being one of various 1998 PDGA points and money leaders.
However, the way many punched their ticket to Rock Hill was through performing well at regional qualifying events held throughout the country. In 1999 there were 12 and several of them like the Memorial, the Masters Cup, the KC Wide Open, the Southern National Pro Championship, and others are still qualifiers today.
No doubt, qualifying helped spark the attention of the players that year.
"We knew it would be a big deal and everyone wanted to get into it," said Dr. Rick Voakes, who played in 11 USDGC's including the final round lead card in 1999.
Also interested was Rick Rothstein, who came to cover the event for his Disc Golf World News magazine. Reason being: "Well, it was a big deal," he said. He was looking forward to seeing the course and watching the event especially one that played-out with only one division. He'd never been a fan of the Pro Masters age at 35, even at 40, so seeing an event without divisions was refreshing.
He did note in later issues of Disc Golf World News, that many players during the USDGC's early years had their doubts that the unusually formatted event with its higher than average entry fee would catch on.  But by 2005, after the USDGC had several events to mature, Rothstein wrote that the event "… is quite simply the hottest ticket in the disc golf world."
When it came time to play this new kind of event, the sport's most dominant player remembered it being pretty exciting. It was truly the first event that resembled a traditional golf tournament in our sport, said Ken Climo. No one in disc golf had seen this before.
"It just had a totally new feel to it. It felt more professional, which it is," said Climo, winner of five US Titles.  
Making it Work
When you walk along the course nowadays it's easy to see that the USDGC staff is immense. More than 100 people pitched in last year, including Innova East employees, media personnel, volunteers, and others.
For the first USDGC, staff was only a small fraction of that. It included Innova employees, Charlotte Disc Golf Club members, and other volunteers. Greene estimated only a handful of spotters were on the entire course, which is hard to imagine with the current day's situation of spotters on nearly every hole, two on the longer holes like Hole 5.
"We have more people marshaling the course now than we had total staff back then," half-joked Russell Schwarz, another member of the USDGC Organizing Committee, who was also the head course official that year.
Keep in mind the USDGC was a much smaller scaled event in those early years. Poole remembered the field was only 68 players with a purse of $10,000 in 1999. A big contrast to 10 years later when more than 190 players attended for a purse of $80,000. It was a fledgling event that was just getting off the ground, which meant less banners, tents, and less player amenities to provide.
Scrambling to Pull it Together
But even though there were less details to attend to, it was still a heck of a job to pull off. Everyone was wearing different hats, getting last minute things.
"We all had to do it. We all had to do everything," said Poole, adding that the Championship's beginning wasn't unlike a lot of tournaments nowadays with a small staff hustling to pull it together.
Greene said a lot of prep work for the course went down to the wire the week before the event. He remembered helping put up OB rope late in the evening when the only light available was from Duvall's Ford Explorer.
During the event, several staff members including Poole, his wife Laurie, Greene and Zeb Campbell slept inside the Winthrop Shack –what was then tournament central, and now used mainly for the Pro Shop.
"We were continuously busy until it was over and then we were exhausted," said Schwarz.
Wingin' It Cafe
Since there was no Player Hospitality Area yet, Zeb Campbell, another member of the USDGC organizing committee, operated the Wingin' It Café out of the Winthrop Shack to serve players complimentary food.
Greene, the official starter of the USDGC, remembered assisting Campbell when his starter duties were done for the day. He said one day after the round Ken Climo walked in and asked for a drink. Andy obliged and Climo started talking about how much he liked the event. "This is the future of disc golf. You're playing golf shots. This course makes you think," Andy remembered Ken saying.
"To get a good review from The Champ midway through, definitely felt like we were heading in the right direction as far as running a premier event like this," said Greene.
USDGC Created USWDGC As Well
Most folks don't realize that the first US Women's Disc Golf Championship was also created by Innova and the USDGC in 1999. The ladies played both at Winthrop and at Charlotte's Hornets Nest Park. The USWDGC ran in conjunction with the USDGC for the first several years of its existence. Since then, the USWDGC, which rotates to different sites each year, has grown to develop its own identity and has become a premier women's Major.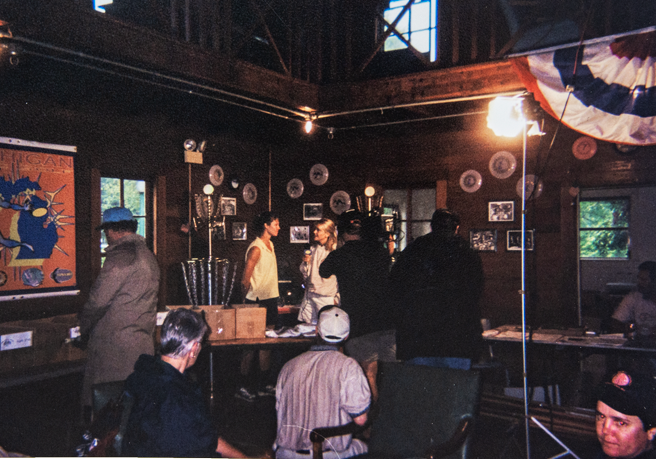 How the 1st USDGC Played Out
The first thing many will tell you about the first Championship was how rainy the final round was. In fact, it rained from beginning to end that final Sunday (for the first several years the event ran from Thursday through Sunday).
The next thing people will tell you is how well Ken Climo played. After getting beat at Worlds that year (the first time at Worlds since Climo's reign began in 1990), it's safe to say that Climo had a fire lit inside him for the inaugural USDGC, in which most all of the notable names of the day were present including the man who beat him at Worlds, Ron Russell.
Climo's highlights included an amazing ace on Hole 17 during Round 3 (Back then, the hole ran alongside the lake, but still had the treacherous island green).
Schwarz remembered seeing the ace live. "We were like, Hey there's Ken. We saw him walk up to the tee and watched it fly the whole way and we were like, Damn! I'm glad we got to see that. There won't ever be another first ace at the US Championship. And it was somewhat appropriate that it was Ken since he was the dominant player of the decade," said Schwarz.
Climo was cruising and with an 11 stroke lead over Al Schack going into the final round it looked all but certain of an inaugural Climo win. Disc Golf World News' Rothstein had become accustomed to a nearly annual post round interview about the The Champ winning Worlds, and "At the risk of jinxing him, I asked him for a post round interview (as the winner) before the (final) round had occurred," Rothstein said with a chuckle. Rothstein said Climo wasn't fazed and agreed.
Not surprisingly, Climo won in dominating fashion by 15 strokes. Watching coverage of the soggy final round, Climo seemed to be the only one at ease, and though he shot his worst round of the event (-9) it was still the hot round by three strokes. To Climo, maintaining his focus is those wet conditions was just business as usual.
"To me, it was just my everyday thing. I try to beat the course the best way I can, no matter if I was leading or behind," said Climo.
With rain continuing, awards ceremony brought indoors
Plans were for the awards ceremony to be outdoors, but with rain still falling after the final putt, most everyone was able to huddle inside the small Winthrop Shack building. Though it was a change of plan, the ceremony was still fondly remembered. Chairs were set up inside the Shack and during a nice impromptu moment while staff were raising the US flag, players began to sing America the Beautiful. Everybody soon joined in. Top performing players were called up one by one to the balcony to be honored by Duvall, Poole, and others.
Mission Accomplished
With that, the first USDGC was in the books. It had happened.  And for those that had attended, it had been the new kind of disc golf experience Duvall, Dunipace, and Poole had set out for. "The bar has been raised," were the sentiments of players, according to Bucky Worboys, commentator for 1999 USDGC video.
Rothstein also summed it up well in Disc Golf World News: "Duvall and Poole have a definite vision of what professional disc golf should be and with this event they laid a solid foundation."