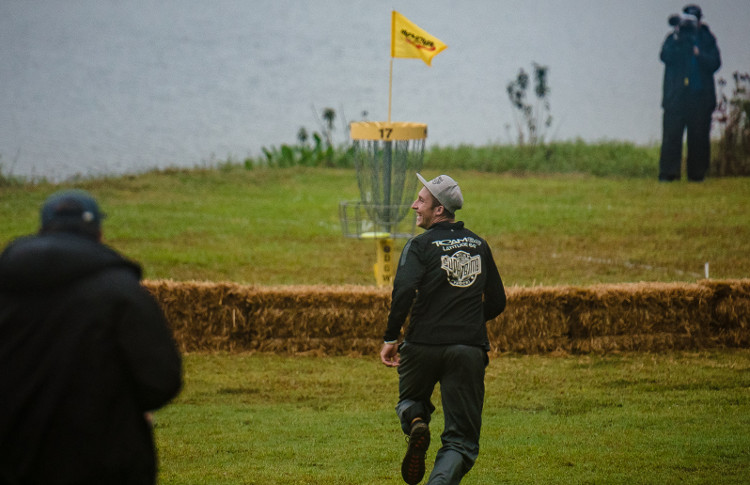 Ricky Wysocki of Ft. Mill, SC, is in position to make a strike on the final day to win his first USDGC. He's only five strokes behind after Friday's Round 3 when he made the highlight of the day with an ace on Hole 17, which will likely provide momentum all the way into Saturday.
I caught up with Wysocki after the round and got a few comments about his ace and his game plane for Saturday.
Q: Going into the final round, what's the game plan?
Wysocki: "I think the weather is going to be really rainy and really windy, so I'm going to stick with my game plan. I've been playing pretty conservative up to this point and I haven't been too hyper aggressive, so I think that's really paid off, allowing me to be in the positon I am … And I feel like if I shoot another round like I've been shooting in the low 60's, I feel Iike I still have a chance."
Obviously, I'm going to make some changes at any time if I feel I need to gain strokes here and there. Then I'll get more aggressive.
Q: Everybody is going to be talking about that ace you had on Hole 17. Paint the picture for me about that moment.
Wysocki: "Up until that point I wouldn't say I was playing great. I was pretty stagnant. I knew I just really needed to finish strong. And that's really what I thought before I threw the shot…That's my biggest goal this year, finishing strong. That shot really just came out of my hand perfectly. I played the wind just about perfect and I knew right out of my hand that it was going to have a chance to go in…I knew that it was going to swing across the chains and I was just glad to really get that ace and spark my momentum not just for this round but for the final round. I feel like I have a lot of momentum and confidence going into tomorrow which is exactly what I wanted."
USDGC 2016 Quick Links