The distance showcase is a huge crowd favorite and a long standing tradition of the USDGC. Presented by Discmania and Innova, the showcase entitled Big Arm Big Heart takes on special meaning as each throw will be raising money to put an end to breast cancer via Throw Pink. Plus, one of those throws could wind up raising $25,000 for charity.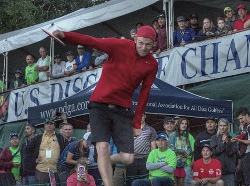 The top four throwers from the US Distance Competition will each have several discs to bomb over the Winthrop Lake. Fans will have the opportunity all week to purchase these throws for a $20 donation to Throw Pink. Each disc will be autographed by one of the four throwers, and if it makes it across the lake, the donator can bring it home. Donate early in the week at the USDGC Pro Shop to ensure you're a part of the action.
Discmania has provided S-Line DD2 discs for the showcase.
As always, DISCatcher Travelers will be lined up ready to catch these throws. All targets will once again be pink to honor breast cancer awareness. If a shot lands in a Traveler, both the fan that paid for the throw and the thrower get to take home a Traveler. Last year, Jeremy Koling proved it's possible when he wowed the crowd with a drive that landed safely in a Traveler.
If a shot lands inside the one pink-banded DISCatcher Pro target, then $25,000 will go toward ending breast cancer via Throw Pink. If that happens, a DISCatcher Pro target will be awarded both to the fan that paid for the throw and the thrower.
One Dark Horse competitor will also join the four throwers and is eligible to ace the DISCatcher Pro to send $25,000 to charity. That thrower will be determined by the highest bidder through a bidding process that starts online at the USDGC's Facebook page now. Look for the post with the "This Could be You" photo. Make your bid and name your thrower in the comments section. After midnight on Oct. 9th, bids will only be accepted on site. Throwers must be able to come to the showcase and winning bids must be paid in advance. Proceeds from that will also go toward charity. A leaderboard with the current bid leader will be displayed at the Pro Shop.