Sharing disc golf, connecting with other women, and supporting a good cause. What could be better?
Nearly 40 women did all of that and more during the Throw Pink Event in Rock Hill on Saturday, an event that aimed to connect females to the healthy sport of disc golf and help support the local initiative Project Pink, which helps uninsured women get access to mammography screenings.
Established in 2013, Throw Pink is a collection of disc golf events across the country with the mission of encouraging women and girls to get out and be more physically active, while at the same time making a difference for women's health initiatives, specifically breast cancer.
Playing Through the Rain
The day got started at 9 a.m. with some skills clinics that touched on various putting styles, approach throws, the forehand throw, and other skills. Rain drizzled on the women as they practiced, but it tapered off once they set off for their 12-hole round.
Attendee Cheryl Peskir comes to as many of these initiatives as she can since her mother is battling kidney cancer. Peskir, of Charlotte, also believes these events are important to bring women together for disc golf. Too often women and girls feel alienated by the male-centric sport.
"It gives us a chance to have a bonding experience for a good cause," said Peskir, who has been playing disc golf for seven and half years.
Several top notch pros including 7-time World Champ Elaine King were in attendance to help refine the women's techniques.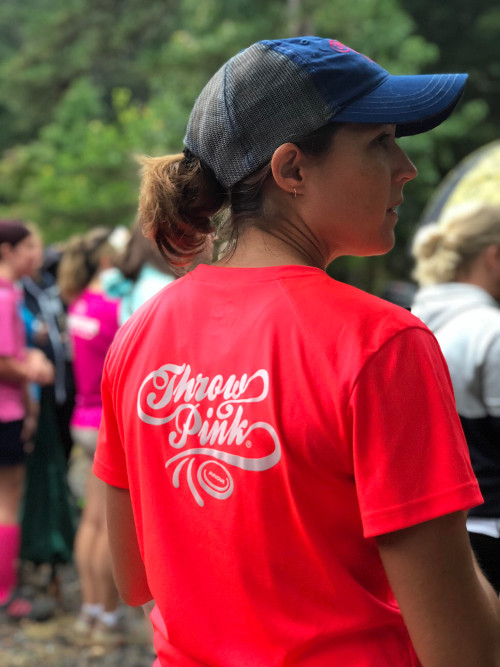 King said when it comes to beginners, one of the best things they can do is start with a straight flying midrange disc until they learn control and develop some 'snap' or power. She said too many beginners start with overstable drivers and never learn how to properly throw straight.
Play Disc Golf - Have Fun - Make A Difference
Throw Pink Coordinator Sara Nicholson felt the event was a success and it did what it was meant to do. "The day was meant to bring ladies together for a good cause and have a good time in the process. And I think that was accomplished," said Nicholson, adding that several new ladies may have even caught the disc golf spark.
For more information on Throw Pink contact Sara Nicholson at 800-476-3968 or at the Throw Pink Facebook page: https://www.facebook.com/throwpink/