It was a tale of two Nates, as both Nate Doss and Nate Sexton battled during Round 2 of USDGC on Thursday and both ended up deadlocked for the USDGC lead at (-16). Trailing our co-leaders are: Alex Geisinger (-11), and Zach Melton, Richard Wysocki, and Paul McBeth are all at (-10).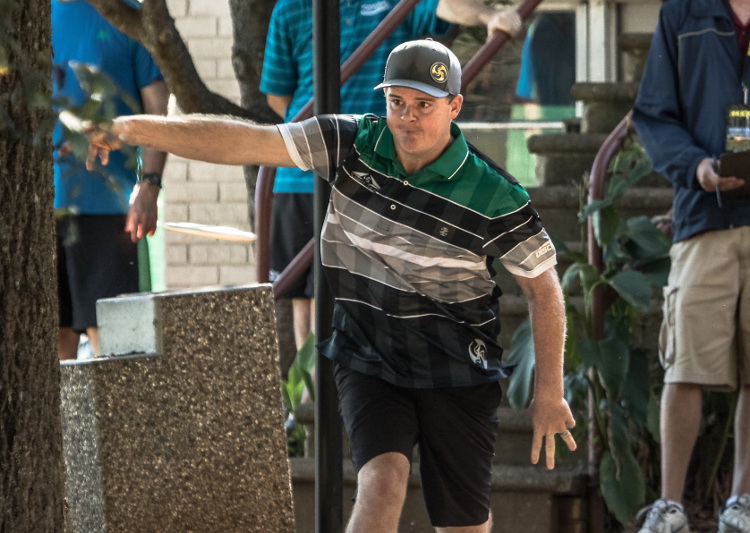 Doss's lead shrinks as he battles with Sexton
Doss, who shot a 62 (-5) entered the round with a three stroke lead over Sexton and Eagle McMahon and increased it to four strokes after Hole 11. However, Sexton, who shot another 59 (-8), cut at Doss's lead until he took the lead for the first time after Hole 15. There, an amazing sidearm roller off the tee led to a straddle putt for birdie while Doss struggled for bogey.
Doss then tied it up with an easy birdie after he laced a drive down hole 16. But, Sexton regained the lead the following hole when his sidearm drive landed him safely inside the island green and he hit his putt, while Doss laid up for par. Up by one, Sexton, however, had to settle for par on Hole 18, while Doss's backhand again was true on his approach and landed him on the green and led to a birdie, tying it all up for Round 3.
After the round, Sexton said Round 2 was quite the roller coaster, "Through 13 holes I think I only had one par on the scorecard. I had three bogeys and nine birdies and one par through 13, so kind of a strange round. I was playing aggressive and that says something. I'm happy with that."
Beast mode engaged?
Fans at home may be wondering when Grand Slam chaser Paul McBeth will turn on the "Beast Mode". After shooting another 62 (-5), the four-time World Champ still finds himself among the pack at (-10) for the Championship.
"I feel good. I'm still making a lot of mistakes out there," McBeth said after the round. "I had half good holes and half bad. There is a lot of room for improvement. Another 62, another 5 (shots) down. My putting was on point today. Made every putt inside the circle and some outside. Just bigger numbers today, made some mistakes, too many bogeys."
Colglazier has hot round until Hole 18
Cameron Colglazier, who is at (-9) for the Championship, was at (-10) before taking a 7 on  Hole 18, which cooled him down to 60 (-7).
Colglazier said he's happy with how things went, "I play aggressive wherever I go and the shots were flowing and I was keeping them inbounds and making putts until 18. I threw out of bounds on my second and third shots and took a seven…I feel good moving into Friday. I'll continue to be aggressive."
Zach Melton, shooting (-10) for the Championship, made some moves on Friday also with a 60 (-7).
Crucial Round 3 will setup Saturday's showdown
Friday's Round 3 is a big one. We'll see if McBeth can turn it on or if it will continue to be the Nate Doss and Nate Sexton show? Or, will dark horses like Alex Geisinger continue to work their way up?
Current Leaders:
1. Nate Sexton (-16)
1. Nathan Doss (-16)
3. Alex Geisinger (-11)
4. Zach Melton (-10)
4. Paul McBeth (-10)
4. Ricky Wysocki (-10)
7. Cameron Colglazier (-9)
7. Jeremy Koling (-9)
7. Nikko Locastro (-9)
7. Michael Johansen (-9)
11. David Feldberg (-8)
11. Teemu Nissinen (-8)
11. Henrik Johansen (-8)
11. Eagle Wynne McMahon (-8)
15. Barry Schultz (-7)
Other notable competitors:
20. Steve Brinster (-5)
25. Will Schusterick (-3)
25. Ken Climo (-3)
Don't miss the action to come!
Always stay on top of the freshest scores, by bookmarking usdgclive.com. The PDGA results page can be found here: Open Flight | Performance Flight.
Make sure to tune in to The Insider Show at 10 pm (ET) on The SpinTV's YouTube Channel. See full video release schedule here.
Check out also the updates from today and for the days to follow from our twitter account, facebook page & instagram.
For official photo galleries from USDGC 2015, see here. All official videos will also be posted here.