Green is good when it comes to a spotter's flag after a shot. And, as Levi Bennett, will tell you, it's also good when it comes to tee pads.
This year several of the course's tees and drop zone tees have been outfitted with special green Turf Tees that Bennett, owner of the Teebox Company, says are a leap past traditional turf tees.
One of the main innovations is below the surface. Instead of using six to eight inches of backfill like sand, rubber pellets, or gravel like traditional turf tees do, Bennett has come up with a sub base panel made from recycled plastic giving it similar longevity to a concrete pad.
Tightly screwed into the panel is the green straight-blade turf made from tough dual fiber material.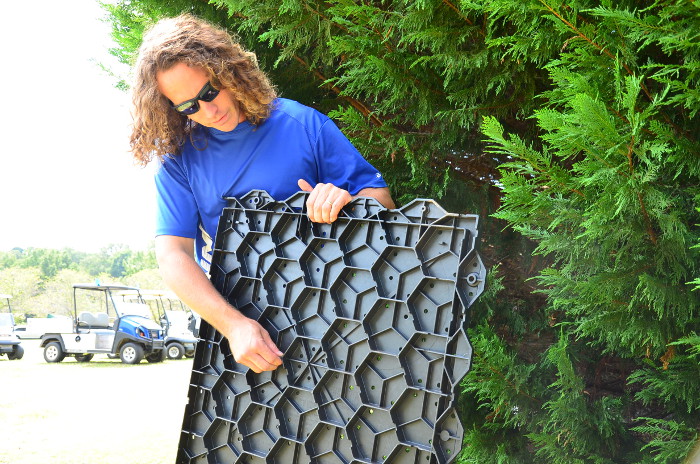 Several Winthrop Holes Outfitted with Turf Tees
Bennett's green tees have replaced all of Winthrop's rubber mat tees on holes 1, 5, 7, 8, 9 (drop zone), 12 (drop zone), 13, and 18.  For the wooden deck tees on holes 5 and 18, Bennett used a shorter sub base panel and an acoustic liner in between the panel and the surface to help with the tees' feel and sound.
The beauty about the Turf Tee is that they're installed in significantly less time than concrete and other kinds of tees and they can last seven to ten years before they're resurfaced, says Bennett.
Plus, they're designed to channel water away from the pad (up to 30 inches of water per hour). That'll come in handy during the final round that's expected to have showers the entire day. And, they're much kinder on your knees than other kinds of tees pads because they're also designed with force reduction in mind, according to Bennett.
Turf Tees filling a disc golf void
Two years ago, Bennett, whose fulltime job is a logistics broker, realized there was room for innovation in disc golf regarding tee pads. "There's so much technology in other athletic fields. However, disc golf has never really been touched," said Bennett, who lives in Winston-Salem, N.C.
So he worked with industry experts and did lots of testing until he came up with his design. About a year ago Bennett brought the idea to Innova. A test tee pad was then installed at the Camp Canaan course in Rock Hill, which eventually led to more being requested for the USDGC.
"The people at Innova and the pro players were very receptive to that tee pad, so that's how that got started," said Bennett, who has also done work at the Richmond Hill Disc Golf Course in Asheville, N.C. and some private courses as well.
Winthrop University Promotional Video
Here's a sweet Winthrop promotional video with aerial coverage of the campus including the Winthrop Recreation Area: