One last round at the Canaan Riverbend Gold Course brought some great scores and some magic moments with Jeremey Koling and Paul Ulibarri holding on for the pro win as Kyle Hogan and Robert Galimi came from behind to take the amateur title.
Koling/Ulibarri Roll to Victory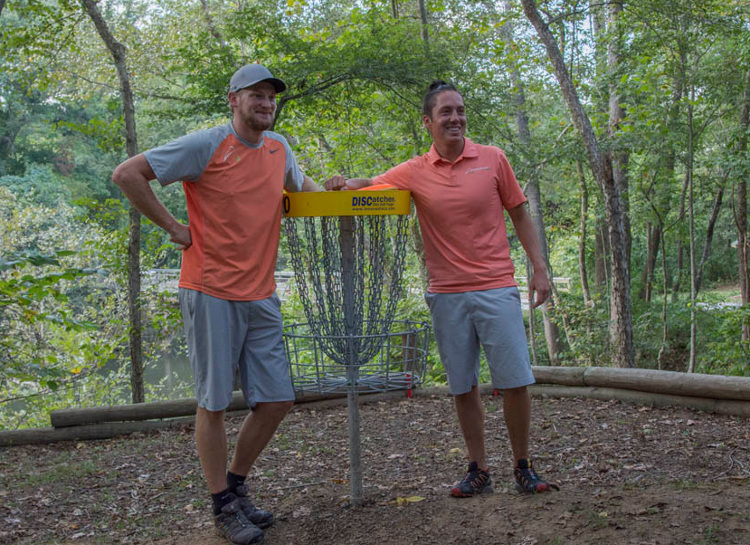 Leading the pro division by five strokes going into the final round, Koling/Ulibarri had a comfortable lead over 3-time US Champ Will Schusterick and Nathan Long. Not allowing themselves to let up, Koling/Ulibarri submitted another superb round. This time shooting a blistering 54 (-15), putting them at (-39) for the tournament and beating Schusterick/Long by six strokes. Schusterick/Long shot a 55(-14), while third place Dickerson/Starnes ended up three back of them at (-30).
Hole 13 Magic
No doubt about it, the highlight of Sunday and possibly the tournament was Paul Ulibarri's circle 3-provisional-shot-hole-in-one on the 427-foot par 4 Hole 13.
The Catawba River borders Hole 13 of the Canaan Riverbend Gold Course for the entire left side. Players can avoid the river on the right side, but those gunning for the green often bomb a disc that flies over a section of the river and then cuts back to the green. Both Koling and Ulibarri tried that approach unsuccessfully for their tee shots, getting OB. Not realizing there was a drop zone closer to the tee, the two decided to throw provisional throws from the same tee.
Ulibarri feeling the flow, waved Koling off the tee, and then threw a gorgeous backhand that sailed over the water, back to dry land, then ultimately into the basket for probably the greatest 'circle three' shot in USDGC Doubles history.
After not turning over his first tee shot on the hole, Ulibarri said after the round he switched his strategy to be more aggressive and told himself to "just throw it in the basket."
"Sometimes when you do that, you're more accurate," said Ulibarri. Turned out he was exactly correct.
Koling said the shot came at a great time because Schusterick/ Long were charging and it helped propel them to finish the round well.
Koling/Ulibarri gelled well for event
Overall, Koling and Ulibarri said the difference maker for their win was their cohesion. And the fact that both players have quality back hand and sidearm skills. The first time the two were paired together at a random draw doubles event in Arizona, Ulibarri said they shot a perfect round.
"Paul and I have a lot of trust in one another. When I had a bad shot, we knew he'd come up with a big shot and vice versa," said Koling, who added that they had no bogeys all tournament.
Hogan/Galimi Come back for AM Win
After being down by six strokes going into the final round on the third card, Kyle Hogan and Robert Galimi were a bit surprised they came away with the two stroke win in the amateur division.
"Coming into today we had no idea we'd win, we just wanted to play solid," said Hogan, who was first introduced to disc golf by Galimi. Both live in the Charlotte area.
Solid might be an understatement with how they played today, shooting a sweet 56 (-13) and ending at (-22) for the tournament. Hogan said that after the round he figured they were in contention and possibly destined for a playoff. But no playoff was required. With their (-13) score they more than made up the difference on the four teams ahead of them. The only other team with a (-13) was the other team on their card, Gonzalez/Crowe. However, Hogan/Galimi had a two stroke lead on them prior to the round.
Hogan said he credited Gonzalez/Crowe for pushing them to play harder. It's the first USDGC Doubles win for Hogan/Galimi after playing in the event the last several years.
Finishing a close second at (-20) for the tournament were three teams including: Zesch/Rankin, Kyle/Fisher, and Gonzalez/Crowe.