A Sunday Finish
This year the Championship will end on Sunday for the first time since 2004. We look forward to two full weekend days of disc golf action. This also pushes Spectator Appreciation Day rounds to Monday, October 10th.

Enhanced Fan Experiences
Championship Village was established in 2021 to create a fan-friendly environment in the heart of the course. We got off to a good start, but we are going much bigger this year. More entertainment. More vendors. More food and beverage options. And of course, more fun! Gates open each day at 8:00 AM with Throw Pink Women's Championship rounds beginning shortly after.

Fan-friendly Course Changes

Hole 2 is being shortened to create a nice Par 4
Holes 3 and 4 are being combined to create an exciting Par 5
Hole 4 will be the infamous "Gauntlet" hole that made its debut in 2019
Hole 13 is being turned into a 657' Par 4

Competitor Entrance

All competitors will now enjoy a private entrance, enabling them to drive directly into the Player Hospitality Area. This will eliminate traffic through the middle of the course and provide a much safer flow at Winthrop.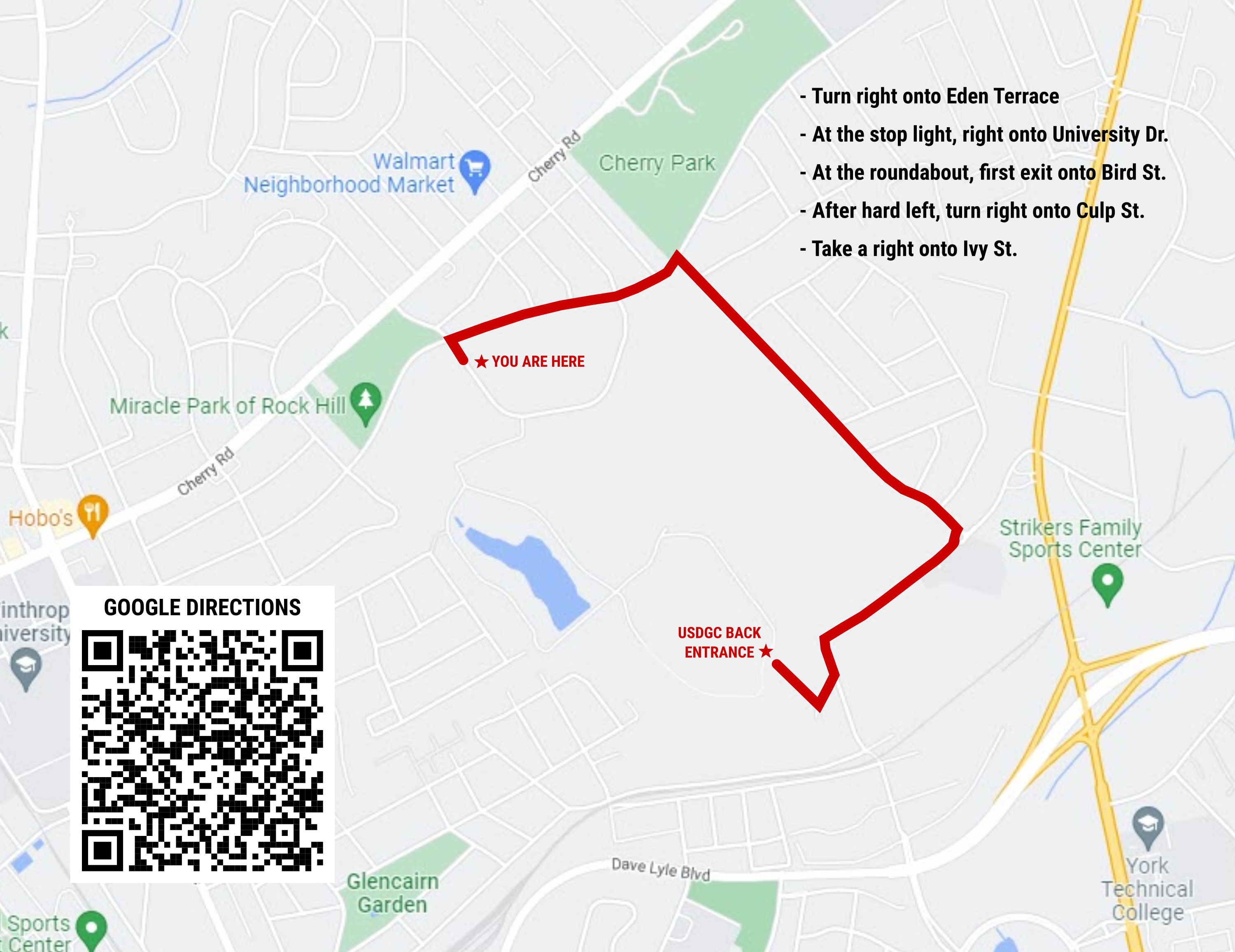 Digital Day Passes

Nothing beats being there in person. But if you can only get away for one day, The USDGC Day Pass is a great way to experience The United States Disc Golf Championship.

Access to both the USDGC and the Throw Pink Women's Disc Golf Championship for one round.

Access to Championship Village, the site of the official USDGC Pro Shop and several other premium disc golf vendors.

Access to the 18-Hole USDGC Spectator Course.
Buy them here
Parking Changes

To further ensure the safety of all visitors to Winthrop, VIP Parking will be moved to the paved parking areas around the Winthrop Coliseum. The GOLD PASS lot is moving to the paved parking area outside the Championship Village entrance. On-course parking may be available for Day Pass holders, but space will be limited and available first come first served.

Front Gate & Security

In 2021 we partnered with Rhino Sports and Entertainment Services to oversee our front gate, parking, and security efforts. The Rhino team is back in 2022 with a year of experience under their belt. Together, we aim to provide a smooth and safe experience for all visitors to Winthrop and protect the integrity of our ticketing program.

Items that are permitted:

Beach/camping chairs
Blankets
Backpack/disc golf bag
Non-alcoholic beverages
Food and snacks
Coolers
Umbrellas
Sunscreen

Items that are not permitted:

Grills
Alcohol of any kind
Illegal drugs
Weapons of any type
Campfires
Golf carts or other motorized vehicles
Bicycles and skateboards
DSLR Cameras
Negative vibes

Note: Dogs are permitted providing they are silent and under control at all times. Owners must also be prepared to pick up after their pets. If either of these requirements is not met, you may be asked to remove your furry friend from the property.