Most USDGC spectators come for the final two days. But for those who make it to the opening round on Wednesday, they'll get to see the event's greatest champion, Ken Climo, take on Winthrop Gold one more time.
It will be his first full PDGA round since playing in the Throw Down the Mountain event in Florida in 2017. A nagging hip injury has prevented the 12-time World Champ and 5-time US Champ from competing the last few years.
Climo Played Hole 1 Last Year
Climo, 51, had similar hopes of playing the first round of last year's 20th Anniversary of the USDGC, but scaled back to only playing the first hole in hopes of preventing any long-term damage to his injury classified as hip bursitis.
Climo Confident He's Got 1 Round in Him This Year
This year with Climo feeling the best he's felt in three years, he's very confident he can play the entire first round. What he's uncertain of, is how he will feel after 18 Winthrop Gold holes. If the pain returns, there will be no question about it, he'll stop after one round – even if he's playing well.
He plans to arrive on Sunday, but has no plans on practicing prior to Round 1. He admits that he's not trying to be a world beater, he's just trying to save himself for Wednesday's round and for the future.
"I've played about 10 rounds in the last three years. You can't expect to come out on fire," Climo said with a laugh.
Perplexing Injury has Caused Much Frustration
It's been a frustrating few years for disc golf's living legend. Even though he's able to conduct day-to-day activity relatively pain free this year and the back pain triggered by his hip injury has dissipated, he still can't do strenuous activity for more than one day at a time.
He's tried everything barring surgery to fix it: physical therapists, acupuncture, Cortisone shots, - "You name I've tried it," but nothing has worked, and doctors appear unable to agree on the solution. With surgery out of the question (Climo feels like you never return to your old self after going under the knife), he's considering alternative methods like stem cell treatment.
His Last Round in FL Felt Good
For now though, he's just hoping to make it through one round at Winthrop. His last round two months ago gave him some optimism. He paired up with touring pro and fellow Clearwater, FL, resident Charlie Goodpasture for a bring your own doubles partner event at Cliff Stevens Park in Clearwater and was pain free.
Still Got It
The duo finished second by five strokes. Despite not winning, Goodpasture said they played well with his famous partner playing the familiar Climo way, hitting 40-footers no problem. Goodpasture, who will be playing in his third USDGC this year, said the Champ still has his touch and his incredible spin control.
Here's a clip of Climo knocking one down at that doubles event. Special thanks to Goodpasture and PureLine Disc Golf for sharing it.
Chase Card During 2015's Round 2
Along with Climo's pile of wins, what's just as impressive are the 28 years he was able to compete at the top level before his hip injury sidelined him.
Just four years ago, Climo, who was 47 at the time, was on the chase card for Round 2 of the 2015 USDGC. Climo started the day tied with Ricky Wysocki, James Proctor, and Paul McBeth. He battled with them for most of the round until he was bitten by Hole 13 and fell behind. However, he still managed an impressive tie for 10th that year.
Since then, his USDGC play has been limited. He withdrew after the first round of 2016, which was his last full round at Winthrop.
What Has He Been Up To?
With Climo no longer in the spotlight, many wonder what the man synonymous with disc golf has been doing with his time. As you might imagine, course design is a passion of Climo's. He and Goodpasture recently designed a gold version of the Cliff Stevens Course in Clearwater, adding some 2500 feet to the existing layout. Climo said the course, installed in 1986, was due for an update.
"We made a grand course that would test anybody in the game. I don't see anybody shooting 14 down there. It ain't gonna happen," he said proudly, adding that he has a few other design opportunities on the horizon and would like to make that a bigger part of his life.
Goodpasture, who has worked with Climo on a few other properties, said it's been a privilege to work with a man who has defined disc golf for so many.
"It was really cool working with him on the gold layout and bouncing things off each other because it is both of our home course," said Goodpasture. He added that course design has helped get Climo excited again about disc golf as he's worked to solve his frustrating hip injury problem.
When he's not carving out fairways, Climo can be found at home raising his 16-year-old and 7-year-old kids (he also has a 25-year-old adult son), as well as taking care of various things around the house. The last several years he's dedicated more of himself to his family, he said.
Rock Hill, the Champ's Home Away from Home
For the last many years, the first week in October has meant a regular pilgrimage to Rock Hill, SC, for Climo. This will be his 20th USDGC Appearance (he's only missed the 2017 edition). His record at Winthrop will be tough for anyone to beat. Of the 17 USDGC appearances that he completed the event, he finished 12th or better more than 80% of the time and either first or second more than 40% of the time.
Climo Returns to the Booth
Though it is unlikely that Climo will play more than one round this year, he will be making repeat appearances commentating for the live broadcast – a job like course design he seems perfect for.
Last year it was great to see Paul McBeth, James Conrad, Nate Sexton, and Kevin Jones battle it out during the final round. But it was even cooler to hear Climo, the man who has lived it all himself, commentate about it.
When it comes to his approach to commentating, he said he doesn't really have one.
"I just call it how I see it," said Climo, adding that last year's USDGC live broadcast was his first real opportunity.
Be sure to sign up for the USDGC's 2019 Live Broadcast for Rounds 2, 3, and 4.
Climo Likes the New Hole 1
Though he will miss former holes 1 and 2, he believes the former Hole 3 is a great hole to start on – even better than the original one. There's some OB to keep you honest and an aggressive tee shot is required to land on the green. Plus, it should play fairly fast since there are no early trees to hit, he said.
He has not seen much of the new holes 3 and 4. The question to ask will be if the new holes will have comparable toughness and playability to the holes removed, said Climo.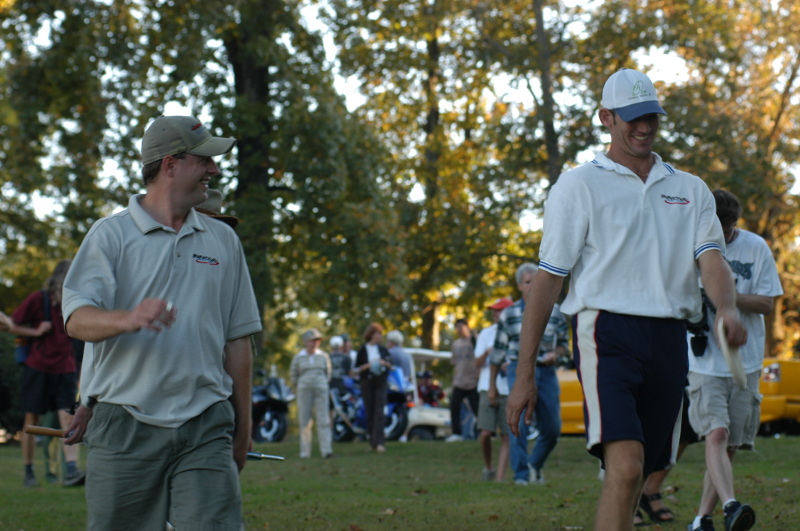 Climo's Future
Climo would still like to get back in the game. If his health returns, he could see playing eight to ten events a year including the biggies like the Masters World Championships and the US Masters Championship.
"I miss it. I'm kind of jones'n over here for some action," said Climo.
Come Watch Climo Play on Wednesday
So who will be paired up with Climo on Wednesday? Last year, for his special Hole 1 appearance, Climo was paired with another USDGC legend Barry Schultz. It was a special moment seeing the two, who had so many close matches, play that hole again. Then again, maybe he'll be on the same card as some of today's greats like Wysocki, McBeth or McMahon? Or still yet, he may even get paired up with his Florida doubles partner, Charlie Goodpasture. Come Wednesday to find out.