The United States Disc Golf Championship invited College Disc Golf and four of it's teams to play in the second annual Dean's Cup Invitational. The four teams compete in a seeded bracket head-to-head competition.
The opening round matches are determined from the four invitee's ranking in the Innova Disc Golf Collegiate Team Rankings. Colorado State University is the highest ranked team and earned the number one seed. They faced the Dean's Cup hosts, Winthrop University. Augusta University had the second seed, giving them first tee honors against the University of South Carolina.
The sun was barely up when John Baker of Augusta threw the first shot of the event at 7:30 on Friday morning. His almost perfect shot set the tone for the day. The AU Jaguars led for the entire match and held off the USC Gamecocks to advance to the championship match. It wasn't as easy as that sounds though. The Gamecocks made some crucial putts, putting pressure on the Jaguars, and drew to within one throw several times. It came down to the last throw on the last hole. South Carolina had to try to throw in an 84 foot shot to extend the match, but both attempts came up short.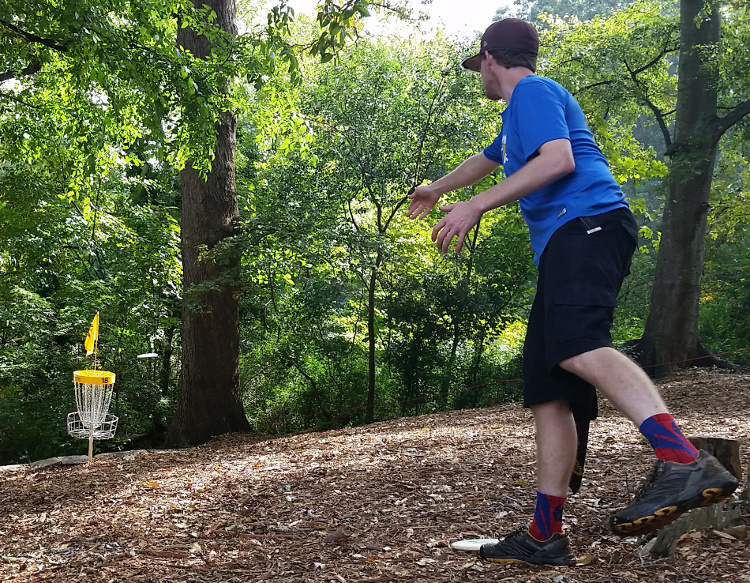 In our other match up, the Colorado State Rams flexed their number one seeding early and jumped out to a large lead. Winthrop was able to shake the morning dew off and get loose through back nine, but the early lead proved insurmountable. Winthrop will look to keep their late momentum going into the third place match tomorrow morning against South Carolina. It will be a great battle between familiar foes in the Championship match. As a repeat of last year's final match Colorado State will battle it out with Augusta University.
Stay tuned here, USDGC.com, and on our Facebook and Twitter feeds for more coverage.
How college team play works:
The teams play their rounds in College Disc Golf's Team Doubles format where each team has two sets of teammates, one ODD, one EVEN. The ODD set will tee off on every odd-numbered hole, while the EVEN set tees off on every even-numbered holes. After the tee shots, the team chooses which of the two lies to play. From there, the set that did not tee throws their two shots. Again, the whole team decides which lie to play from and the set that teed off would throw. That alternating process continues until the hole is complete. On the next hole, the corresponding set of teammates according to the hole number, ODD or EVEN, would tee off no matter which set putted out on the previous hole. This format allows for each player to tee off the same amount of times and for teams to play as whole. Each hole has two teams playing together as an eight-some.