After playing in eight USDGC's Jeremy Koling has pretty much seen the tournament from every angle. But this year is different. For the first time he'll experience it as the defending champ.
Koling said prior to the competition that he was really excited for it all to begin. One of the few things he was nervous about was the Player's Meeting, which happens the night before competition. Known for being quite loquacious, Koling generally has no problem speaking in front of people. But, he said (prior to the event) he may have to wipe away a tear when he accepts his USDGC ring. At the Players Meeting Tuesday night, it was clear Koling was moved when he accepted his ring.
"That to me is such a big deal. I can already tell that I'm going to be emotional about it. That's how big a deal it is," Koling had said earlier.
Finding the zone last year
After all, his 2016 performance brings up powerful emotions. With a 1050 rated round, and two 1062 rated rounds, it will go down as one of his best if not the best major performance of his career. In the past, it seems like he's had a slip up round in each major, but that Championship week last year, he said he tapped into something that put him in a calm and confident place during those rounds.
"I'm not sure if I've ever played a major that confident. It's right up there among my top performances," said Koling.
Koling became the first US Champ to win after only three rounds. Due to safety concerns from severe weather from Hurricane Matthew, the final round was canceled and logistical issues made it impossible to postpone. Koling, who was atop the leaderboard after three rounds, was declared the winner. (Here's a clip of Koling on Hole 18 during Round 3, which ended up being his last hole of the event)
Koling now a Major Champion
It was Koling's first major win and with it you could sense Koling's rise into the upper echelon of the pro tour. Big expectations followed for the 2017 season. Koling, obviously would've liked to have carried that USDGC win momentum into this season, but he said it's been a Jekyll and Hyde type of year.
He's seen the positive, with his Waco Annual Charity Open (DGPT) win, placing 3rd at the Texas State Championships, taking 4th place finishes at the Masters Cup (NT) and the Utah Open (DGPT), and he made the Presidents Cup roster for the first time. But, he's also been frustrated with several disappointing finishes outside the top 10, like 15th at Pro Worlds and 15th at the European Open.
Koling, said there's been a lot of learning for him this season, notably changing sponsors and reestablishing confidence in some of his utility shots, which can mean all the difference in top level golf. He said the few events he's played consistent, he's been at the top, which gives him confidence that good things are up ahead.
"It's allowed me to not get discouraged. I know my best disc is at the very top level," said Koling.
Refreshed after Estonia Detour
Koling took a chance to recharge his batteries after the European Open in July. Veering off the tour for a few weeks – something he wouldn't normally do – Koling decided to instead hang out with some friends in Estonia after receiving a generous invite. Although it caused him to miss the big Ledgestone event, he was glad he stayed and was able to have an experience overseas that doesn't come around often. He played a little golf too, winning the Valgjärve Open, collecting in the process what he called his first legit video ace in a long time and landing on Estonian television. That's a big deal for Koling since he's been witness to so many other players' famous video aces over the last few years.
A natural commentator
Throughout this season, Koling has also spent more time on the opposite end of the camera as a recurring commentator with Jomez Productions post round coverage beginning with the Waco Charity Open. Koling ended up winning that event in overtime and he said it was a lot of fun adding his perspective to the coverage. You can also find Koling commentating on the 2017 Pro Worlds, Utah Open and Glass Blown Open among others.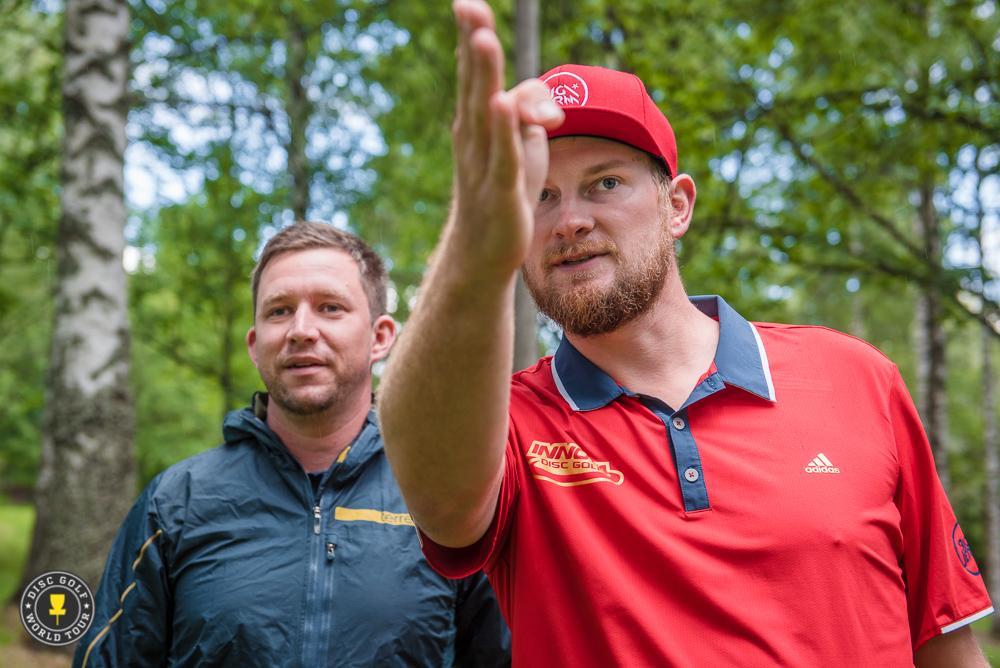 Koling says he takes his commentary seriously. He studies those he believes are good, like Nate Sexton and he also pays attention to the viewer comments posted, good or bad. What Koling tries to do is explain the psychology of what's going on in certain moments. "There's much more to each shot than what you can see on film," said Koling, adding he can explain why a shot works and why it didn't.
Besides Jomez, you can also find Koling behind the mic for the 2 Pros and an Average Joe podcast, in which he, Paul Ulibarri, and Brady Hanna have fun while talking about life on tour and whatever else interests them. What's more, he's practically a regular guest on the Final Round Radio podcast that discusses all things disc golf. Koling says he feels pretty natural on-air.
"It's just me being me. Most of the time you can't get me to shut up so it's fun to put a mic in front of me and see which direction I will go," said Koling.
Sights on 2nd US Title
Who knows, Koling may land in the commentating seat for the defending champ's perspective during this year's USDGC coverage. If so, we might see Koling commentating on his own play again if he can find his way back onto the lead card.
He sure would like to win the event again, and this time after all four rounds. When asked what that would feel like he said that in a way it would feel similar to last year, but in another way it would feel entirely new. He'd get to experience that final round push and if all went well he'd have that magical final round 'Hole 18 Moment' where he'd climb the fairway in front of family and friends in route to victory.
Plus, he wouldn't mind shutting up some of his friends and other naysaying critics who have applied an asterisk by his win.
USDGC 2017 Quick Links