Paige Pierce is now in a special USDGC club – one, that's to the best of our knowledge, made up of only four members. After qualifying for the USDGC at the regional qualifier, the Aussie Open, Pierce joined Juliana Korver, Des Reading, and Elaine King as the only women to have qualified for the Championship based on score at regional qualifiers.
Pierce Scorches Aussie Open
Pierce of Plano, Texas, never really thought that qualifying at a regional qualifier was a possibility until the Aussie Open (Jan 26-29). With the Open and Open Women playing the same layout, and the Open field looking very manageable, "I saw that it was in the realm of possibilities," said Pierce.
Four rounds later, Pierce had submitted one of those jaw-dropping performances the disc golf world has come to expect from the 4-time World Champion with two 1000+ rated rounds and winning the Open Women division by 20 strokes. Her (-6) gave her the 11th best overall score and since Ricky Wysocki and Eagle McMahon were already USDGC-eligible, that gave her the top 10 finish she needed for qualification.
Juliana Korver, who played in four USDGC events, qualifying by score at a regional qualifier in one, thought Pierce's accomplishment was a "monumental feat."
"Anytime any woman reaches a prestigious benchmark in disc golf while on an even footing with men, it should be celebrated, appreciated, and remembered," said Korver, who remembered the excitement she felt when she qualified by score, which was in the early 2000's.  
No Monday Qualifying Necessary This Year for Pierce
Pierce said she was surprised and excited to have qualified for the USDGC this way. And, she acknowledged it will be a relief to avoid the pressure of Monday Qualifying. From 2013-2015, Pierce tried that qualifying route where the top five scores get invites, but was unsuccessful each time. "Somehow the scores would come in and I've always missed it by just a little bit," said Pierce, who came closest to qualifying in 2015 when she submitted a score that was 4th best, only to be knocked out late in the day.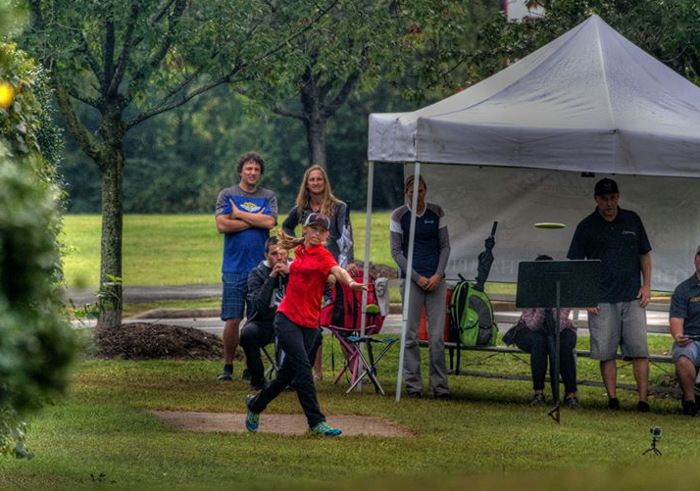 Pierce Already Has One USDGC Title
Though this will be her first time to play for the US title, this will not be her first time to play in the Championship. In 2014, Pierce became the only woman to win the USDGC Performance Flight, an event that ran alongside the traditional USDGC from 2012-2015 (In 2011 the USDGC was the Peformance Edition). Looking at her total strokes that year (270) and compare that to the Open Flight, she would've likely cashed if she had played in that division.
Making the Cash
In the Championship's 18-year history, only one woman, Juliana Korver, has placed high enough to cash. Korver tied Nate Doss and Todd Branch for 50th place in 2001, which put her ahead of 74 other (male) competitors. Korver, who won 5 World Titles, ranked cashing at the USDGC high among her impressive list of career achievements.
"Cashing against the top men in the sport in a major event is quite possibly the accomplishment I am most proud of in all my years playing disc golf," said Korver.
Can Pierce join Korver? That will be a question on the minds of many as the Championship nears. Pierce believes she can if she produces rounds similar to the Aussie Open.
*Read more about what's it like playing the USDGC as a female here*
Winthrop Game Plan
Four-time World Champion Des Reading, who qualified by score in 2003, believes Pierce can as well, especially if Pierce formulates a game plan tailored to her strengths. Reading's 6 USDGC's taught her to build up to an aggressive round at Winthrop.
"I found Winthrop Gold played nice when you played nice with it first," said Reading, who was seven strokes away from cashing in 2005.
It sounds like Pierce is already thinking along those lines. She says she wants to replicate her strategy from 2014 that centered on playing her game, staying in bounds, and moving on from mistakes instead of compounding them.
"I'm gonna try to keep the same mindset. Since it (Performance Flight) was playing handicapped you were just playing yourself," said Pierce, who acknowledged that there are a lot of talented guys in the field and it does her no favors to try to one-up them.
Seven-time World Champion Elaine King says Pierce has already demonstrated she has what it takes, given her past Winthrop success, her long drive, and precise upshots. With her strong play in general the last few years, "she has a realistic opportunity to cash," said King, who qualified in 2002 at the Toronto Island Open, but was unable to attend the Championship.
Like years past, Pierce's strong play is evident this year, too. Along with the Aussie Open win, she's also won Pro Worlds for a fourth time, and several PDGA National Tour and Disc Golf Pro Tour events. No doubt, it will be exciting to see what she can do at the USDGC in October.