One of the main rewards to making birdie on Hole 4, besides conquering a tough hole, is getting your picture taken by longtime USDGC volunteer Rock Searle, who annually spots that hole along with his wife Pat.
It's not a long photo shoot – only a quick snapshot from Rock's iPhone before the player or players make their way to Hole 5's tee. But Rock's little birdie photo op (which he later uploads to the USDGC's Facebook page) has become another USDGC tradition that many players look forward to.
"They'll say, 'Rock, I got a birdie.' Or they'll say, 'I got a shot here for birdie so get ready to take a photo," recalled Rock, 65, who is now living in Washington after years of living in Fairhope, AL.
Rock and Pat have volunteered for the USDGC for 15 years, 12 of those years they've spotted on Hole 4, where their duties include: flagging OB shots, keeping spectators at bay, and notifying players when it's safe to drive. And even though Rock's the one that snaps the photos, he makes it clear that Pat's role on the hole is just as vital.
Getting your picture taken by Rock isn't an easy task. Only 18% of Open Flight players made birdie last year on the 448-foot par four.
Tee shots have to fly long enough uphill to provide a good angle around the mando tree for your approach, which must turn sharply in order to enter the green that's partially surrounded by Leland cypress trees.
"I think for a (right-handed) player without a sidearm, it's pretty difficult," said eight-time USDGC competitor Nate Sexton, a proficient forehand thrower, who uses a forehand off the tee, then again around the mando to reach the green.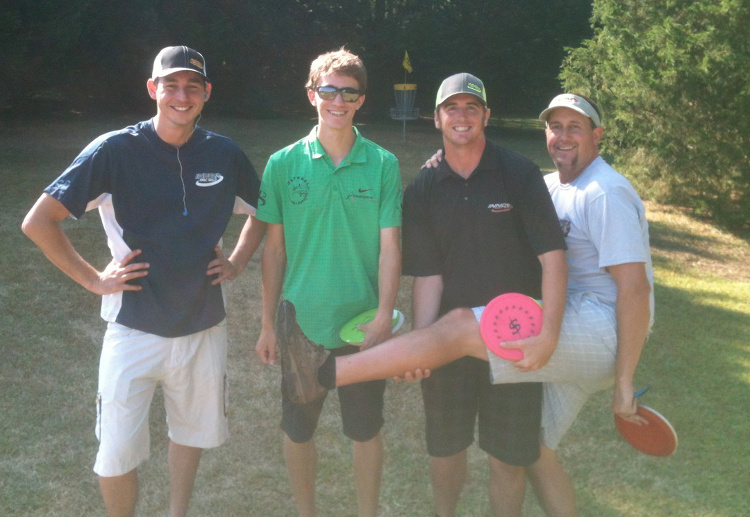 Regardless of how you throw the hole, players who card a three here must be pretty stoked. That's probably why when you look through some of Rock's birdie pics, you don't see many frowns. In fact you don't see any.
"Of course they're happy. They just shot a birdie at the USDGC. They're ecstatic," said Rock, who at 6'5" is hard to miss on the hole.
That's certainly true of a 2013 pic consisting of 3-time US Champ Will Schusterick, Matt Dollar, Brian Schweberger, and Tim Skellenger, who are all smiles after their star frame birdie, which Rock says is quite rare.
Some players do get hot on the hole and end up with multiple pics from Rock. Last year, according to Rock, five Open Flight players scored birdie on the hole three times. They included: Patrick Brown, Nathan Sexton, Pasi Koivu, Matt Dollar, and Matt Bell.
From Rock's experience on the hole, he remembers only one player, Nick Schneider (2007), making birdie all four rounds. However, that was before the hole's layout changed in 2009 to include a mando before reaching the green.
Rock also noted that Geoff Bennett was the only one he knew of that eagled the hole (2006), which was also prior to the hole's current layout.
Rock isn't exactly sure what compelled him to start his tradition, but back in 2008 when he first got an iPhone he began snapping photos of players after they carded birdies. Since then he's snapped more than 300 photos. A few times, players wanted him in the pic too (like Paul Ulibarri did in 2012).
Over the years, Sexton has definitely gotten his share of Hole 4 birdie pics, which he estimates to be between 10 and 15. Sexton says he enjoys the unique photo op and chatting up Rock even as he competes for a major championship.
"I think for me, it's a nice little fun moment in an otherwise serious round," said Sexton.
Playing in his first USDGC last year in the Performance Flight, Matt Loyd of Arkansas, had his heart set on a birdie photo after following the tournament for so many years.
"I only had one goal going into last year and that was to really let myself enjoy the full USDGC experience. I told myself that getting my picture taken by Rock was a huge part of that USDGC experience and I had to try to get it at least once," wrote Loyd.
Loyd had a strategy for every hole except Hole 4, where the only plan was, get a birdie pic. During the first round a 50-foot putt sealed his birdie on Hole 4 and his tournament was made.
To Rock, his birdie documentation is just a little something he can offer the players in a tournament that's quite selective in its cash prizes.
"We have the best event on the planet, there's plenty of opportunity to present them with a memory or memento of the time they spent here," said Rock.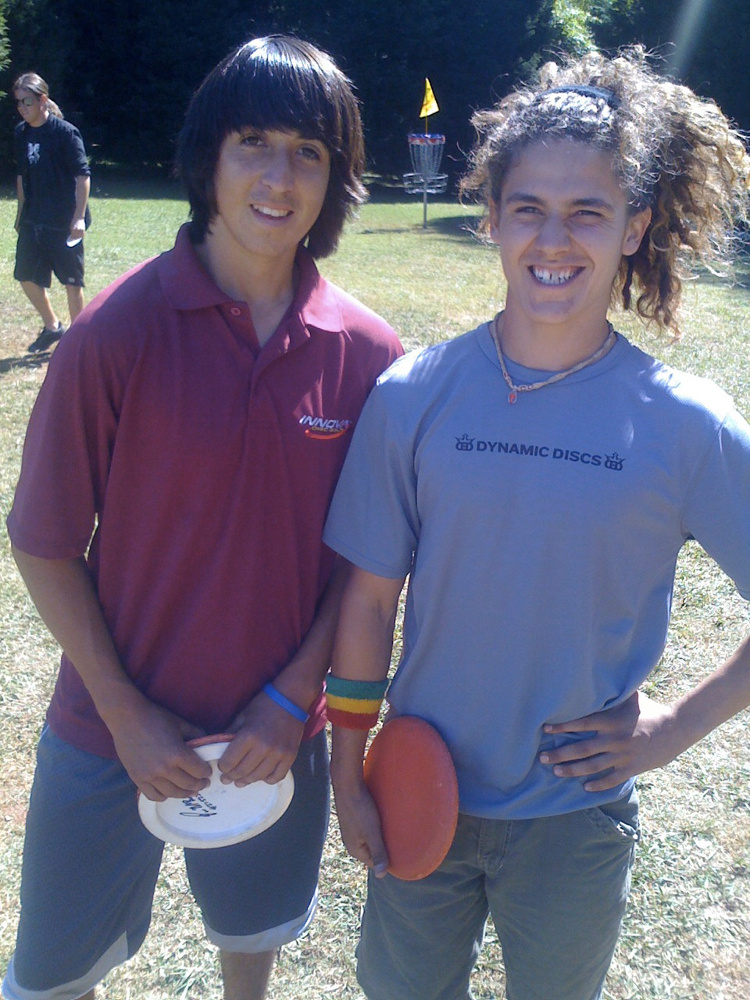 The past four years Rock has done crowd control for the lead card during the last two rounds – so, he asks his spotter replacements to assume the birdie pic duties. Some of his replacements are squeamish about photographing players, but others step right up, he says.
One of Rock's favorite pics actually came from one of his stand-ins last year. Filling in for Rock, USDGC staffer John Metzelaars took a photo of lead card birdie takers Johne McCray and Patrick Brown as they high-fived – no doubt, a cool moment captured as the two men competed for a US title.
In other sports or even other disc golf tournaments, you probably couldn't get away with Rock's photo op, and Rock will tell you he never expected it to have taken hold so well. But it is gestures like this that make the Championship special. Now Rock's photo op is just as much a part of the USDGC as anything else.