With one round left to play for the US Championship, Nate Sexton and his superb sidearm continue to lead the field at (-23), while Paul McBeth and Richard Wysocki made big moves during Friday's Round 3 to jump to second at (-20) after they both shot a 57 (-10).
Sexton knows this is still far from over, "Leading with 18 holes to play feels great. There is no better spot to be. You can't envy anyone who is one stroke behind though. I know there will be pressure, but I'm not focused on who's behind me or how far ahead I might be. I'm just going to play golf that I can be proud of and if that wins, that's great."
Nate Doss was tied for the lead at the round's start, but caught a few rough breaks at the end of the round and now trails by seven strokes, but he'll remain on the lead card on Saturday, which could be a wet one. Forecasts are calling for moderate winds and periods of rain.
Other players positioning themselves for the final round Saturday include: Steve Brinster and Zach Melton at (-15), Cameron Colglazier at (-14).
McBeast flips the switch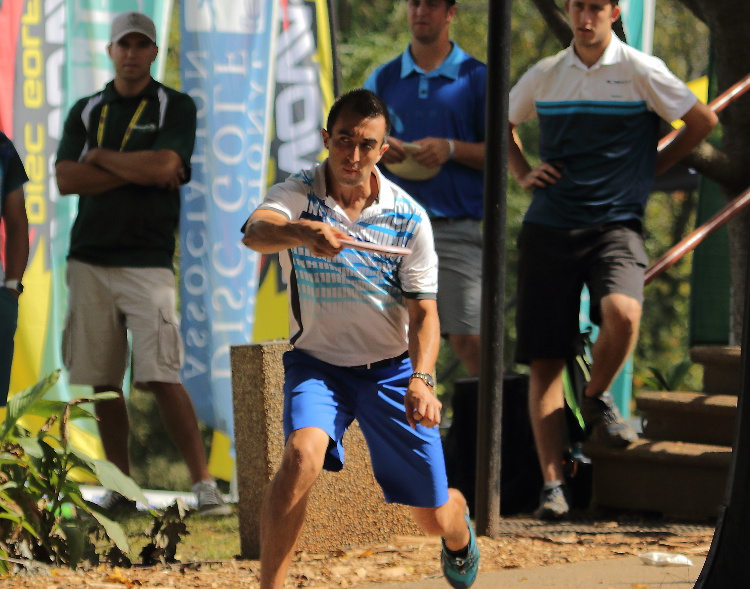 It looks like McBeth may have finally found his stride on Friday when he shot a 57 (-10) after shooting two rounds of 62 (-5). The sizable Friday gallery was definitely paying him close attention. He had 12 birdies and one eagle during his breakout round, which could've been even lower without his two bogeys and a double bogey on the back nine. He should be in good position to make a run at completing his Grand Slam season on Saturday.
"It's time to put some pressure on Nate (Sexton) and the others on the lead card," McBeth said after the round. "I need to come out hot and clean up those mistakes on the stretch of Holes 11, 12, 13, and 14. I've given away too many strokes there."
Nate Sexton keeps plodding ahead
Sexton encountered a little trouble on holes 12 and 13, making bogey on each, but besides that he was staying in between the ropes as he relied heavily on his sidearm and ended with 60 (-7). On Hole 11, a clutch sidearm third shot helped save par after an errant tee shot went fairly deep into the hole's right hedge. As Sexton was preparing for a jump putt on Hole 17 for birdie he made the wise call of waiting for a loud diesel truck to pass by across the lake. "I thought it was a boat," he remarked to the crowd after stepping away from his lie. After regrouping, he then stepped back up and nailed his putt.
Wysocki makes final round lead card
There was only one hiccup for Wyscoki, which came with a bogey on hole 5. Besides that he was golden, especially on the back nine, birdying everything except holes 10 and 15. Wysocki now finds himself in a similar position to 2012 when he was on the lead card and nearly went the distance.
"Being in the lead group is a great spot to be on the final day," Wysocki stated with a smile. "Now I can make my move."
Doss corrects rocky start, but skids on Hole 17.
No doubt Doss didn't have the clean start he wanted. Though he made birdie on Hole 2 and saved a par from the hazard on hole 3, he made bogey on Hole 1 and then made double bogey on Hole 4. However, Doss began playing more controlled after the back nine and looked to be back in contention after birdies on holes 15 and 16. But then his layup tee shot went OB on Hole 17. He laid up again and after landing in the island, he missed his putt and had to settle for a triple bogey. Then on Hole 18 his second shot was ruled OB after several minutes of the group examining the lie. Still he finished the hole strong with a par save.
One round is all that's left to crown the 2015 US Champion. Saturday we'll see if McBeth can continue his hot play and capture disc golf's Grand Slam. Or, will we see Wysocki take control? With Sexton's steady play he won't relinquish the lead easily. The final round will be a big one for sure.
The lead group's round from today was also streamed live by The SpinTV in association with SmashboxxTV. Check the archived footage here.
Ace Alert:
Pasi Koivu aced Hole 17 and Stale Hakstad, of the Performance Flight, aced Hole 14. See Ståle's ace video below:
Don't miss the action to come!
Always stay on top of the freshest scores, by bookmarking usdgclive.com. The PDGA results page can be found here: Open Flight | Performance Flight.
Make sure to tune in to The Insider Show at 10 pm (ET) on The SpinTV's YouTube Channel. See full video release schedule here.
Check out also the updates from today and for the days to follow from our twitter account, facebook page & instagram.
For official photo galleries from USDGC 2015, see here. All official videos will also be posted here.