Disc golf history was made at the USDGC during Saturday's final round when Paul McBeth won his first USDGC and completed disc golf's Grand Slam in the process when he beat Richard Wysocki by five strokes.
Coming from three strokes behind to start the day, McBeth shot a 61 (-6), overtaking Round 3 leader Nate Sexton, then eventually outlasting Richard Wysocki when Wysocki stumbled on Hole 17, clearing the way for a McBeth victory.
Rounding out the top five 2015 finishers are: 3rd place Nate Doss (-18), 4th place Nate Sexton (-15), and 5th place Cameron Colglazier (-14).
McBeth lives up to the hype
For months leading up to the 2015 USDGC, most of the talk centered around Paul McBeth and the chances of him completing disc golf's Grand Slam. McBeth definitely came through. McBeth, who shot (-26) for the Championship, submitted eight birdies and only made two bogeys on a day with tough weather conditions.
"I threw some bad drives at the beginning and had to work that out throughout the round since we didn't have much chance to warm up with the weather," McBeth said after the round. "I was able to keep it in bounds and keep the putts falling for most of the round and they came up huge on the last two holes."
McBeth was one of only six players in the Open Flight to shoot below par on a Saturday that featured soggy course conditions from morning rain that stopped for several holes on the front nine but started up again by Hole 10 and hung around with gusty winds through Hole 14.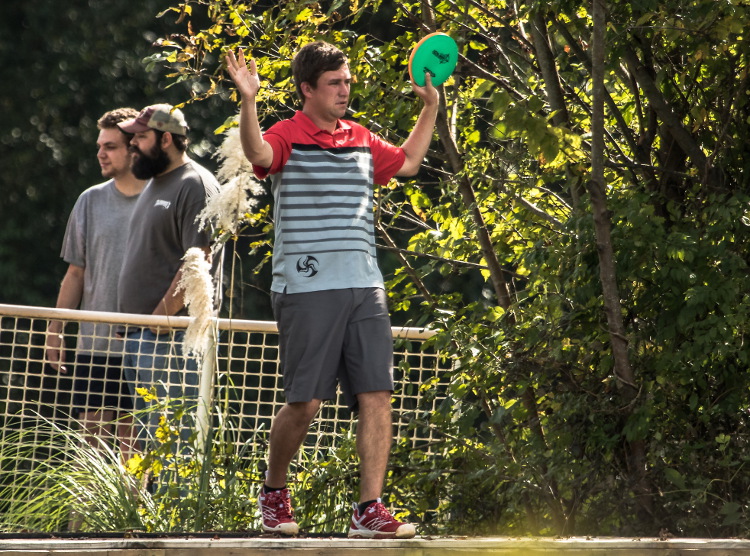 Sexton runs out of steam on Saturday
Nate Sexton started the day ahead of Wysocki and McBeth by three strokes. However after he made birdies on Holes 1 and 3, he couldn't capitalize on birdie opportunities for the rest of his round. He ended up shooting a disappointing 75 (+8). Fourth place may be a let down for Sexton, but he still had one of his best USDGC finishes to date continuing his strong appearances here at Winthrop.
Several lead changes
With Sexton cooling off not long after the round had started, McBeth and Wysocki took advantage with several birdies a piece by Hole 9. On Hole 9, Sexton then fell hard with a double bogey, and Wysocki took the lead by three strokes with a birdie. McBeth also made a big birdie here and overtook Sexton but was now one stroke back of Wysocki.
McBeth then took his first lead of the event by two strokes after Hole 12 when he scored a clutch birdie and Wysocki suffered a triple bogey.
On the very next hole Wysocki tied it back up with a birdie on the tough Hole 13, while McBeth went OB off the tee and ended up with a bogey.
Two holes later McBeth retook the lead by one when he secured a par on the hole while Wysocki made bogey after his second throw, a sidearm roller, went OB.
The excitement continued on Hole 16 as Wysocki tied it up yet again after a sweet sidearm drive led him to a birdie. He would've taken the lead, but McBeth sunk a clutch 45-foot putt to save par after landing in the hazard.
McBeth said he had a moment with himself before walking up to the tough putt, "I kind of laughed before I made that putt, because I knew how important it was. That's what I play for though. Those moments. I was able to make that and put the pressure on Ricky going into Hole 17."
Hole 17 Strikes again.
Tied up with two holes left to play for the Championship, Wysocki, up first on the tee, could only land inside the island green after throwing two sidearm drives OB. After that, McBeth just needed to land his backhand inside the green safely and his Grand Slam would likely be his. After staring down his throw, he watched it land safely and let out a pumped up reaction.
"I threw my Nova all four times on that hole and birdied it all four times during the tournament. I threw the same shot every round and was in the same spot every round," McBeth explained.
Up by five strokes, all McBeth had to do was coast through Hole 18's fairway to claim his first USDGC and disc golf's Grand Slam, which was exactly what he did.
"There are so many young players coming up and this will push me even harder," McBeth explained. "I now have more titles to defend. That's my favorite thing: defending titles."
Too much ground to make up for Doss.
Doss had some ups and downs during the rainy final round but did not have enough momentum to make a strike by the round's end. Still, he turned in a rare score in the negatives on Saturday shooting a 65 (-2).
Wysocki gets credit for battling with McBeth
Shooting a 66 (-1), you have to give credit to Wysocki for all the fight he showed during the final round. Wysocki has definitely earned his USDGC stripes with his gutsy performance and will definitely be a favorite to go far next year.
So what's next for McBeth as disc golf's first Grand Slam Champion? We'll see, he's certainly proved he can fulfill even the toughest expectations.
See PDGA results & ratings here: Open Flight | Performance Flight.
Re-live the action!
Watch the full 5-hour monster of a final round as archived broadcast here.
Make sure to tune in to The Insider Show at 11 pm (ET) on The SpinTV's YouTube Channel. Check out all released and upcoming videos in our broadcast schedule.
Check out also the updates from today our twitter account, facebook page & instagram.
For official photo galleries from USDGC 2015, see here. All official videos will also be posted here.