Do you know what one of the best social-distancing sports out there is? It's disc golf and the best way to learn it or improve your skills is at the Throw Pink Women's Event in Rock Hill, SC, Oct. 11. Everything starts at 9 a.m.
Taking place on the same site as the US Disc Golf Championship and the Women's National Championship, the Throw Pink Event, in its seventh year, has introduced dozens of women and girls to disc golf.
Ladies and girls of all skill levels are encouraged to take part in this relaxed, women-only event.
No Discs? No problem!
The cost to register is $20 and includes a fun player pack, a clinic taught by professional women disc golfers, a round of disc golf, and a charitable donation to Throw Pink! Don't have any discs? No problem! There will be plenty of discs available for you to use at the clinic.
Pre-Register at Disc Golf United
Please pre-register for the Throw Pink Ladies Clinic at the USDGC on Disc Golf United. Can't attend? We also have a supporter option!
About Throw Pink
Throw Pink was created by women for women to inspire, empower, elevate each other, and grow women's participation in disc golf. Through fun disc golf initiatives, Throw Pink raises money for organizations that support and advocate for all aspects of women's health.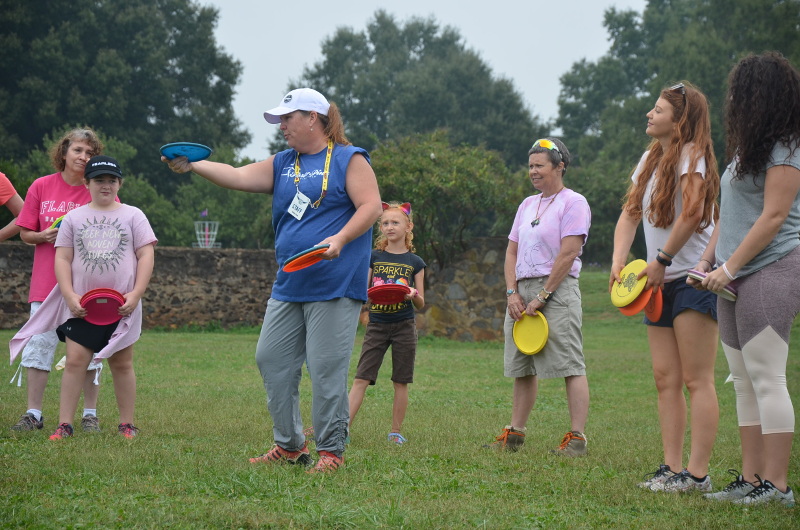 About the Event
This event is the perfect place to get started in disc golf. The clinic will cover everything a beginner will need to know to start their disc golf journey followed by a short, fun round on the course designed specifically for the Throw Pink Event.
Betsy Lytle, who attended a past event with her 12-year-old daughter, said, "For us being beginners, it's less intimidating to come to events specific to women. And, to help raise money for a good cause – it's a win, win."
COVID-19 Precautions
Make sure to pre-register for this year's Throw Pink Event at the USDGC here. Only pre-registered players will be allowed to enter the Winthrop Recreation Area.
Other precautionary measures include:
All ladies attending the clinic will undergo a brief COVID-19 screening before entering the property.
Clinic groups will be limited to 4 people to ensure social-distancing guidelines of 6 feet are met.
Masks are also required anytime you are not throwing.
If you feel sick, please let us know and do not come to the ladies' clinic. Everyone's health is our top priority.
To see full safety guidelines, please check out this announcement by the USDGC.
Location
1162 Eden Terrace, Rock Hill, SC.
Once you arrive and check in at the front gate, attendants will direct you to the Throw Pink Event site.
Please arrive a few minutes prior to 9 a.m. so we can kick off the event promptly at 9 a.m.