Just a few years ago tour newcomer Austin Turner, of the Charlotte area, was looked at as the young kid with big potential. Many wondered just how good he could get if he dedicated himself to disc golf.
Well, the disc golf world is starting to see the depths of the 19-year-old's talent after he's gone full time into disc golf this year, appearing high up on leaderboards across the country and qualifying for the USDGC for the first time.
College will have to wait
Around this time last year, Turner, who won Am Worlds (19 and Under division in 2015), was enrolled in his first semester of college at Coastal Carolina University near Myrtle Beach, S.C. But instead of continuing for the spring semester, Turner decided to put college on the shelf and try his hand at the tour full time.
He knew he'd need to be in top form come spring, so during the winter and early spring Turner trained like an animal, putting in countless hours on the course and in the field. And it's paid off.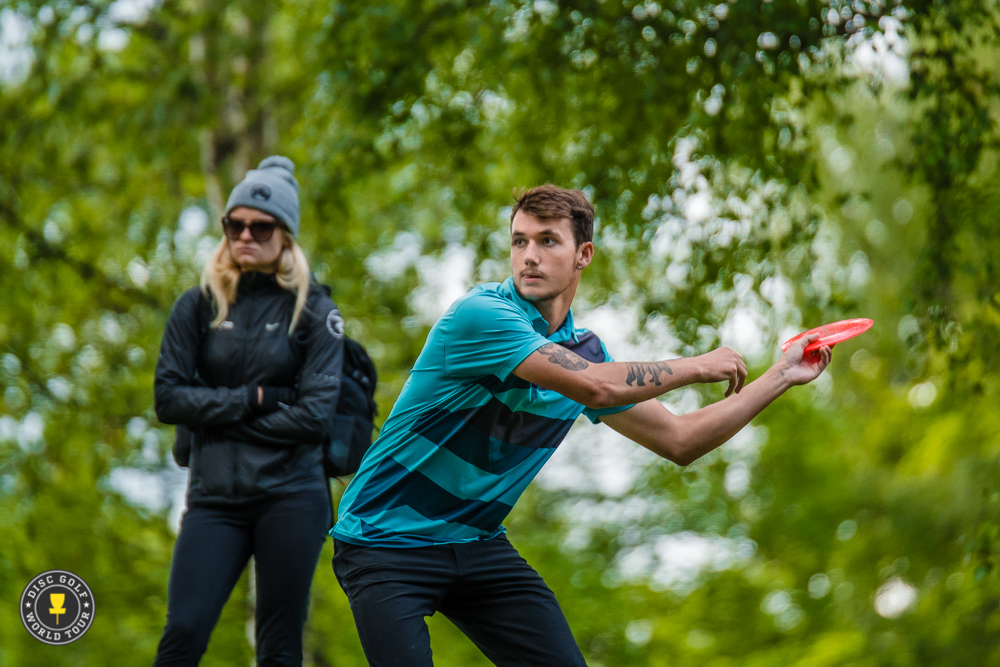 Making a name for himself on tour
Take a look at these finishes this year: two Disc Golf Pro Tour top 10 finishes, three PDGA NT top 10's, and 7th at Pro Worlds. That's pretty darn good for his first year as a full time touring pro and he's pleased with his swift progress.
"I've really surprised myself with how I've been able to keep my head together and how I've been able to perform… It's a huge goal to play with these players and be able to compete with them in these tournaments," said Turner, who has been traveling for much of the season with fellow Charlottean Jeremy Koling.
No Monday Qualifier necessary this year
What's more, is that Turner was able to qualify for the USDGC for the first time after unsuccessfully trying to get in during the Monday Qualifiers the last three years.
"I was really ecstatic, kind of speechless. It was kind of like winning a tournament, just qualifying," said Turner, adding his full-time disc golf choice feels validated with the success he's seen including qualifying.
Tough Break at EO
One of his few slip-ups this season was at the European Open near the end of July. However, you can't blame it all on him. While warming up prior to the first round, he got smacked in the face with an errant disc with such force that it brought him to the ground.
He ended up playing that day, but after 8 holes he felt pretty dizzy, and now he suspects he may have had a concussion. After the round he went to the hospital to get 3 stitches.
Turner said he battled through it, but it just wasn't his event. He didn't want to blame his performance solely on his injury, but it continued to bother him for the rest of the event and he ended up finishing 83rd.
He recovered, though. A few weeks later he was back on the national scene with a respectable 23rd finish at the Ledgestone Insurance Open and then secured 10th at the Pittsburgh Flying Disc Open in August. Then in September he got a nice tour win at the Nantucket Disc Golf Open with a field packed with top names.
Turner knows his way around Winthrop
His attention will be shifting soon to the Winthrop Gold Course at the USDGC – a place he's pretty familiar with living so close to it and playing the course since 2012. In 2014, his doubles team won the US Amateur Doubles Championship which plays a round at Winthrop.
However, he says experience at Winthrop can only bring you so far. Any top level player can shoot well there no matter where they're from, says Turner.
"It just really depends on who can keep it in the ropes and who can keep it the most consistent out there," said Turner calling Winthrop Gold – "one of the most mentally tough courses out there."
Along with being able to compete with the world's best, Turner is excited to experience the Championship's electric atmosphere as a player and share it with all of his hometown friends and new tour friends in attendance.