Amid three days of challenging weather, in the end, it was just too much from Concord, N.C., duo Travis Chumley and Wesley Shell, who steamed past their closest competitors, Jim Senior and Greg Ford during Sunday's final round and won the US Amateur Doubles Championship by nine strokes.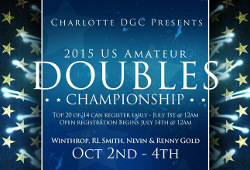 After a fairly dry but blustery Renaissance Gold round, Shell said even though they were ahead on Sunday, they tried to imagine themselves tied with Senior and Ford in order to play smart throughout the round.
"Our goal was playing a bogey free round and we did that and that was awesome," said Shell of the captain's choice round in Charlotte.
Down by one stroke to Chumley and Shell prior to the final round, Jim Senior, 51, and Greg Ford, 50, both of the Charlotte area, almost took a big win from players decades younger than them. Ford said that although his team had a great tournament Friday and Saturday, they just couldn't get it together at Renaissance on Sunday.
Coming in third place was Jon Douglass and Tripp Cole, who were three strokes back of Ford and Senior.
The win was a big improvement for Chumley, 17, and Shell, 21, who finished 21st at last year's event. Chumley said they were much more prepared this go around.
"We knew what we were going to do on each hole before we did it, for the most part," said Chumley.
Chumley said their tournament's defining moment came on the par 4, Hole 17 at Nevin during alternate shot on Saturday.
"We eagled Hole 17 at Nevin off my sidearm and Wesley's putt (40-footer)," said Chumley.
After that, the team said they knew they had something going.
"It felt like we played alternate shot every round," said Shell, remarking on his team's balance.
As things were winding down on Sunday, long-time US Dubs tournament director Bill Jacobson seemed to be breathing a sigh of relief after a stressful three days of weather including a steady mist on Friday at Winthrop Gold.
"It's probably the wildest weather the US Dubs has ever had," said Jacobson, who had to make the call to move rounds from the flood prone R.L. Smith to Kilborne early Saturday morning.
That proved to be the only big weather related change to the event. Jacobson said despite the terrible forecasts, by the time they started each round, the rain seemed to calm down enough to commence play.
Instead of playing best disc, which was the plan for R.L. Smith, play at the easier Kilborne was set to alternate shot. So teams on Saturday played the tricky alternate shot format at Nevin Park and Kilborne.
Shell said his team was able to survive back to back rounds of alternate shot by, "not getting frustrated with each other and knowing when to play safe and when to go after it."
"The mental game was definitely the biggest battle, no doubt about it," said Shell.