Do you know what one of the best social-distancing sports out there is? It's disc golf and the best way to learn it or improve your skills is at the Throw Pink Women's Event in Rock Hill, SC, Oct. 11. Everything starts at 9 a.m.
Taking place on the same site as the US Disc Golf Championship and the Women's National Championship, the Throw Pink Event, in its seventh year, has introduced dozens of women and girls to disc golf.
Ladies and girls of all skill levels are encouraged to take part in this relaxed, women-only event.
No Discs? No problem!
The cost to register is $20 and includes a fun player pack, a clinic taught by professional women disc golfers, a round of disc golf, and a charitable donation to Throw Pink! Don't have any discs? No problem! There will be plenty of discs available for you to use at the clinic.
Pre-Register at Disc Golf United
Please pre-register for the Throw Pink Ladies Clinic at the USDGC on Disc Golf United. Can't attend? We also have a supporter option!
About Throw Pink
Throw Pink was created by women for women to inspire, empower, elevate each other, and grow women's participation in disc golf. Through fun disc golf initiatives, Throw Pink raises money for organizations that support and advocate for all aspects of women's health.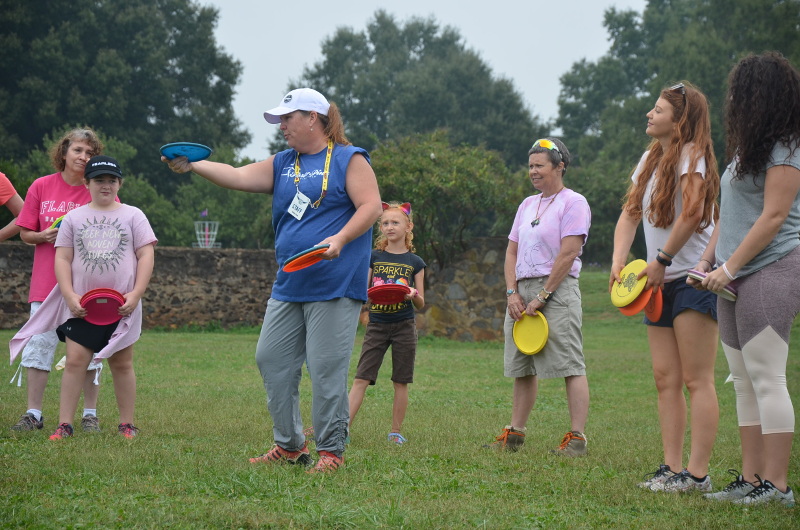 About the Event
This event is the perfect place to get started in disc golf. The clinic will cover everything a beginner will need to know to start their disc golf journey followed by a short, fun round on the course designed specifically for the Throw Pink Event.
Betsy Lytle, who attended a past event with her 12-year-old daughter, said, "For us being beginners, it's less intimidating to come to events specific to women. And, to help raise money for a good cause – it's a win, win."
COVID-19 Precautions
Make sure to pre-register for this year's Throw Pink Event at the USDGC here. Only pre-registered players will be allowed to enter the Winthrop Recreation Area.
Other precautionary measures include:
All ladies attending the clinic will undergo a brief COVID-19 screening before entering the property.
Clinic groups will be limited to 4 people to ensure social-distancing guidelines of 6 feet are met.
Masks are also required anytime you are not throwing.
If you feel sick, please let us know and do not come to the ladies' clinic. Everyone's health is our top priority.
To see full safety guidelines, please check out this announcement by the USDGC.
Location
1162 Eden Terrace, Rock Hill, SC.
Once you arrive and check in at the front gate, attendants will direct you to the Throw Pink Event site.
Please arrive a few minutes prior to 9 a.m. so we can kick off the event promptly at 9 a.m.
Congratulations to the five players who earned their USDGC invites today through the Monday Qualifier. Here they are listed in the picture:
Another Playoff
A playoff was again needed this year. Five players were tied at (-1) for the final three spots. After one playoff hole, though, Evan Scott, Stephen Miller, and Gavin Babcock secured their spots.
Go to UDisc for a complete look at the Monday Qualifier results.
Congratulations to the 2020 USDGC Doubles Champions: Alabama's Sullivan Tipton and Jared Henderson (Team Young Guns) capped off their impressive victory with a 10-under final round 53 securing the hardware. Here they are pictured.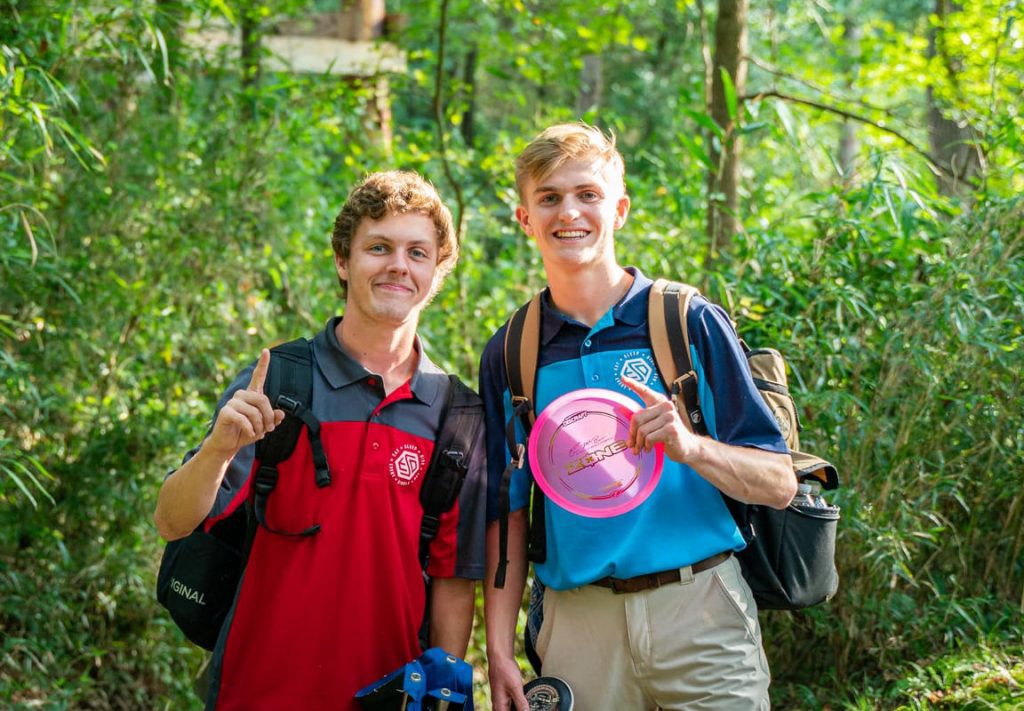 North Carolina's Anthony Anselmo & Evan Scott (Team The Little Guys) kept the pressure on for the entire event, but couldn't quite catch the Young Guns from Alabama. Charlotte locals Tim Turner & Jimmy White Jr. fired Sunday's hot round of 12-under to secure the podium finish in 3rd. Congratulations to all of our top finishers, and thank you for an incredible weekend of Championship disc golf at the USDGC Doubles Main Event in Rock Hill, SC!
Go to UDisc for a complete look at USDGC Doubles scores
USDGC Monday Qualifying has always provided early excitement to Championship Week. This year, for the first time, fans at home will get to follow along as the final five spots are determined.
UDisc will be covering Monday Qualifying (Oct. 5) along with the Women's National Championship and USDGC. To find coverage, look for the big link on the top of udisclive.com and inside the UDisc app.
UDisc Providing Big Upgrade
The UDisc / Monday Qualifying partnership is exciting news according to TD Henry Childres.
"In the past, we never did a very good job of sharing the excitement and suspense of Monday Qualifying with the disc golf community. UDisc will help us get the word out to everyone, so be sure to follow along on UDisc," said Childres.
During years prior, social media posts were how event officials updated fans on leaders throughout the day. However, those updates were never as frequent as fans wanted and they weren't able to include the entire field. With UDisc, everyone will be able to see all of the results.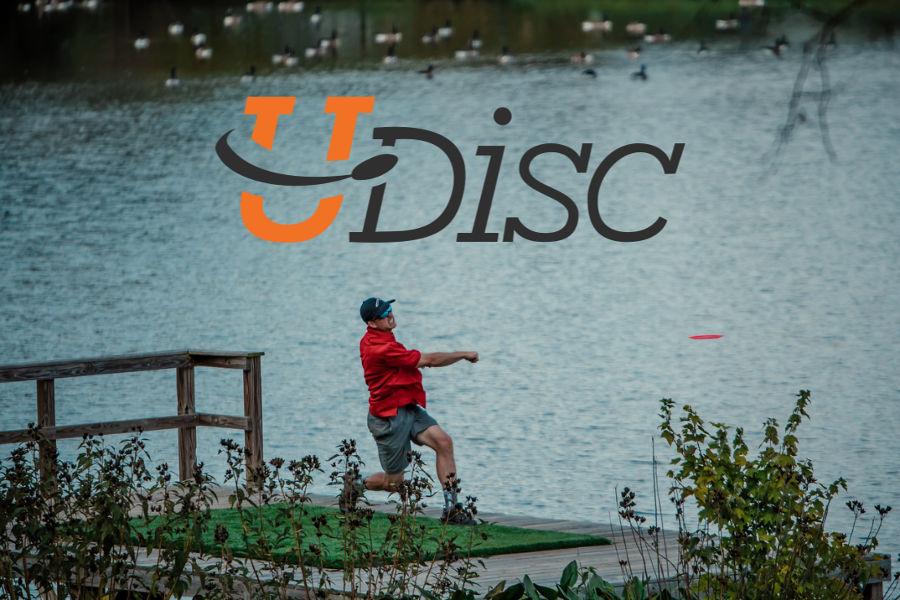 Helps with COVID-19 Precautions
Having scores digital and available on anyone's phone, will also help with the USDGC's COVID-19 related efforts. There will be no need for players to crowd around the scoreboard to see what the cutoff mark is.
Click here for more information on Championship Week's General COVID-19 Guidelines.
This year, due to COVID-19 limitations, Monday Qualifying was limited to 84 players, all of whom had to register online in advance – another Monday Qualifying first.
UDisc's League & Event Platform
Matt Krueger of UDisc said Monday Qualifying will be using their League and Event Scoring platform, which is similar to UDisc Live but scaled down so that TD's of any sized league or event can easily manage scoring. Monday Qualifying players, many of whom already have the UDisc app to capture rounds at home, will employ the app to keep score during their Monday Qualifying round.
The presentation will appear a bit different to fans used to seeing UDisc Live, however "scores will update in real time just like the familiar UDisc Live leaderboard," said Krueger.
Scores to the People
In past years, it was not surprising for Childres to be contacted throughout Monday Qualifying by fans to get the latest scoring report. After talking with Matt Kreuger of UDisc, the partnership seemed like a good fit.
"I figured with that kind of interest it would make sense to get the word out to the broadest audience possible," said Childres.
Watch it Live online!
All four days of tournament play will be available to purchase through a pay-per-view live stream. Various packages are still available. Secure yours now!
Handling the video coverage for the third year in a row will be Fulcrum Media. Fulcrum has its roots in Ultimate, but have embraced disc golf in recent years and continue to master their ability to capture the excitement that typically surrounds the USDGC. This year Fulcrum will be pulling out all the stops to provide the best possible fan experience to people around the world.
Expect to see:
3 Camera Coverage of both lead and chase cards
Live drone for overhead angles
Live in-studio commentating from Hannah McBeth and Juliana Korver (WNC) and Central Coast's Ian Anderson and Philo Brathwaite (USDGC)
Live scoring
UDisc does a phenomenal job covering the hole-by-hole scoring of professional disc golf events including the USDGC. Go online to udisclive.com or download their app to follow the entire field's scores. Check out player stats, too while you're there.
Social Media
Keeping abreast of the event and all its happenings on social media is super easy. On the USDGC and Innova Disc Golf Facebook and USDGC and Innova Instagram accounts you will find an abundance of updated posts, incredible photos, highlight videos, alerts to fresh content and more. The official hashtag for this year's event is #USDGC2020.
Caddie Book
Don't forget to check out the 2020 Caddie Book. There's one for the USDGC and WNC course layouts. The hole by hole illustrations are a great resource to have nearby while watching coverage.
What to watch
USDGC
The US Champion is one of the most coveted titles in disc golf. This year, the title is even more significant because the USDGC is the only Major event of the year. Every other Major planned for 2020 was cancelled due to covid-19. So who will be the 2020 US Champion? Frontrunners include:
Defending US Champ James Conrad of Blacksburg, Va.
2-time World Champ Ricky Wysocki, of Campobello, S.C.
2-Time US Champion and 5-Time World Champ Paul McBeth of Huntington Beach, CA.
The USDGC's Feature Card will be covered during Round 1 on Oct. 7. Tune-in to watch a talent packed card including James Conrad test their mettle against the tough-as-nails Winthrop Arena Course.
After the first round, coverage will then be based on score leaders. Expect lead / chase card coverage to begin in the early afternoon.
Women's National Championship
One of the many effects of the global pandemic was an abbreviated pro tour. Many events planned for the spring were cancelled including the US Women's Disc Golf Championship, which was slated to play in May in California.
However, top women will still get a chance to earn a national title. A special Women's National Championship will be held alongside the USDGC this year.
This is not the first time a women's national champion was crowned at Winthrop. The first three PDGA Majors used to determine a Women's National Champion took place at Winthrop alongside the USDGC from 1999-2001.
Live coverage will also feature this field as well. Expect to see the top women in the game like:
5-time World Champ Paige Pierce (and four-time USDGC competitor)
2014 World Champ Catrina Allen
Don't miss it!
Being without live spectators is certainly a disappointment to everyone involved in the USDGC and hopes are high for their return next year.
However, 2020 digital coverage will bring you just as close to the action. And just like every other year, the Winthrop Arena Course promises drama at every turn. We promise, you won't be able to look away.
Many USDGC fans look forward to the annual Fan Appreciation Day just as much as the USDGC itself. The chance to play the famed Winthrop Arena Course in Championship conditions – while the footprints of the game's best are still fresh on the fairways – is a thrill for any disc golfer.
That tradition continues this year as well on Oct 11.
Purchase Tee Times Through Disc Golf United
In the past, the only way you could secure a Spectator Round tee time was to purchase it in person at the USDGC Pro Shop. However, with no on-site Pro Shop this year due to COVID-19 restrictions, tee times can be purchased online through Disc Golf United.
The cost is $25 and sales benefit Throw Pink.  The Throw Pink Women's Event will also be happening on Oct. 11. Look for more info on that to come.
Here's how Tee Time Purchasing will work:
1. Tee times will go on sale Wednesday, October 7th at 12:00 PM ET at Disc Golf United: (The item will be listed as "Out of Stock" until then).
2. Once the item is live, you will see that there are 24 tee time slots starting at 8 a.m. and ending a 2 p.m. Each slot has a maximum of five spots.
3. You may purchase one to five tee time spots within a slot. If you purchase more than one spot, you will be required to list the names of the other players joining you. Those names will be verified at the USDGC Gate.
COVID-19 Guidelines Apply to Fan Round, Too
Participants will be expected to follow the same COVID-19 related Guidelines as other events during Championship Week.
That means:
· Only registered participants will be allowed into the Winthrop Arena Course. Do not bring anyone who is not pre-registered.
· All participants will undergo a short health screening before entering the course.
· Facial Coverings will be required. Players will be encouraged to wear face coverings anytime they are not actively throwing shots.
Don't Forget to Have Fun
Remember this course is meant to test the top disc golf pros. So when OB strokes start to stack up or multiple discs land in the water, shrug it off – you're at Winthrop, a prized jewel in disc golf. Every round, even high scoring affairs, are more memorable at the Winthrop Arena Course.
At the USDGC we're doing our best to ensure players and staff stay safe during Championship Week amid the COVID-19 pandemic. We believe this can be accomplished if everyone – competitors and staff – take precautions seriously.
Here is a look at general guidelines that will be exercised throughout Championship Week (Oct. 2-11) for everyone involved.
More Details
Keep in mind, each Championship Week event including US Doubles, Monday Qualifying, the USDGC and Women's National Championship, the Throw Pink Women's Event, and Fan Appreciation Day will have more event specific COVID-19 guidelines available to the players.
Know the Symptoms
If you feel sick or you feel you have been in contact with someone infected with COVID-19, whether you are a competitor or a staff member, report your condition to USDGC officials. Do not come to the Winthrop Recreation Area.
Contact: Event Director Jonathan Poole: Jonathan.Poole@innovadiscgolf.com
Pay attention to the following symptoms: Fever, cough, shortness of breath or difficulty breathing, headache, and new loss of taste or smell. For a full list of COVID-19 symptoms visit the CDC.
Restricted Access
Also keep in mind that due to limitations from the pandemic, only registered players and approved staff will be allowed to enter the Winthrop Arena Course. This means no spectators will be attending Championship events and competitors may not be accompanied by caddies, friends, family, etc.
*Only pre-approved volunteer staff members will be permitted on the Winthrop Arena Course. Do not come to the course unless you have already been approved in advance.
Arriving at Winthrop
In order to gain entry to the Winthrop Arena Course each day of Championship Week, all players and staff must undergo a brief health screening.
Facial Coverings
Anyone on the Winthrop Recreation Property will be expected to wear a face covering provided the use of a face covering will not otherwise jeopardize the individual's health. Players will be encouraged to wear face coverings anytime they are not actively throwing shots.
Social distancing
Even though a mask mandate is in place, all in attendance at each Championship event should still practice physical distance as much as possible. Be responsible and strive to maintain a minimum of 6 feet from others.
*Hand sanitizers will be positioned at every hole.
Food & Drink
Unlike previous years, there will be no catering or concessions on site. All competitors and staff should plan on bringing food, drinks, and other items necessary to be comfortable throughout the day.
Hands Off
Competitors will be expected to touch only their equipment and staff will also be asked to only touch their belongings and materials for their duties.
Scaled-Down USDGC
Unfortunately, many of the USDGC's celebrated traditions will not be possible this year. The following have been suspended for 2020.
· Opening Ceremony
· Closing Ceremony
· EDGE Instructional Village
· Distance Contest
· Big Arm - Big Heart Distance Showcase
· On-site Pro Shop
· Shuttle service between the parking lots and the Winthrop Shack
Extreme Weather
If there is extreme weather during Championship Week (lightning storm, hurricane, tornado, etc.), the Winthrop Coliseum will be available for shelter. Keep in mind, social distance guidelines will remain in effect inside the arena. Face coverings must be worn at all times while inside the Coliseum. USDGC social media channels will alert players and staff during these scenarios.
No Mobile Offices This Year
There will be no mobile offices on site in 2020. The tournament staff will operate out of the Olde Stone House behind the green of Hole 9. Only authorized staff will be allowed inside.
An official scoring area will be positioned outside of the Winthrop Shack, near the upper part of Hole 18 fairway.
Note that the Winthrop Shack will serve as a media hub in 2020 as opposed to the traditional USDGC Pro Shop. The interior of the Shack is only accessible for select members of our media team.
Let's Play!
Even with these restrictions and the loss of some of our favorite traditions, Championship Week is still building up to be another incredible experience. We believe that with the help from all of our competitors and staff we can make this Championship Week - even amid the current challenges - safe and special for everyone involved.
Spectators have always been at the heart of the USDGC and over the years the event has attracted some of the biggest crowds the sport has seen. However, for the first time in the USDGC's now 22-year history, spectators will not be permitted to attend due to limitations from the COVID-19 pandemic.
We know this is deeply disappointing to our USDGC fans, so we wanted to explain more about the decision.
The decision to restrict live spectators is two-fold:
1. South Carolina Restrictions
The State of South Carolina has issued a limit of 250 people for large gatherings like the USDGC, which is annually held on the property of the Winthrop University Recreation Center – a state run university.
When you add up the number of competitors, staff, and media expected, unfortunately that leaves little to no room for spectators, caddies, family, friends, and so forth.
2. To limit the spread COVID-19
Hosting a large event, even in an outdoor environment, is especially tricky during the pandemic. It will be difficult enough to ensure that players and staff practice social distancing, wear a face covering, and use other proper precautions. To ensure that the many spectators who hope to come do the same, would be nearly impossible. We want to hold the USDGC, but not at the risk of spreading the disease.
2020, A Year Like No Other
"This is an unprecedented year," said Event Director Jonathan Poole. "Our leadership team is making the best of an unusual set of circumstances. In all honesty, we are fortunate that Winthrop is trusting us to host these important events on campus and to abide by the guidelines currently in place."
In addition to the group size limitation, these traditional USDGC elements have been suspended for 2020:
Opening and Closing Ceremonies
Big Arm Big Heart Distance Showcase
EDGE (Education Disc Golf Experience) Learning Village
Competitor and Fan Hospitality Areas
Tournament Pro Shop On-Site
Throw Pink Event Still Planned
The annual Throw Pink Women's Event has been pushed back one day to Sunday Oct. 11. Click here to register.
Precautions in Place for Event
Face coverings, social distancing, and frequent hand sanitizer stations are just a few of the precautions planned for players and staff during the event. More info on player and staff guidelines regarding coronavirus safety to follow.
Show Must Go On!
Despite the restrictions, everyone involved in the Championship remains as excited as ever for the first week in October. The USDGC and the Women's National Championship, happening alongside, will be the disc golf season's only Major events. We are working diligently to make Championship Week as memorable as possible, for our competitors and for our fans watching at home.
Tune-In to Live Broadcast
Though spectating the event in-person will not be permitted this year, you can still watch the exciting action unfold live through our online broadcast. More information to follow on that as well.
See You (In Person) Next Year (Hopefully)
Seeing the USDGC live is an unmatched, disc golf experience. Incredible shots. Beautiful backdrops amid an electric crowd of disc golf-loving spectators. We kindly ask that fans respect the limitations of 2020 and our effort to keep everyone as safe as possible. And certainly to remain hopeful that we can all join together again at Winthrop in 2021.
USDGC Monday Qualifying Set for October 5th
Each year the intense action at Winthrop begins with qualifying rounds on Monday of Championship Week. More often than not, a sudden death playoff has determined the final spots into the USDGC, something that has happened in five of the past six years. This year should be no exception as competitors seek entry into the only Open Division Major of 2020.
Online Registration Opens Monday, September 14th
If you want to participate in Monday Qualifying make your plans now. There are only 84 tee time spaces available and they are expected to fill quickly.
Pre-registration is required this year. Walk-ups and re-starts will not be an option due to added safety measures to keep visitors to Winthrop as safe as possible. Registration opens at Disc Golf United on Monday, September 14th.
The entry fee is $75.00 and PDGA membership is not required to participate. Those who qualify for the USDGC on Monday must be current PDGA members and must pass the PDGA Officials Exam prior to Wednesday's opening round. Both of these steps can be taken in advance of Monday Qualifying at www.pdga.com.
What to Expect Upon Arrival at Winthrop
Part of the safety requirements established by the USDGC, Winthrop University, and the state of South Carolina, require that all visitors to Winthrop have their temperature checked upon arrival. This includes competitors, tournament staff, and members of the media.
Following a brief COVID screening, participants will be directed to the Winthrop Golf Course parking lot and the adjacent lot for the track and soccer stadium.
Facial Coverings
Players will be encouraged to wear face coverings anytime they are not actively throwing shots during their round, provided the use of a face
covering will not otherwise jeopardize the player's health.
UDisc Covering Monday Qualifying!
Be sure to tune into UDisc.com to see how the Monday Qualifying battle unfolds.
USDGC Practice Rounds
Official practice days at Winthrop are as follows:
Thursday, October 1st - All Day
Friday, October 2nd - Course Closed for USDGC Doubles
Saturday, October 3rd - All Day
Sunday, October 4th - All Day
Monday, October 5th - 1 PM to Dark
Tuesday, October 6th - All Day
For more information please follow the USDGC social channels and website, or call us at 800.476.3968.
We look forward to seeing you at Winthrop.
The USDGC is even more special this year because the Women's National Championship returns to the Winthrop Arena Course for the first time in 20 years.
The WNC last occured in Rock Hill, S.C. in 2000, and will be played this year alongside the USDGC, Oct. 7-10. A total of 40 spots will be available.

5 Tiers of Registration
Registration, which will be based on PDGA player rating, begins Monday July 6 at 9 a.m. EST. Higher rated players will be allowed to register first.
Here's the schedule of registration, hosted by Disc Golf United:
Tier 1 - Pros 920+. Opens 7/6
Tier 2 - Pros 900+. Opens 7/20
Tier 3 - Pros 880+. Opens 8/3
Tier 4 - Pros 850+. Opens 8/10
Tier 5 - Any female PDGA member rated 850+ (until full). Opens 8/17
Space is limited primarily due to the tee-time format, the required 15-minute intervals between groups, and the length of time generally required to play the Winthrop Arena Course.
More Women at Winthrop
Having as many as 40 women playing will be a welcome sight at Winthrop. The women's game has risen to new heights since 2001 and those watching will be in for quite a show.